Official: Ted Chapin Curates 92Y's New Lyrics & Lyricists Season, Featuring Jonathan Groff, Lynn Ahrens and More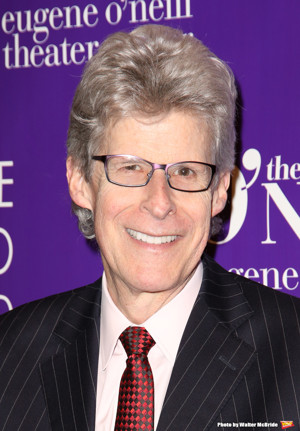 92Y announces Ted Chapin, President & Chief Creative Officer of Rodgers & Hammerstein, will serve in the newly created role of Producer of Lyrics & Lyricists, beginning next season. For nearly five decades, L&L has been at the forefront of exploring and sharing the best of the American Songbook, and this opens a new chapter.
Subscriptions for the season are on sale today - June 29 - at 92Y.org/Lyrics. Individual tickets for all performances go on sale in August.
Hanna Arie-Gaifman, Executive Producer of the series and Director of 92Y's Tisch Center for the Performing Arts said, "I'm excited to be working closely with Ted in this new leadership role. Since its inception in 1970, we've been proud to work with a series of collaborators who have put their own unique stamp on this 92Y treasure, most recently with Deborah Grace Winer as Series Artistic Director for the past 9 seasons. I'm extremely grateful to Deb for her passion, her dedication to the American Songbook, and the warmth and energy she always brought to our theater."
Comments Ted Chapin, "As someone who was in the audience at the first season, I have long been a fan of L&L. I have had the privilege of curating several programs and have followed the history over the years. I am honored to be asked to help create a new chapter of this extraordinary series. I intend to look both forward and back, learning from the past while finding new ways to explore songs and their place in world culture."
Chapin will work with a variety of artists to create the 2018 season, including Jonathan Groff, Rob Fisher and Amanda Green, Lynn Ahrens, and David Loud. There will be both familiar composers - Leonard Bernstein, Frank Loesser, Irving Berlin - as well as those new to L&L, like Bobby Darin, who in addition to his career as a singer, wrote over 100 songs.
Ted was recently seen at L&L on June 26 as co-artistic director and co-host (with Ted Sperling) of the sold out special event concert Lyrics & Lyricists Favorites: Your Choice! starring Broadway artists Victoria Clark (The Light in the Piazza), Ben Davis (La Bohème), Capathia Jenkins (Newsies), Lindsay Mendez (Wicked), Billy Porter (Kinky Boots), Clarke Thorell (Hairspray), Nicholas Ward (In Transit), and Betsy Wolfe (Waitress). He previously served as guest artistic director for the L&L shows Stage Door Canteen (2011), Getting to Know You: Rodgers & Hammerstein (2014) and I Have Confidence: Rodgers After Hammerstein (2016).
---
Lyrics & Lyricists 2018 Season:
L&L shows are Saturday at 8 pm, Sunday at 2 and 7 pm, and Monday at 2 and 7:30 pm.
Jan 20-22: The Bobby Darin Story
There is no one better than two-time Tony Award nominee Jonathan Groff to sing the variety of songs associated with Bobby Darin. Darin, born blocks from 92Y, was a phenomenon of the 1960s entertainment scene. In his short life, which was plagued by health issues and the tumultuous political world of the '60s, he rose from a rock 'n' roller to a major interpreter of the American Songbook to an Academy Award-nominated actor who wrote over 200 songs and left an indelible mark on our culture.
Feb 24-26: Lenny's Lyricists
Rob Fisher, Lyrics & Lyricists veteran, and Amanda Green, daughter of lyricist Adolph Green (who, with his writing partner Betty Comden, appeared at the second-ever Lyrics & Lyricists evening), examine the lyrics that went with Bernstein's music, from the early years of his Broadway career, with On the Town, through Candide and West Side Story. We will celebrate Bernstein's centennial year by exploring some of his best-known work with lyricists including Comden and Green, Stephen Sondheim, Stephen Schwartz, Alan Jay Lerner, Mark Blitzstein, John La Touche, Dorothy Parker and Richard Wilbur, as well as some of his less-well-known works.
Mar 24-26: An Evening with Lynn Ahrens
Ragtime. Anastasia. Once on This Island. A Man of No Importance. My Favorite Year. Lynn Ahrens has created lyrics for award-winning songs for Broadway, Hollywood and television, earning Tony, Drama Desk and Outer Critics Circle Awards, in addition to Academy Award, Grammy Award and Golden Globe nominations. She's one of the most revered and prolific contemporary lyricists - a woman in a world where few have flourished - and it's time to shine a light on her incredible talent!
May 5-7: Irving Berlin: American
On the occasion of the 100th anniversary of the writing of "God Bless America," we will examine the man whose life represented the quintessential immigrant story, and see how his story resonates today. Berlin was born in Russia, arrived in Ellis Island at age 5 and became one of the most eloquent spokesmen for the country that allowed him to flourish. "Berlin has no place in American music," Jerome Kern once wrote. "He is American music."
Jun 2-4: Frank Loesser: Lyricist
Clever and complex describe Frank Loesser's inimitable writing style, and David Loud is the perfect guide for this tour through his work as a lyricist. Before he came back East and landed on Broadway, he spent time in Hollywood contributing lyrics to music by many of the era's great composers - Jule Styne, Burton Lane, Hoagy Carmichael and others. Once Broadway beckoned, he turned his focus to writing lyrics for his own music, creating some of the most beloved songs in the American Songbook.
---
Ted Chapin adds this new role to his current position as President & Chief Creative Officer of Rodgers and Hammerstein. During Chapin's tenure at R&H, he has overseen major productions on Broadway (seven Tony Awards for Best Revival so far), in London, and around the world, and has encouraged newly created shows including the recent Holiday Inn, Rodgers + Hammerstein's Cinderella, State Fair, and Irving Berlin's White Christmas. He has curated three programs at Lyrics & Lyricists, was the co-founder of the Encores! series at City Center, and served as chairman of the American Theater Wing. His book Everything Was Possible: The Birth of the Musical "Follies," was published by Knopf in 2003. His career began as production assistant for the Broadway productions of Follies, The Rothschilds, and The Unknown Soldier and His Wife, and associate to director Alan Arkin on the original Broadway production of Neil Simon's The Sunshine Boys and the CBS-TV production of Twigs with Carol Burnett. He is a visiting lecturer at many universities including Pace, NYU, Duke and Yale.
Since 1970, Lyrics & Lyricists, the pioneering American Songbook series, and one of 92Y's signature series, has celebrated the work of songwriters like Jerome Kern, Cole Porter, Dorothy Fields, Betty Comden & Adolph Green, Sheldon Harnick, and David Zippel with champions and interpreters of the American Songbook including Rob Fisher, Kathleen Marshall, Billy Stritch, John Pizzarelli, Ted Chapin, and Mark Lamos. 92Y Lyrics & Lyricists receives support from Gilda and Henry z"l Block; The Hite Foundation, Inc.; The Harold W. and Ida L. Goldstein Lecture Fund through the Estate of Sanford Goldstein; The Edythe Kenner Foundation; The Frederick Loewe Foundation; Howard and Eleanor Morgan; and The Henry Nias Foundation, courtesy of Dr. Stanley Edelman z"l.
92nd Street Y is a world-class, nonprofit cultural and community center that fosters the mental, physical and spiritual health of people throughout their lives, offering: wide-ranging conversations with the world's best minds; an outstanding range of programming in the performing, visual and literary arts; fitness and sports programs; and activities for children and families. 92Y is reimagining what it means to be a community center in the digital age with initiatives like the award-winning #GivingTuesday, launched by 92Y in 2012 and now recognized across the US and in a growing number of regions worldwide as a day to celebrate and promote giving. These kinds of initiatives are transforming the way people share ideas and translate them into action both locally and around the world. More than 300,000 people visit 92Y annually; millions more participate in 92Y's digital and online initiatives. A proudly Jewish organization since its founding in 1874, 92Y embraces its heritage and welcomes people of all backgrounds and perspectives. For more information, visit www.92Y.org.
Photo Credit: Walter McBride