OH, HELLO ON BROADWAY Recoups; Show to Be Filmed for Future Broadcast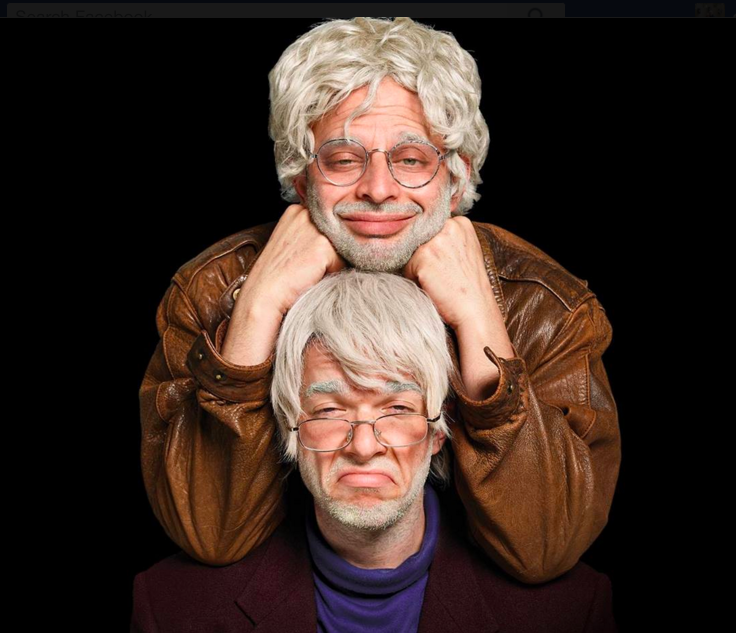 And it's officially a hit. The popular and critically lauded* Oh, Hello on Broadway starring Nick Kroll and John Mulaney, directed by Alex Timbers, is the first new play to recoup its investment on Broadway this season. Capitalized at $2.9 million, the show opened to rave reviews at The Lyceum Theatre (149 West 45th Street) on October 10, 2016 and closes this Sunday, January 22, 2017 after 120 performances and 18 previews.
OH, HELLO on BROADWAY also shattered the box office record at the Lyceum Theatre, grossing $911,602 for the week ending January 1, 2017. The previous record was held by the 2008 production of Macbeth, starring Patrick Stewart.
Nick Kroll is Gil Faizon and John Mulaney is George St. Geegland - outrageously opinionated, 70-something, native New Yorkers that Kroll and Mulaney first began performing on the alternative comedy stages in NYC. Honed for over a decade, the fictional duo garnered a cult following and found their way onto a Comedy Central special, viral videos and late night couches everywhere. Oh, Hello on Broadway is Gil and George's "memoir for the stage" - a laugh-a-minute two-man tour-de-force.
Jubilant producers Patrick Catullo and Marcia Goldberg said, "We are thrilled that audiences of regular playgoers and comedy fans, and, let's not forget, theatre critics, have welcomed OH, HELLO to Broadway. Nick Kroll and John Mulaney's writing, along with their brilliant performances, have been the perfect theatrical escape for our challenging times. Gil and George have brought big laughs and heart to 'Brd'way.'"
Dozens of famous and not-so-famous people have made their Broadway debuts (or added another line to their theater resume) as surprise guests joining Gil and George for their cable-access show, "Too Much Tuna," including Will Forte, Robin Byrd, Laura Benanti, Katie Couric, Michael Riedel, Griffin Dunne, Bobby Cannavale, Natasha Lyonne, Mo Rocca, Ad Rock, Fred Savage, Seth Meyers, Paul Sorvino, Rebel Wilson, Aubrey Plaza, Josh Groban, Aziz Ansari, Alan Alda, Willie Geist, Alex Brightman, Cara Delevingne, Gaten Matarazzo, David Harbour, Ben Platt, Jesse Eisenberg, Will Ferrell, John Oliver, Whoopi Goldberg, Paul Shaffer, Jason Alexander, Andrea Martin, Robin Taylor, Tavi Gevinson, Andy Cohen, Bob the Drag Queen, Cuba Gooding Jr., Stephen Colbert, Adrienne Moore, Julie Klausner, Andrew Rannells, Zoe Lister-Jones, Conan O'Brien, Anson Mount, Rachel Bloom, Andy Richter, Tina Fey, Anthony Atamanuik (as Donald Trump), Alex Guarnaschelli, Geraldo Rivera, Samira Wiley, Edie Falco, Seth Rogen, F. Murray Abraham, David Byrne, Jason Sudeikis, Mike Birbiglia, Aya Cash, Ilana Glazer, Martin Short, Alia Shawkat, ADAM PALLY, Ralph Macchio, Max Greenfield, Bob Harper, Jason Mantzoukous, Gina Rodriguez, Itzhak Perlman, Fred Armisen, Tovah Feldshuh, Ben Stiller, Busy Philipps, Adam Driver, Chelsea Handler, Pat Kiernan, Amy Sedaris, Darren Criss, Jerry Seinfeld, Chris Pratt, Julie White, Gina Gershon, Dakota Fanning, Jerrod Carmichael, Matthew Broderick, Ira Glass, Alan Alda (again), Jim Gaffigan, Henry Winkler, Richard Kind, Fisher Stevens, Larry Wilmore, Taylor Schilling, Annaleigh Ashford, Joe Lo Truglio, Olivia Wilde, Rob Corddry, Jessica Walter, Amy Schumer, Jake Lacy, Sebastian Stan, Bobby Moynihan, David Remnick, America Ferrera, Norman Lear, Kristin Wiig, Hank Azaria, Tony Danza, Leslie Jones, Rachel Dratch, Steven Pasquale, Kathy Najimy, John Hodgman, Austin Pendleton, Paul Rudd, Thomas Middleditch, Kelli O'Hara, Hannibal Buress, Josh Charles, Pete Davidson, and Reggie Watts.
OH, HELLO on BROADWAY will live on.
OH, HELLO on BROADWAY will be filmed in front of live audiences this Thursday and Friday for broadcast at a future date.
While no official touring plans have been announced, Gil and George can confirm they each have a very early doctor's appointment sometime next week.
OH, HELLO on BROADWAY is produced on Broadway by Patrick Catullo, Marcia Goldberg, Barbara Whitman, Marc Platt, Pierce Cravens, James G. Kernochan, Benjamin Simpson & Joseph Longthorne/ShIra Friedman, Jonathan Reinis, Triptyk Studios, Bellanca Smigel Rutter, Nathan Vernon, Mike Lavoie, and Comedy Central; the General Manager is 321 Theatrical Management.
The creative team for Oh, Hello on Broadway is Scott Pask (Set Design), Jake DeGroot (Lighting Design), M.L. Dogg (Sound Design), Basil Twist (Nightmare Effect Design), Patrick McCollum (Movement Consultant), Emily Rebholz (Costume Consultant), Leah Loukas (Wig Consultant), and Annamarie Tendler Mulaney (Makeup).
Tickets for Oh, Hello on Broadway can be purchased at the Lyceum Theatre Box Office, or through www.telecharge.com, 212 239 6200. A limited number of seats at the rush price of $37 will be available for purchase in-person at the Lyceum Theatre box office beginning at 10am Monday - Saturday and 12pm on Sunday for day-of performances. There is a limit of two tickets priced at $37 each, payable in cash or by credit card, per person. No student ID is required.
Photo credit: Joan Marcus