Oh, Hello on Broadway - 2016 - Broadway
OH, HELLO on BROADWAY is the Broadway premiere of two of the two hottest voices in comedy today, Nick Kroll (Comedy Central's "Kroll Show") and John Mulaney (Netflix's "The Comeback Kid"). The Hollywood Reporter calls Kroll and Mulaney "the funniest comic duo of their generation!"
Respectively, the duo star as Gil Faizon and George St. Geegland - outrageously opinionated, 70-something, native New Yorkers that Kroll and Mulaney first began performing on the alternative comedy stages in NYC. Honed for over a decade, the fictional duo garnered a cult following and found their way onto a Comedy Central special, viral videos and late night couches everywhere. OH, HELLO on BROADWAY is Gil and George's "memoir for the stage" - a laugh-a-minute two-man tour-de-force that's part scripted, part spontaneous comedy, and totally unprecedented.
St. Geegland and Faizon have spent their entire lives second-acting Broadway shows and could not be more thrilled to make their Broadway bows. When reached for comment, George said, "This is the furthest dun'town we have been in years and we are not happy about it." Gil added, "I'm terrified. I have to go to the bathroom."
Video preview
Photo preview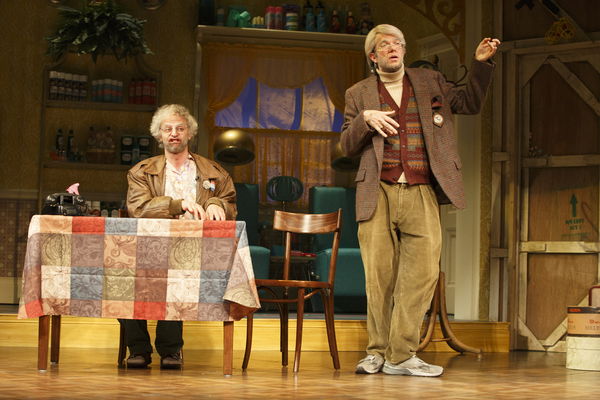 Schedule
Running Time: One hour and 30 minutes, with no intermission
Twitter Watch
@ohhelloshow
03/07/2021 10:50pm
they settled for Oprah after learning we had a fun run to attend that day
Featured Reviews For Oh, Hello on Broadway
Nick Kroll and John Mulaney's shaggy comedy 'Oh, Hello' goes for the funny bone - NY Daily News
Gil and George have written a play, and it's aswirl with jokes and jabs at actors, stage hokum and overripe clichés. The crotchety geezers bat that around for a while, then launch into NY and personal history. They lurch along and revisit their public access show "Too Much Tuna" - a chance for puppet master Basil Twist to show off his magic and for Seth Meyers to join the duo on stage. There's an unannounced cameo at each performance.
In 'Oh, Hello on Broadway,' John Mulaney and Nick Kroll are witty young men playing funny old men - Washington Post
Judging from the audience's enthusiastic greeting, the duo has acquired a following as a result of George and Gil's appearances on Kroll's now-ended Comedy Central sketch-comedy program, "Kroll Show"; a well-received off-Broadway run in 2015, and a national tour. It's devotion well-earned, because these comedians, who met as undergraduates at Georgetown University, have sharpened to a very funny point an acumen for keeping an audience off-balance - and eager for more.
Oh, Hello on Broadway Broadway Cast