Oh, Hello on Broadway - 2016 - Broadway
OH, HELLO on BROADWAY is the Broadway premiere of two of the two hottest voices in comedy today, Nick Kroll (Comedy Central's "Kroll Show") and John Mulaney (Netflix's "The Comeback Kid"). The Hollywood Reporter calls Kroll and Mulaney "the funniest comic duo of their generation!"
Respectively, the duo star as Gil Faizon and George St. Geegland - outrageously opinionated, 70-something, native New Yorkers that Kroll and Mulaney first began performing on the alternative comedy stages in NYC. Honed for over a decade, the fictional duo garnered a cult following and found their way onto a Comedy Central special, viral videos and late night couches everywhere. OH, HELLO on BROADWAY is Gil and George's "memoir for the stage" - a laugh-a-minute two-man tour-de-force that's part scripted, part spontaneous comedy, and totally unprecedented.
St. Geegland and Faizon have spent their entire lives second-acting Broadway shows and could not be more thrilled to make their Broadway bows. When reached for comment, George said, "This is the furthest dun'town we have been in years and we are not happy about it." Gil added, "I'm terrified. I have to go to the bathroom."
Video preview
Photo preview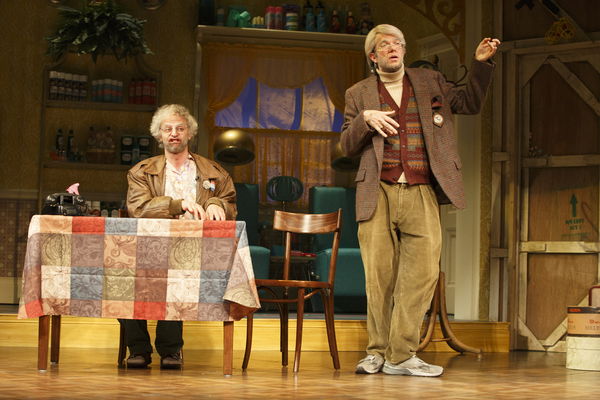 Schedule
Running Time: One hour and 30 minutes, with no intermission
Featured Reviews For Oh, Hello on Broadway
'Oh, Hello' review: Nick Kroll, John Mulaney show a must-see for cranky New Yorkers - amNY
Nick Kroll and John Mulaney's eccentric and enjoyable two-man comedy routine "Oh, Hello," which gained popularity on Comedy Central's "Kroll Show" and is now playing a limited run on Broadway, is intended for aging, oddball, scruffy, cranky, culturally (if not authentically) Jewish New Yorkers - and anyone else who identifies with or appreciates the same demographic.
Theater Review: Those Weird Guys Down in 4D? They Got a Show: Oh, Hello on Broadway - Vulture
What they are actually satirizing through the medium of their hideously bewigged and age-spotted alter egos is sometimes a bit fuzzy; the characters are both in on the jokes and the butt of them. But either way the jokes are excellent, as they should be by now; the Broadway incarnation ofOh, Hello - sleekly directed by Alex Timbers - follows a sold-out 2015 Off Broadway run, a national tour, and almost a decade of development. (Kroll and Mulaney based the characters on two men they saw shopping at the Strand.) Along the way, the material has acquired a minimal plot, in which the rent on the "measly five-bedroom with crown molding" apartment at 73rd and Columbus that Faizon and St. Geegland have shared for 40 years is set to rise from $75 a month to $2,500. In order to keep enjoying their "god-given right" to this housing, the pair may have to compromise their artistic integrity by agreeing to take "Too Much Tuna," a radio show they used to host, big-time on local-access cable.
Oh, Hello on Broadway Broadway Cast