Next for Stephen Schwartz - Readings of Revised RAGS and New Movie Musical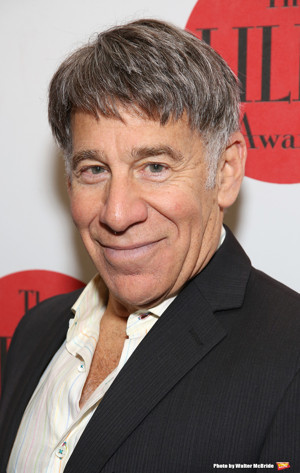 Composer Stephen Schwartz has revealed what's next for him in his most recent newsletter for The Schwartz Scene.
He has revealed that he will return to the US in November to begin a reading of the previously announced movie musical he is developing about Hans Christian Andersen.
As previously reported, Fox 2000 picked up the film earlier this year, and Ansel Elgort, who will star in the upcoming West Side Story reboot film, is in talks to star, but has yet to be confirmed.
Schwartz says in his newsletter that the film, a collaboration with movie and screenwriter David Magee, is inspired by a stage show called Mit Eventyr ("My Fairytale") that he contributed songs to in 2005.
"I count myself extremely lucky to be working with such a wonderful writer," Schwartz said.
The movie was originally set to be produced by Craig Zadan and Neil Meron, so "I was especially devastated by Craig's untimely death," he said.
The upcoming reading will help the team evaluate how far along they are and what to revise before they begin searching for a director.
Following the reading of the film, Schwartz will also take part in a reading of his musical Rags. Rags follows a young mother and her son, fresh from Ellis Island, who search for a new life and a sense of home as the 20th century beckons.
Rags recently had a successful production at the Goodspeed Opera House. Watch a video from that production here.
The cast featured Samantha Massell as Rebecca Hershkowitz, and Christian Michael Camporin as David Hershkowitz. Sal Russo was played by Sean MacLaughlin, with Sara Kapner as Bella Cohen, Adam Heller as Avram Cohen, Mitch Greenberg as Jack Blumberg, Emily Zacharias as Anna Blumberg, Lori Wilner as Rachel Brodsky David Harris as Max Bronfman, and Nathan Salstone as Ben Levitowitz.
The musical had been revised for this production, with a new book by David Thompson.
"All of us on the creative team, while very happy with how much progress we had made for the Goodspeed production, felt that we could use what we learned there to improve the show further," Schwartz Said. "This reading will presumably tell us how close we are to a final version that can be re-released into the world."
Read more in the newsletter here.
Schwartz has contributed music and/or lyrics to the following shows: Godspell, Pippin, The Magic Show, The Baker's Wife, Working (which he also adapted and directed), Rags, Children of Eden, My Fairytale, and the current Broadway hit, Wicked. For films, he collaborated with Alan Menken on the songs for Disney's Enchanted as well as the animated features Pocahontas and The Hunchback of Notre Dame and wrote the songs for the DreamWorks animated feature The Prince of Egypt. In the field of classical music, he collaborated with Leonard Bernstein on the English texts for Bernstein's Mass, composed the choral pieces "Testimony" and "Keramos," and his first opera, Séance on a Wet Afternoon, premiered with Opera Santa Barbara in the fall of 2009 and was recently produced by New York City Opera. Other credits include the title song for the play and movie Butterflies Are Free, songs for two musicals for children, Captain LOUIE and My Son Pinocchio, and two CDs of new songs entitled Reluctant Pilgrim and Uncharted Territory.