New Episodes of Kelli O'Hara Web Series THE ACCIDENTAL WOLF Out Monday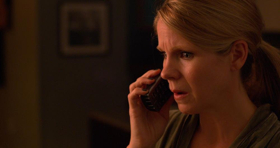 Waterwell Films announced today that the final four chapters of "The Accidental Wolf" will be released at 12:01am on Monday, December 18th, exclusively at www.TheAccidentalWolf.com.
Written/Directed by Tony Award nominee Arian Moayed of Waterwell Films, "The Accidental Wolf" stars Tony Award winner Kelli O'Hara.
One evening, Katie, a Manhattan mother and wife, receives a desperate call from a stranger named Zuhair, location unknown, pleading for her to save him and his pregnant wife, Tala. Zuhair's final words to Katie are a plea that Tala is alive and needs help. This phone call emboldens Katie to begin an endless and international search to find Tala at all costs to her family, her sanity and her beliefs.
Available only in NORTH AMERICA and the United Kingdom, "The Accidental Wolf" debuts the inaugural season of its multi-season thriller on its own unique, immersive website. Featuring 36 Tony Nominations among its cast and creative, including Reed Birney, Raúl Castillo, John Ellison Conlee, Brandon J. Dirden, Mike Doyle, Kathryn Erbe, Jayne Houdyshell, Judith Ivey, Amy Landecker, Ben McKenzie, Laurie Metcalf, Sahr Ngaujah, Denis O'Hare, Sarah Steele, Raymond Anthony Thomas, Erin Wilhelmi, and Frank Wood, among others. Music by Bill Sherman, Sound Design by Matt Shane, and Editing by Andrew Leven.
"The Accidental Wolf" is Produced by Waterwell Films, under the leadership of Damon Owlia and Arian Moayed, in Association with Gregory Franklin (Franklin Theatrical Group) and Jayne Baron Sherman (Mom's Money Production).
Waterwell Films is an art-house studio that develops and produces a wide variety of original content for film, television and digital. Waterwell Films uses the moving image to share stories that challenge assumptions, foster connection and celebrate the beauty of our experience in all its heartbreak and joy. Waterwell Films' upcoming slate includes Passage, Dr/X, Switch, Wyoming, Coyotes, Dumb Luck, VA Hospital, The Getaway, Drift, $1300, and PR.
Featured BroadwayWorld Events
Check out these concerts...
Related Articles
More Hot Stories For You
NYTW Gala To Celebrate 25th Anniversary Of RENT Featuring Original Cast Members Anthony Rapp, Adam Pascal, Idina Menzel, and More!
Today marks the 25th Anniversary of RENT's first performance at New York Theatre Workshop. The NYTW has announced that its 2021 Annual Gala will celeb...

Final Lineup Announced For SAVE BIRDLAND: A Celebration Of Music, History, And Community
The fundraising campaign for Birdland Jazz Club will conclude on January 24th with a free streaming concert titled Save Birdland: A Celebration of Mus...

VIDEO: Broadway Jumps on the BRIDGERTON Musical Bandwagon
The new Netflix series Bridgerton has been gaining popularity since its premiere in December of 2020. Part of that popularity comes from the clever mi...

VIDEO: Chita Rivera, Bebe Neuwirth, and More Perform 'All That Jazz' During SAVE BIRDLAND Fundraiser
Notables from President Bill Clinton and Whoopi Goldberg to musicians Wynton Marsalis and Sting joined together on Sunday, Jan 24th to "Save Birdland"...

VIDEO: On This Day, January 24- Happy Birthday, Daveed Diggs!
For his performance in Hamilton, Daveed won the 2016 Tony Award for Best Featured Actor in a Musical, as well as a 2016 Grammy Award for the cast albu...

VIDEO: On This Day, January 25- Remembering Jonathan Larson
On this day, we celebrate the life and career of Jonathan Larson, who passed away on this day in 1996....