Click Here for More Articles on NY Public Library for the Performing Arts
NY Public Library for the Performing Arts' Archives Specialist Diana Bertolini on the First Draft of MERRILY WE ROLL ALONG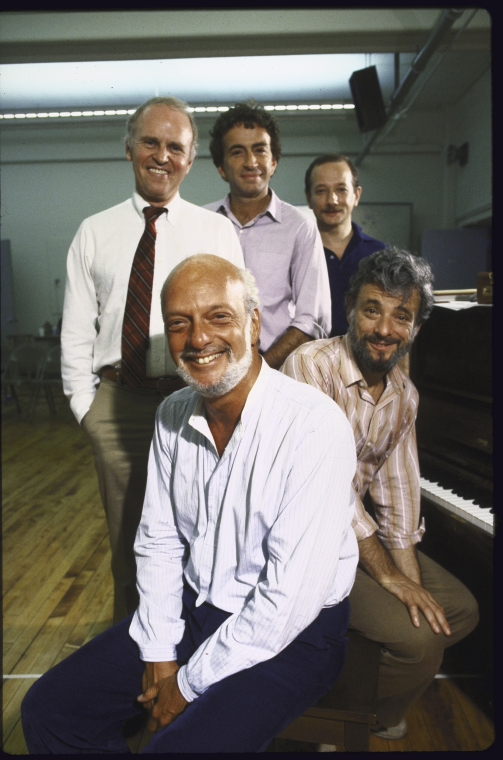 BroadwayWorld continues our exclusive content series, in collaboration with The New York Public Library for the Performing Arts, which delves into the library's unparalleled archives, and resources. Below, check out a piece by Diana Bertolini, Specialist at the New York Public Library's Archives Unit on: Four Things You Didn't Know about George Furth's First Draft of Merrily We Roll Along.
---
In November 2016, Stephen Sondheim and George Furth's Merrily We Roll Along celebrated the 35th anniversary of its Broadway opening...and its closing. The musical comedy told the alternately cynical, uplifting, humorous, and poignant story of three friends traveling from youth to middle age in reverse chronologic order. Merrily's critical and commercial failure at 16 performances devastated both the experienced creative team and the young cast, but the incomparable Original Cast Album has fascinated and mesmerized fans for decades, inspiring a cult following. How could a show with this great a score have flopped? Numerous revivals have attempted to make it work and countless revisions (including those made by the original creators) have been made since 1981. But, I'm going to tell you about a different version of the book of Merrily: the first version. Librettist George Furth's papers at The New York Public Library for the Performing Arts contain his first draft, worked on between July and September of 1980. Here are a few surprises I found there:
1) Meg's Mother
At the chronological end (though narrative beginning) of the show, middle-aged Frank is on his third wife, an 18 year old starlet named Meg. In the first draft, Meg's mother, Terry is also a movie star and a rival of Frank's second wife Gussie. Terry appears throughout the show-talking about her 10-year-old daughter at one point, and appearing pregnant-with Meg!-in the Act II party scene, where Gussie says, "I hope it's a boy." Terry was still a recurring ensemble character when the show opened, but her connection to Meg was gone.
2) Frank and Charley's Families
In this first draft, Frank had an impoverished Army brat childhood and hated his cheating, unsupportive, alcoholic father. (In the final Broadway version, all that remains is Frank's admission to Gussie that he "hated [his] father.") Frank's brother, Tom visits a few times during the show, though the brothers clearly hate each other. As a teenager Frank spent all of his time at Charley's house and Charley's father was Frank's music teacher and idolized mentor. In the first draft, Frank even mentions him in the graduation speech. Charley and his father were Frank's chosen replacements for his own unsatisfactory brother and father.
3) There was a scene at Yankee Stadium, with this great exchange:
Charley: Are you getting to like it?
Mary: Charley, I don't even lIke Ballets about baseball.
4) Inspiration for "Like It Was"
Sondheim is always the first to acknowledge the important contributions his librettists make to his songs, and has said that his lyrics often come from their dialogue. There's a perfect example of this here. In this version Frank and Charley fight over Charley's television sketch mocking Frank and Gussie. (The final version shows Charley doing something slightly different but achieving the same end in "Franklin Shepherd, Inc.") Still hoping to reconcile with Frank, he tells Mary, "I want it like it was." Later in the show, reeling from his first divorce, Frank says: "Why am I not nice anymore? Why am I not nice like I was? Why is nobody nice anymore?" These ideas and some of these words made their way into Mary's sadly poetic Act I ballad, "Like It Was."
Check out the first draft--as well as other drafts--of Merrily We Roll Along in the George Furth Papers.
Photo courtesy of the New York Public Library for the Performing Arts
Related Articles

About The New York Public Library for the Performing Arts, Dorothy and Lewis B. Cullman Center The New York Public Library for the Performing Arts (read more...)