Meet the 2022 Tony Nominees: FUNNY GIRL's Jared Grimes
The 75h Annual Tony Awards will take place on Sunday, June 12, 2022.
The countdown to the Tony Awards has a officially begun! On June 12, the brightest stars of the 2021-22 season will shine even brighter as they gather at the iconic Radio City Music Hall to celebrate Broadway's biggest night. Leading up to the 75th Annual Tony Awards, BroadwayWorld is getting up close and personal with the nominees. Today we're studying up on Jared Grimes!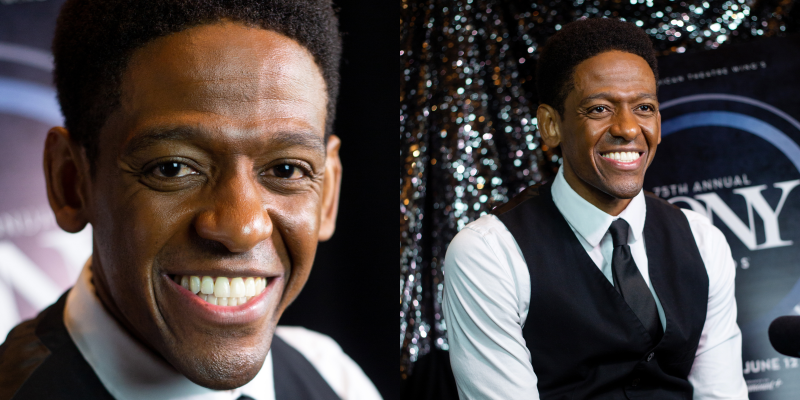 His Nomination: Best Performance by an Actor in a Featured Role in a Musical
The Show: Funny Girl
Other Broadway Credits: A Soldier's Play, After Midnight
Jared on Funny Girl: "A lot of people have sacrificed and paved the way for me to even be here. Especially the African American tap dancers in the early 1900s who don't get their just due because the history books don't shed light on them."
Watch below as Jared tells us more about what this nomination means to him!
Jared Grimes (Eddie Ryan) is a quadruple threat in the world of the arts where he is heavily making his mark in singing, dancing, acting, and choreographing. On numerous occasions, he has danced alongside legends such as Wynton Marsalis, Gregory Hines, Ben Vereen, Jerry Lewis and Fayard Nicholas. and also performed for Barack Obama and Ted Kennedy at the Kennedy Center. Most recently on Broadway, Jared could be seen in the Tony Award-winning production of A Soldier's Play.
Grimes has toured with Musical legend, Mariah Carey, under the choreography of Marty Kudelka, and danced for artists such as Common, Salt-n-Pepa, Envogue, Busta Rhymes and the Roots. Jared's theater credits include, After Midnight on Broadway directed by Warren Carlyle, Twist directed by Debbie Allen, Babes in Arms at the Goodspeed Opera House choreographed by Randy Skinner, Gentlemen Prefer Blondes directed by John Rando at Encores and Broadway Underground directed by himself.
In the world of acting, Jared is known for his recurring role of 'Adrian' on NBC's hit show "Manifest." He performed the lead role of 'Jackson' in the Annapurna feature film Swing Kids and Sammy Davis Jr.'s "Birth of the Blues" on Michael Feinstein's American Songbook for PBS. Other film credits include Paramount's, The Marc Pease Experience starring Ben Stiller, New Line Cinema's Little Manhattanand Elevation Filmwork's' First Born starring Elizabeth Shue. Grimes has appeared in commercials for Coca-Cola, Subway, MTV and television shows such as CBS' "Star Search," "Showtime at the Apollo," ABC Family's "Dance Fever" and "The Jerry Lewis Telethon."
Grimes made his choreography debut in Cirque Du Soleil's, Banana Shpeel Off-Broadway, choreographed commercials for Chili's and also assisted choreography with Kristin Denehy for Macy's popular Kids Bop commercial.
Recently he was a choreographer of After Midnight on Broadway and associate choreographer of Holler If You Hear Me, the Tupac musical.
Jared was a lead in the Radio CIty Spring Spectacular and recently choreographed the feature film "Breaking Brooklyn" with director Paul Becker.