Click Here for More Articles on NEW YORK CITY
Marlin Thomas's THE MIDDLEMAN Set for NY SummerFest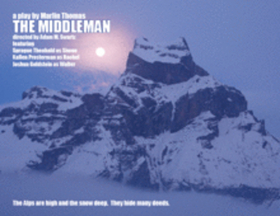 The Alps are high and the snow deep. They hide many deeds.
Marlin Thomas's riveting new play concerns a pawn broker during the Second World War called upon to be a middleman between the Nazis and our allied forces. He must help hammer-out a deal between two people in Zurich. The collateral: cash, weapons, and prisoners of war.
While all have the best of intentions - fighting the enemy and protecting Jewish lives - things can still go wrong ... and do.
Adam M. Swartz directs Sprague Theobald, Kallen Prosterman, and Joshua Goldstein.
Mr. Thomas is a prolific author among The New York indie arts scene with acclaimed productions at The Dramatists Guild, Manhattan Repertory Theater, Shades Repertory Theatre, Chain Theatre, Take Ten Festival, Westchester Collaborative Theater, and the Midtown International Theatre Festival.
IF YOU GO:
THE MIDDLEMAN BY MARLIN THOMAS: A FEATURED EVENT AT NYSUMMERFEST
Thursday, Sept. 14 @ 9pm; Saturday, Sept. 16 @ 1pm; Sunday, Sept. 17 @ 6pm
The Hudson Guild Theater, 441 West 26 Street, (between 9th And 10th Avenues)
New York City - brownpapertickets.com/event/2966037