Mandy Patinkin To Present Mlotek Prize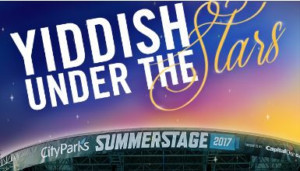 National Yiddish Theatre Folksbiene (NYTF) and City Parks Foundation's SummerStage will present Yiddish Under the Stars, a cavalcade of ensembles and individual performers, leaders of the international revival of Yiddish music. The free concert will take place on Wednesday, June 13, at SummerStage in Central Park, 72nd Street near 5th Avenue. Emceeing Yiddish Under the Stars is comedian and two-time Emmy Award nominee Jackie Hoffman (Charlie And the Chocolate Factory, The Addams Family, Hairspray), who is set to appear as Yente the matchmaker in NYTF's Yiddish language Fiddler on the Roof this summer.
Headlining the concert will be Grammy-winning composer, bandleader, and trumpet virtuoso Frank London and his Klezmer Brass Allstars; world-renowned Yiddish troubadour Daniel Kahn and his renowned band The Painted Bird; iconic mandolin and clarinet star Andy Statman and his ensemble; internationally beloved Cantor Magda Fishman; Tony-nominated director, actress, and concert artist Eleanor Reissa; klezmer rock superband Golem; exotic Jewish music ensemble Pharaoh's Daughter, led by singer/songwriter Cantor Basya Schechter; and, composer/conductor Zalmen Mlotek, artistic director of the NYTF. Seating and standing is first come, first served until capacity is reached. The concert producer is Moishe Rosenfeld of Golden Land Concerts & Connections. The concert will feature a wide selection of Yiddish musical creations, contemporary and traditional, along with exciting collaborations among this wonderful lineup of stars. Get ready to sing and dance in the aisles.
Jackie Hoffman is an Emmy-nominated actress with a ubiquitous presence in film, TV, and in the New York Theater, where she has played award-winning, widely-praised roles in countless productions. She has also gained a huge fanbase for her signature one-woman shows, which showcase her comedic genius, creative skills, and unique charisma. Broadway credits include Charlie and The Chocolate Factory, On The Town, The Addams Family, Xanadu, and Hairspray. TV roles include Feud! (Emmy nomination), Gilmore Girls, Difficult People, Elementary, Girls, New Normal, Family Guy, The Good Wife, Inside Amy Schumer, Raising Hope, Melissa & Joey, 30 Rock, Starved, Hope & Faith, Curb Your Enthusiasm, Strangers With Candy, Dilbert, TV Funhouse, and Conan O'Brien. Films include: Birdman, The Sitter, Extra Man, A Dirty Shame, Garden State, Legally Blonde II, Kissing Jessica Stein, and Mo' Money.
Famed international Yiddish troubadour, actor, songwriter, bandleader, curator, and teacher Daniel Kahn, who will play Perchik in Fiddler on the Roof this summer, will be awarded the Yosl and Chana Mlotek Memorial Prize for Yiddish Continuity at the concert, in which Kahn and his Berlin-based klezmer punk band, The Painted Bird, will be among the featured acts. The Mlotek Prize was instituted a decade ago, at first in memory of the late Joseph Mlotek, who, as educational director of the Workmen's Circle, instituted many of the programs and initiatives that kept the Yiddish language and culture prominent in New York and communities worldwide in the aftermath of the Holocaust.
Born in Detroit, Daniel Kahn studied drama and writing at University of Michigan, where he won three Hopwood Awards for playwriting, screenwriting, and poetry. He has been on the faculty at Klez Kanada, Klez Kamp, Yiddish New York, and Yiddish Summer Weimar and has taught and performed Yiddish songs from Australia to Austria to Russia, Israel, Brazil, New Orleans and Vancouver. He performed in NYTF's 2017 Drama Desk-nominated revival of Amerike- The Golden Land. He played Biff in New Yiddish Rep's Drama Desk-nominated 2015 production of Death of a Salesman in Yiddish at the Castillo Theater. A singer, songwriter, translator, and instrumentalist, he is also a founding member of the bands The Brothers Nazaroff, The Unternationale, Semer Ensemble, Strangelovesongs, and The Disorientalists.
Now entering its 104th season, Tony Award-nominated and Drama Desk Award-winning National Yiddish Theatre Folksbiene (NYTF) is the longest consecutively producing theatre in the US and the world's oldest continuously operating Yiddish theatre company. Led by CEO Christopher Massimine and Artistic Director Zalmen Mlotek, NYTF is dedicated to creating a living legacy through the arts, connecting generations and bridging communities. NYTF aims to bring history to life by reviving and restoring lost and forgotten work, commissioning new work, and adapting pre-existing work for the 21st Century. Serving a diverse audience comprised of performing arts patrons, cultural enthusiasts, Yiddish-language aficionados and the general public, the company presents plays, musicals, concerts, lectures, interactive educational workshops and community-building activities in English and Yiddish, with English and Russian supertitles accompanying performances. NYTF provides access to a century-old cultural legacy and inspires the imaginations of the next generation to contribute to this valuable body of work.
Don't miss the American Premiere of Fiddler on the Roof in Yiddish beginning July 4 at the Museum of Jewish Heritage. Experience Fiddler on the Roof in a new way- in Yiddish, the language of Tevye and his family! The rich Yiddish translation (with English and Russian supertitles) adds new depth and dimension to the most well-known Jewish musical in the world. More information can be found at www.NYTF.org.
About SummerStage
SummerStage, a program of City Parks Foundation, is New York's largest free outdoor performing arts festival. SummerStage annually presents more than 100 performances in 18 parks throughout the five boroughs. With performances ranging from American pop, Latin, world music, dance and theater, SummerStage fills a vital niche in New York City's summer arts festival landscape. Since its inception 33 years ago, more than six million people from New York City and around the world have enjoyed SummerStage.SummerStage is presented by Capital One. For more information, visitwww.cityparksfoundation.org/summerstage/.