MCC Theater Announces New Duncan Sheik Musical, MOSCOW MOSCOW..., and More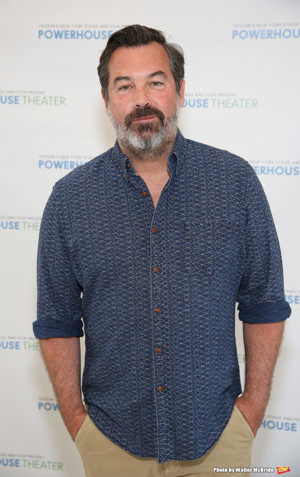 MCC Theater (Robert LuPone, Bernard Telsey, William Cantler, Artistic Directors; Blake West, Executive Director) is thrilled to announce four new productions for its 32nd Season in the Theater's new, permanent home. The season includes an exciting mix of world and New York premieres from artists both familiar and new to MCC audiences-each fulfilling MCC's longtime commitment to bold, risk-taking works from the most vital voices working in theater today. The newly announced productions will take place in the company's new complex designed by Andrew Berman Architect at West 52nd Street and 10th Ave in New York's Hell's Kitchen neighborhood in two theaters: The Newman Mills Theater and The Susan and Ronald Frankel Theater. For more info on MCC Theater, visit www.mcctheater.org.
Highlights of the 2018/19 Season include: the World Premiere of Alice By Heart, a new musical with a book by Steven Sater with Jessie Nelson, music by Duncan Sheik and lyrics by Steven Sater (Spring Awakening); Halley Feiffer's Moscow Moscow Moscow Moscow Moscow Moscow, directed by Trip Cullman; BLKS by Aziza Barnes; The Light by Loy A. Webb and directed by Logan Vaughn.
"More than three decades ago we rented a tiny apartment in Hell's Kitchen for our work and now our dream for a permanent home for MCC Theater is coming true," said MCC Co-Artistic DirectorRobert LuPone. "This landmark 2018/19 season will introduce New York audiences to two wholly original new voices and will also feature new work from trailblazing artists, including some longtime collaborators."
"We formed this company as a community of artists committed to taking risks and surprising audiences. We are excited for a season in our new home that dares us all to be fearless as we grapple with the world we live in and the people we want to be," said MCC Co-Artistic Director Bernard Telsey.
"With three New York premiere plays and a world premiere musical, this season will ask us all to confront the things that terrify us, shine a light on what is absurd, and celebrate the intimate relationships that help us move forward together," said MCC Co-Artistic Director Will Cantler.
"The dream of our own home that we've had for so long is coming true this year, as a result of the hard work of many supportive and dedicated people," said Executive Director, Blake West. "We're thrilled to open our new complex for our audiences and students, and about the opportunities this new space will give us to bring many more new friends into the MCC community. We can't wait to begin our great inaugural season."
MCC Theater's new space, scheduled to open later this year, will unite its diverse roster of programs under one roof for the first time in the company's three-decade history. The new facility will also allow MCC to expand its programming and establish itself as a cultural anchor within the Hell's Kitchen neighborhood. The $35 million project is funded by a public-private partnership between the Theater and the City of New York, which has contributed $25.7 million to the project. The new complex boasts two theaters for mainstage productions located at 52nd and 10th Ave: The Newman Mills Theater, a 245-seat theater and The Susan and Ronald Frankel Theater a 100-seat black box theater.
The multi-theater complex will support the theater's mission to develop new work and new artists in expanded ways and will host the popular PlayLabs reading series, which brings audiences into the development process. Over the years, MCC has developed more than 500 plays that have gone on to productions in the U.S. and around the world.
In the 2018/19 season, MCC Theater's Education & Outreach Department will present student performances in the new home alongside mainstage programming. Eighteen years ago, MCC Theater initiated a series of intensive in-school and after-school education programs including the renowned MCC Theater Youth Company that now serve approximately 800 New York City public high school students each year. At the core of all MCC education programs, be they in school, after school, or in the office, is this: MCC programs for teens and young adults foster the desire to be heard and the courage to speak out.
MCC's next production this season is Transfers by Lucy Thurber and directed by Jackson Gay, which begins performances April 5th, and the theater recently announced the New York premiere of Collective Rage: A Play in 5 Betties by Jen Silverman and directed by MCC alum Mike Donahue (The Legend of Georgia McBride) which begins performances August 16th, and an additional production to be announced at a later date. All three productions will take place at the Lucille Lortel Theatre (121 Christopher Street) in the West Village.
Subscriptions are now on sale on the company's website at www.mcctheater.org which currently include five and four show build-your-own packages for the following productions:

New York Premiere
COLLECTIVE RAGE: A PLAY IN 5 BETTIES;
IN ESSENCE, A QUEER AND OCCASIONALLY HAZARDOUS EXPLORATION; DO YOU REMEMBER WHEN YOU WERE IN MIDDLE SCHOOL AND YOU READ ABOUT SHACKLETON AND HOW HE EXPLORED THE ANTARCTIC?; IMAGINE THE ANTARCTIC AS A PUSSY AND IT'S SORT OF LIKE THAT
directed by Mike Donahue
August 16 - September 23, 2018
at The Lucille Lortel Theatre
Meet five different women named Betty: one rich, one lonely, one charismatic, one lovelorn, and one who keeps working on her truck. Oh, and one has decided to stage a production of that play-within-a-play by... that old English guy, what's his name? Ah, forget it. In Jen Silverman's unpredictable comedy Collective Rage: A Play in 5 Betties, five women collide at the intersection of rage, love, and the "thea-tah," provoking each other to take a look in the mirror and face the person they didn't know they could be. Directed by Mike Donahue (The Legend of George McBride), this New York premiere invites us all to be a little braver, live a little louder, laugh a little harder, and unleash our inner Betty.
New York Premiere
THE LIGHT
by Loy A. Webb
directed by Logan Vaughn
January 9 - February 17, 2019
at The Susan and Ronald Frankel Theater
Not every marriage proposal goes as planned. Loy A. Webb's The Light introduces us to Rashad and Genesis on what should be one of the happiest days of their lives, but their joy quickly unravels when ground-shifting accusations from the past resurface in this gripping two character drama. Can their relationship survive the growing divide between them over who- and what - to believe? Directed by Logan Vaughn, The Light is a reckoning that unfolds in real-time and peels away the layers of truth, doubt, pain, and ultimately the power of love.
World Premiere
ALICE BY HEART
book by Steven Sater with Jessie Nelson
music by Duncan Sheik
lyrics by Steven Sater
directed by Jessie Nelson
January 30 - March 10, 2019
at The Newman Mills Theater
When the madness of the world is too much to bear, we take refuge in the stories we love. Tony® and Grammy® award-winning creators of Spring Awakening, Steven Sater and Duncan Sheik, reunite for their new musical Alice By Heart, inspired by Alice's Adventures in Wonderland, and directed and co-written by Jessie Nelson (Waitress). In the rubble of the London Blitz of World War II, Alice Spencer's budding teen life is turned upside down, and she and her dear friend Alfred are forced to take shelter in an underground tube station. When the ailing Alfred is quarantined, Alice encourages him to escape with her into their cherished book and journey down the rabbit hole to wonderland. As they travel through the tale, Alice By Heart explores the poignancy of first love, coming to terms with loss, and finding the courage to move forward. This world premiere musical encourages us all to celebrate the transformational power of the imagination, even in the harshest of times.
New York Premiere
BLKS
by Aziza Barnes
director TBA
April 18 - May 26, 2019
at The Newman Mills Theater

When shit goes down, your girls show up. As sharply funny as it is poignant, BLKS introduces us to Octavia, Imani, and June - three twenty somethings in New York City hunting for intimacy and purpose in a city that doesn't seem to care. They drink a lot. They smoke a lot. They try to have sex. A lot. When they need each other the most, the women rally to "resurrect their fly" in a day full of humorous and painful attempts to be heard through the noise that surrounds them. Poet Aziza Barnes makes zir playwriting debut which signifies the arrival of a wholly original voice.
New York Premiere
MOSCOW MOSCOW MOSCOW MOSCOW MOSCOW MOSCOW
by Halley Feiffer
directed by Trip Cullman
World Premiere at Williamstown Theater Festival
June 27 - August 4, 2019
at The Susan and Ronald Frankel Theater
The struggle is real for Olga, Masha, and Irina: siblings who are NOT super thrilled to be stuck in rural Russia circa 1900 (laaame). In Halley Feiffer's contemporary reimagining of Chekhov'sThree Sisters, we follow the joys and heartbreaks of one lovably dysfunctional family over the course of several pivotal years in a world that proves to be eerily similar to the one we live in today. Directed by Trip Cullman, this new black comedy tackles the absurdity of the privileged class and the power of love in a fresh twist on a classic tale that reveals itself to be far more relevant, than like, ever before.
About MCC Theater
MCC is one of New York's leading nonprofit Off-Broadway companies, driven by a mission to provoke conversations that have never happened and otherwise never would. Founded in 1986 as a collective of artists leading peer-based classes to support their own development as actors, writers and directors, the tenets of collaboration, education, and community are at the core of MCC Theater's programming. One of the only theaters in the country led continuously by its founders, Artistic Directors Robert LuPone, Bernard Telsey, and William Cantler, MCC fulfills its mission through the production of world, American, and New York premiere plays and musicals that challenge artists and audiences to confront contemporary personal and social issues, and robust playwright development and education initiatives that foster the next generation of theater artists and students.
MCC Theater's celebrated productions include Jocelyn Bioh's School Girls; Or, the African Mean Girls Play; Penelope Skinner's The Village Bike; Robert Askins' Hand to God (Broadway transfer; five 2015 Tony Award® nominations including Best Play); John Pollono's Small Engine Repair; Paul Downs Colaizzo's Really Really; Sharr White's The Other Place (Broadway transfer); Jeff Talbott's The Submission (winner of the inaugural Laurents/Hatcher Award); Neil LaBute's All The Ways To Say I Love You, Reasons to Be Happy, reasons to be pretty (Broadway transfer, three 2009 Tony Award® nominations, including Best Play), Some Girl(s), Fat Pig, and The Mercy Seat; Michael Weller's Fifty Words; Alexi Kaye Campbell's The Pride; Bryony Lavery's Frozen (Broadway transfer; four 2004 Tony Award® nominations including Best Play, Tony Award® for Best Featured Actor); Tim Blake Nelson's The Grey Zone; Rebecca Gilman's The Glory of Living (2002 Pulitzer Prize finalist); Margaret Edson's Wit (1999 Pulitzer Prize); and the musicals Coraline, Carrie, and Ride the Cyclone. Many plays developed and produced by MCC have gone on to productions throughout the country and around the world.
About MCC Theater's Playwright Development and Education Initiatives
MCC Theater's playwright development program, PlayLabs, helps foster the MCC artistic community by providing writers intensive dramaturgical support, as well as the opportunity to work alongside professional directors and actors to engage public audiences in the development of new work. The PlayLabs reading series incorporates informal post-show gatherings for conversation between artists and audiences that enliven and stimulate the often solitary and insular writing and development process. Plays developed as part of PlayLabs have gone on to full productions at MCC, as well as at other nonprofit theaters in New York and overseas, adding vibrant new works to the contemporary theatrical canon.
About the MCC Theater Youth Company Playwriting Lab and Education Programs
Eighteen years ago, MCC Theater initiated a series of intensive in-school and after-school education programs that now serve approximately 800 New York City public high school students each year. At the core of all MCC education programs, be they in school, after school, or in the office, is this: MCC programs for teens and young adults foster the desire to be heard and the courage to speak out. The goal of this work is to showcase and celebrate the mosaic of New York City's young people, creating a platform for their voices to be heard and their experiences and individual identities to be honored. MCC's programs build the skills, and provide the encouragement, to make this possible.
The centerpiece of the institution's education programs is the MCC Theater Youth Company, the first free, after-school company of its kind associated with a professional theater in NYC. The Youth Company has several cohorts, including an Acting Lab, a Playwriting Lab, an Ambassador Leadership program, and a school campus-based satellite program on the campus of the High School for Public Service in Prospect Lefferts Gardens.
Loy A. Webb is a Chicago born playwright and theatre journalist. Her debut play The Light premiered in January 2018 at The New Colony, where it was cited as one of the highest rated shows in Chicago by Theatre in Chicago. Her newest play, His Shadow, is currently in development at Chicago Dramatists where she is an inaugural Tutterow Fellow. Her one-act plays have been produced at Black Ensemble Theatre, American Theater Company, 20 Percent Theatre Company Chicago, GI60 International One Minute Play Festival, Modern-Day Griot Theatre Company New York, and the Black Lives, Black Words International Project. As a theatre journalist she is a member of the Association of Women of Journalist-Chicago, a past mentor with the AWJ-Chicago/Goodman Theatre's Cindy Bandle Young Critics Program, and a contributing theater critic for Newcity. Loy holds a B.A. in Political Science from the University of Illinois at Urbana-Champaign, and a J.D. from The John Marshall Law School.
Logan Vaughn is a New York based Artist and Director. In 2008 Logan was awarded the Goodman Theater's prestigious Joyce Arts Fellowship in Casting and subsequently worked as an Associate in the Tony Award winning theater's casting department for five seasons. Logan was Playwrights Horizon's Director in Residence 2012-2013. In 2012 Logan was also named a Member of the Director's Lab, Lincoln Center. As a Director she has worked with Geva Theatre, Playwrights Realm, Baltimore Center Stage, Mosaic Theatre, 59E59, National Black Theatre and NYU Tisch School of the Arts. Logan, most recently directed the World Premiere of Mat Smart's The Agitators at Geva Theatre where it became the Best Selling World Premiere in Geva Theatre's history.
Duncan Sheik: Performer/Composer. Theatre credits include: Spring Awakening (2006) Tony Awards for "Best Original Score" and "Best Orchestrations," 2008 Grammy Award for "Best Musical Show Album", Because of Winn-Dixie (Alabama Shakespeare Festival 2017, Delaware Theatre Company 2015), Whisper House (London 2017, Old Globe Theater 2011), American Psycho (2016),The Secret Life of Bees (upcoming 2019), Nero (Another Golden Rome) (currently in development), The Nightingale (currently in development) Noir (currently in development). Recordings include:American Psycho (Original London Cast Recording 2016), Legerdemain (2015) Covers 80s (Sneaky Records 2011), Whisper House (Sony 2009), Spring Awakening (Original Broadway Cast Recording 2006), White Limousine (Rounder 2006), Daylight (Atlantic Records 2002), Phantom Moon (Nonesuch 2001), Humming (Atlantic Records 1998), Duncan Sheik (Grammy Nomination "Best Male Vocal", RIAA Certified Gold) (Atlantic Records 1996).
Steven Sater: Musicals include: Spring Awakening (Tony, Olivier, Drama Desk, Grammy Awards); The Nightingale (La Jolla Playhouse, NY Stage and Film); Alice by Heart (National Theatre of London: Connections); Prometheus Bound (music by Serj Tankian, A.R.T.); Some Lovers (music by Burt Bacharach, The Old Globe, The Other Palace, Upcoming, Adirondack Theatre Festival);Nero (Magic Theatre, NY Stage and Film). Plays: Carbondale Dreams; Perfect for You, Doll (Rosenthal Prize); Arms on Fire (Steppenwolf New Play Prize, Chester Theatre, NY Stage and Film), A Footnote to the Iliad (NY Stage and Film); Shakespeare's Tempest (London's Lyric Hammersmith); No One's Sonata (Eugene O'Neill Theatre); New York Animals (Bedlam Theatre Co.).
Jessie Nelson began her career with Mabou Mines at The Public Theater. An unexpected left turn led her to film where she wrote, directed, and produced Corrina Corrina, I Am Sam and To The Moon Alice. She directed Love The Coopers and "Curb Your Enthusiasm". Her writing credits include Stepmom and The Story of Us. She produced Fred Claus and Danny Collins. Brought back to her first love, theater, Jessie wrote the Broadway musical Waitress with music and lyrics by Sara Bareilles. She directed the workshop of Alice By Heart at the National Theater's Connections Program. She has been the Artistic Director of the Sundance Writers Lab. She wrote the children's book Labracadabra.
Aziza Barnes is blk & alive. Aziza's professional playwriting debut BLKS premiered in December 2017 at Steppenwolf Theatre Company. Winner of the 2015 Pamet River Prize, Aziza's first full length collection i be but i ain't is from YesYes Books 2016. Aziza is a Cave Canem Fellow, co-founder of The Conversation Literary Festival, and co-host of the podcast The Poetry Gods. Graduate of New York University and participant in the 2016 Ojai Playwrights Conference.
Halley Feiffer is a writer and actress. Plays include I'm Gonna Pray For You So Hard (Atlantic, OCC nomination), Moscow Moscow Moscow Moscow Moscow Moscow (Williamstown), A Funny Thing Happened on the Way to the Gynecologic Oncology Unit at Memorial Sloan-Kettering Cancer Center of New York City (MCC) and How To Make Friends and Then Kill Them (Rattlestick). Her plays have been produced around the country and in the UK. Acting credits include the Broadway revivals of The Front Page and The House of Blue Leaves (Theatre World Award), and numerous Off-Broadway productions including Tigers Be Still (Roundabout, Drama League nomination). Television and Film includes recurring roles on HBO's "Mildred Pierce" and "Bored to Death" and the films The Squid and the Whale, Gentlemen Broncos and He's Way More Famous Than You, which she co-wrote. She recently starred in the West Coast premiere of her play A Funny Thing Happened... at the Geffen in Los Angeles. TV writing credits include "The One Percent" (Starz), "Purity" (Showtime), "Mozart in the Jungle" (Amazon) and original pilots for FX and TNT. She is currently a producer on the upcoming Showtime series "Kidding," starring Jim Carrey and directed by Michel Gondry.
Trip Cullman: Broadway: Lobby Hero (Second Stage at the Helen Hayes), John Guare's Six Degrees of Separation (Barrymore), Joshua Harmon's Significant Other (Booth). Select Off Broadway: Anna Jordan's YEN, Simon Stephens' Punk Rock (Obie award), Halley Feiffer's A Funny Thing Happened On The Way To The Gynecologic Oncology Unit At Memorial Sloan Kettering Cancer Center Of New York City (MCC); Leslye Headland's The Layover, Jon Robin Baitz's The Substance of Fire, Paul Weitz' Lonely I'm Not, Headland's Bachelorette, Terrence McNally's Some Men,Adam Bock's Swimming In The Shallows (Second Stage); Headland's Assistance, Bock's A Small Fire (Drama Desk nomination), Bock's The Drunken City (Playwrights Horizons); Tarell Alvin McCraney's Choir Boy (MTC); Julia Jordan and Juliana Nash's Murder Ballad (MTC and Union Square Theatre); Feiffer's I'm Gonna Pray For You So Hard (Atlantic); Weitz' Roulette (EST); Adam Rapp's The Hallway Trilogy: Nursing (Rattlestick); Bert V. Royal's Dog Sees God (Century Center); Jonathan Tolins' The Last Sunday In June (Rattlestick and Century Center); Gina Gionfriddo's US Drag (stageFARM); and several productions with The Play Company. London: Bock's The Colby Sisters of Pittsburgh, PA (Tricycle). Select regional: McCraney's Choir Boy (Ovation nomination), Bess Wohl's Barcelona (Ovation nomination), Feiffer's A Funny Thing Happened... (Geffen Playhouse); McCraney's Choir Boy (NAACP and Suzi Bass awards) (Alliance); Guare's Six Degrees of Separation (Old Globe); Richard Greenberg's The Injured Party (South Coast Rep); McNally's Unusual Acts of Devotion (La Jolla Playhouse); Christopher Durang's Betty's Summer Vacation (Bay Street); Wohl's Touched, Michael Friedman and Daniel Goldstein's Unknown Soldier, Tennessee Williams' The Rose Tattoo, Feiffer's Moscow, Moscow, Moscow, Moscow, Moscow, Moscow(Williamstown Theater Festival).
Photo Credit: Walter McBride / WM Photos
---
Shop BroadwayWorld

Shop this season's new musicals! Get dressed up for a night at the theatre, or just a night at home, with merch from some of Broadway's biggest hits including SOME LIKE IT HOT, KIMBERLY AKIMBO, and more!
---
Related Stories