MARY & MAX the Musical Announces Industry Reading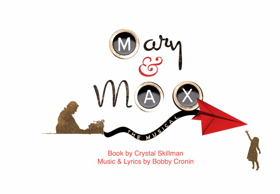 James Judy, Lauren Elder, Zachary Piser, Anne Brummel, and Lily Brooks O'Briant lead a closed industry presentation of MARY & MAX the musical, directed by Stafford Arima.
After a successful 29-hour reading at the ALLIANCE THEATRE this summer produced by Broadway Dreams Foundation, MARY & MAX the musical continues its journey to Broadway with a series of upcoming closed readings before it's premiere production in the fall of 2018.
With a book by award-winner Crystal Skillman (Geek, King Kirby) and music and lyrics by award-winner Bobby Cronin (The Concrete Jungle, W2ML, Seeking Alice film), MARY & MAX the musical is based on the claymation film by Adam Elliot starring Phillip Seymour Hoffman and Toni Collette. MARY & MAX is a tale of friendship between two unlikely pen pals: Mary, a lonely, eight-year-old girl with an unfortunate birthmark on her face living in the suburbs of Melbourne, and Max, a forty-four-year-old, severely obese man living in New York who is diagnosed with Asperger's Syndrome. Their story spans decades while learning about love, loss, self-acceptance, and the importance and beauty of friendship.
Directed by Stafford Arima (Allegiance, Bare, Olivier Nomination for Ragtime) with music direction by Anna Ebbesen, the ten-person October 7th reading cast of MARY & MAX features:
James Judy (Into The Woods, Jekyll & Hyde) as Max Jerry Horowitz, with Lily Brooks O'Briant (Matilda) as Young Mary Daisy Dinkle and Lauren Elder (Hair, SideShow) as Adult Mary.
The ensemble, who play a variety of roles in both Mary & Max's lives, includes:
Anne Brummel (Elphaba in Wicked)
Zachary Piser (Boq in Wicked)
LaDonna Burns (Rent)
Jason Pintar (Titanic National Tour)
For more information, visit:
https://www.facebook.com/MaryandMaxthemusical/