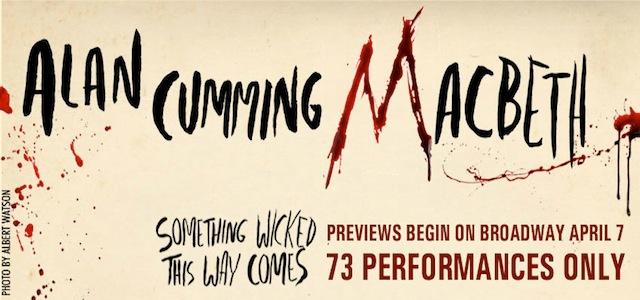 Click Here for More Articles on MACBETH
MACBETH Announces New Rush Ticket Policy for Final Broadway Performances
Producer Ken Davenport has announced an expanded rush ticket program for two of the final performances of Tony and Olivier Award winner Alan Cumming's acclaimed one-man Broadway production of Macbeth.
For two performances only -- Friday, July 12 at 8 p.m. and Saturday, July 13 at at 8 p.m. -- $30 rush tickets will be available to patrons of all ages.
"Throughout our incredible Broadway run, we've seen countless young theatergoers take advantage of our longstanding '$30 Under 30' rush ticket policy," said Ken Davenport. "Alan has now said that this is indeed the very last time that he'll ever do this production. He won't be taking it to another city. It won't tour. It won't play overseas. This is it. So for two performances only, this Friday and Saturday, we've elected to expand our rush policy to all patrons regardless of age, so that they can experience this incredible piece of Broadway theatre before it's gone forever."
Each morning when the Ethel Barrymore Theatre Box Office opens (10 a.m.), a limited number of rush tickets will be available for that evening's performance. All rush tickets are $30 each (price includes a $2 facility fee). There is a limit of one ticket per customer. Rush tickets can only be purchased in-person at the theater box office.
The Ethel Barrymore Theatre is located at 243 West 47th Street. MACBETH will play its final Broadway performance on Sunday, July 14 at 3 p.m. (The traditional "$30 Under 30" rush policy remains in effect for that final performance.)
A tour-de-force performance directed by Tony Award winner John Tiffany (Once) andAndrew Goldberg (The Bomb-itty of Errors), The National Theatre of Scotland's Macbeth is set in a clinical room deep within a dark psychiatric unit. Cumming is the lone patient, reliving the infamous story and inhabiting each role himself.
Closed circuit television cameras watch the patient's every move as the walls of the psychiatric ward come to life in a visually stunning multi-media theatrical experience of Shakespeare's notorious tale of desire, ambition and the supernatural.
A Tony Award winner for his celebrated performance as the Emcee in the long-running revival of Cabaret, Alan Cumming's other Broadway credits include Mack the Knife inThe Threepenny Opera and Otto in Design for Living.
Cumming is a two-time Emmy Award nominee for his current role in the CBS drama "The Good Wife." Other television and film credits include Goldeneye, Spy Kids, X2: X-Men United, Titus, Eyes Wide Shut, The Tempest, Sweet Land, Sex and the City, "Frasier" and "Tinman."
MACBETH also features Jenny Sterlin and Brendan Titley as the hospital's doctor and orderly, respectively. Chris Kipiniak understudies both roles.
MACBETH features scenic and costume design by Merle Hensel, lighting design byNatasha Chivers, sound design by Fergus O'Hare and video projection design by Ian William Galloway, voice by Ros Steen, movement by Christine Devaney and music by Max Richter.
MACBETH is produced on Broadway by Ken Davenport, in association with Hunter Arnold and Carl Daikeler, Cody Lassen, Joan Raffe & Jhett Tolentino, Julia Broder, Luigi & Rose Caiola, Michael DeSantis, Neil Gooding Productions, John C. Hall, Marguerite Hoffman, Ken Mahoney, Elliott Masie, Dean Roth, Bellanca Smigel Rutter and Kat White.
Visit the official website for Macbeth at www.MacbethOnBroadway.com.
REGULAR-PRICE TICKETING DETAILS: Tickets for Macbeth are $69.50-$135.00 and are available by visiting www.telecharge.com or by calling 212-239-6200. Tickets may also be purchased in-person at the Ethel Barrymore Theatre Box Office (243 West 47th Street). VIP Premium Seats for all performances available for $199. For groups of 10+, visit www.MacbethOnBroadway.com/groups or call 877-943-BWAY (2929).
Photo Credit: Jeremy Daniel

Related Articles
More Hot Stories For You