Lookingglass Announces Season of World Premieres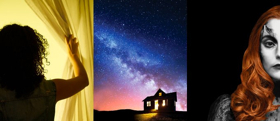 Lookingglass Theatre Company announces its complete 2018-2019 season lineup. The season begins with the World Premiere of The Steadfast Tin Soldier: A Christmas Pantomime, conceived and directed by Ensemble Member Mary Zimmerman from the story by Hans Christian Andersen. Following The Steadfast Tin Soldier is the World Premiere of Act(s) of God written by Ensemble Member Kareem Bandealy and directed by Ensemble Member Heidi Stillman. Concluding the 2018-2019 season is the World Premiere of Mary Shelley's Frankenstein, written and directed by Ensemble Member David Catlin from the book by Mary Shelley. Subscriptions to Lookingglass' 2018-2019 season are on sale now and may be purchased through the box office at (312) 337-0665 or lookingglasstheatre.org.
"We are excited about our 31st season: three new plays springing from the vivid imaginations of three brilliant Ensemble Members. This season features two of our most prolific and well-loved auteur directors, Mary Zimmerman and David Catlin, as well as a play by our recent Ensemble Member and new playwright, Kareem Bandealy. Together with our new Executive Director Rachel L. Fink, we are looking forward to starting our next 30 years with a dynamic lineup of Lookingglass originals," comments Artistic Director Heidi Stillman.
The Lookingglass 2018-2019 Season up close:
World Premiere
The Steadfast Tin Soldier: A Christmas Pantomime
Conceived and Directed by Ensemble Member Mary Zimmerman
From the Story by Hans Christian Andersen
November 7, 2018-January 13, 2019
Unlock this jewel-adorned music box for the whole family!
Inspired by Hans Christian Andersen's The Steadfast Tin Soldier, Ensemble Member Mary Zimmerman (Metamorphoses, Treasure Island) fashions an extravagant and exhilarating spectacle. The unlikely adventure of a little tin soldier, brimming with love and unblinking bravery, is infused with Zimmerman's dazzling blend of storytelling through image and movement, accompanied by live musicians. Unsuspecting travelers make unexpected discoveries in this luminous tale, destined to enchant any and all of us not made of tin.
Mary Zimmerman is a writer and director and has worked with Lookingglass for more than 25 years. For Lookingglass, she adapted and directed The Odyssey, The Secret in the Wings, The Arabian Nights, S/M, Metamorphoses, Eleven Rooms of Proust (Co-production with About Face Theatre), Argonautika and Treasure Island. Mary is also part of The Goodman Theatre artistic team where she adapted and directed The White Snake, The Jungle Book, Candide, The Notebooks of Leonardo Da Vinci, Silk, Journey to the West, Mirror of the Invisible World and a re-creation of The Odyssey, as well as directing Wonderful Town, Pericles, The Baltimore Waltz, and All's Well That Ends Well. She has twice directed for the New York Shakespeare Festival in the Park. Regionally, her work has appeared at Berkeley Repertory Theatre, Oregon Shakespeare Festival, Huntington Theatre Company, McCarter Theatre, Arena Stage, and Shakespeare Theatre in Washington, D.C. In New York, her work has appeared at Lincoln Center, Second Stage Theatre, Brooklyn Academy Of Music, and on Broadway at Circle in the Square Theatre.
In the world of opera, she directed and co-wrote the libretto Galileo Galilei (Composed by Philip Glass) that was produced at Goodman Theatre, Brooklyn Academy Of Music, and the Barbican Theatre in London. Additionally, she has directed four operas at Metropolitan Opera in New York City: Rusalka, Lucia Di Lammermoor, La Sonnambula, and Rossini's Armida, each of which has been broadcast live into movie theatres worldwide.
In 1998, Mary received a MacArthur Fellowship and in 2002, the Tony Award for Best Director of a Play for Metamorphoses on Broadway.
World Premiere
Act(s) of God
Written by Ensemble Member Kareem Bandealy
Directed by Ensemble Member Heidi Stillman
February 13-April 7, 2019
Three siblings, two parents, and one very unexpected dinner guest.
As a family gathers for an overdue dinner, a mysterious envelope arrives with astonishing news. They soon find themselves scrambling to welcome a visitor of cosmic proportion. Absurdity reigns as ancient fissures open wide, long-held certainties crumble, and sh*t gets real. Will this nuclear family explode?
Lookingglass Ensemble Member Kareem Bandealy unleashes this existential dark comedy, directed by Artistic Director Heidi Stillman (Cascabel, Hard Times).
Kareem Bandealy is an Ensemble Member at Lookingglass and has previously appeared in Moby Dick, Blood Wedding, The Little Prince, Big Lake Big City, Bengal Tiger at the Baghdad Zoo, The Last Act of Lilka Kadison, and Peter Pan (A Play). Chicago credits: A Christmas Carol (2014-17), Rock 'N' Roll, Gas For Less and King Lear at Goodman Theatre; The Wheel at Steppenwolf Theatre Company; Oklahoma! at Paramount Theatre; The Good Book and The Illusion at Court Theatre; Julius Caesar, Hamlet, The Caretaker and Heartbreak House at Writers Theatre; A Midsummer Night's Dream, Edward II and Romeo and Juliet at Chicago Shakespeare Theater; A Disappearing Number and Blood and Gifts at TimeLine Theatre; The Skin of Our Teeth and The Real Thing at Remy Bumppo Theatre Company; Othello (as Othello) at The Gift Theatre, and many others. Regional credits include The Merry Wives of Windsor, The Three Musketeers and The Tempest at Illinois Shakespeare Festival; Love's Labour's Lost at Notre Dame Summer Shakespeare; Julius Caesar and Stuff Happens at Pittsburgh Irish & Classical Theatre, and four seasons with Orlando Shakespeare Theater. He has appeared in several films including The Merry Gentleman directed by Michael Keaton, in the new web series Code-Switched, and on TV in Chicago Fire. He is slated to appear next at Lookingglass as Captain Nemo in 20,000 Leagues Under the Seas. Kareem is a recipient of the 2011 3Arts Artist Award.
Heidi Stillman is an Ensemble Member and the Artistic Director of Lookingglass Theatre, where she recently directed the return of her adaptation of Hard Times. Additional shows written and directed for Lookingglass: Cascabel (with Tony Hernandez and Rick Bayless,) The North China Lover, Hephaestus (with Tony Hernandez), The Brothers Karamazov, and The Master and Margarita. Additional writing credits with Lookingglass include: The Last Act of Lilka Kadison, The Old Curiosity Shop with Laura Eason and Raymond Fox (Jeff Award for Adaptation), and The Baron in the Trees with Larry DiStasi. Directing work with Lookingglass includes: Death Tax, Bengal Tiger at the Baghdad Zoo, Trust, The Wooden Breeks, and Hillbilly Antigone. Heidi's adaptation of The Book Thief premiered at Steppenwolf Theatre Company. She directed Minita Gandhi's Muthaland for Silk Road Rising Solos and Victory Gardens Theater's Ignition Festival, CAATA/ConFEST, and at 16th Street Theatre. Last year, she wrote (with Caroline Macon) and directed The Year I Didn't Go to School at the Chicago Children's Theatre.
World Premiere
Mary Shelley's Frankenstein
Written and Directed by Ensemble Member David Catlin
From the Book by Mary Shelley
May 8-August 4, 2019
Within every man there is a monster; within every monster, a man. But which is which?
An eerie evening of ghost stories crackles to life as Mary Shelley unspools her tale of Victor Frankenstein and his unholy experiment. This gothic tale of love, horror, and the power to create life-and destroy it-awakens in this visceral, original retelling of Frankenstein.
Fresh from the brain of Ensemble Member David Catlin, creator of Moby Dick and Lookingglass Alice, comes a galvanic adaptation of this undying story. See for yourself this latest invention come to shocking life!
David Catlin is a founding Ensemble Member, actor, writer, director, and former Artistic Director of Lookingglass. David recently was seen on stage in Heidi Stillman's adaptation of Charles Dickens' Hard Times. David adapted and directed Moby Dick, which debuted at Lookingglass in summer 2015 (winner of four Jeff Awards including Production-Large), toured nationally, and returned to Lookingglass for the summer of 2017. He will direct his new adaptation of A Midsummer Night's Dream with Alliance Theatre at the Atlanta Botanical Garden in late summer/early fall 2018.
Additional Lookingglass directing credits include: Lookingglass Alice, The Little Prince, Icarus, Black Diamond (co-director), Metamorphosis, Her Name was Danger, the idiot (Jeff Citation for New Adaptation), and West (Jeff Citation for Directing). Regionally, David has directed work at McCarter Theatre, The New Victory on 42nd Street, Arden Theatre, Actors Theater of Louisville, Alliance Theatre, Arena Stage, Syracuse Stage, South Coast Repertory Theatre, and the Getty Villa. Other recent Lookingglass acting credits include: The Arabian Nights, Our Town, Argonautika, The Manuscript Found in Saragossa, La Luna Muda, Third Voyage, The Scarlet Letter, The Odyssey, and The Jungle. David has appeared on stage with Actors Gymnasium, Chicago Children's Theatre/Redmoon, and The House Theatre of Chicago.
David's film work includes Since You've Been Gone for Lookingglass/Miramax and Humanoid with Dark Harbor Stories. David is an Artistic Associate with Actors Gymnasium and serves on the acting faculty at Northwestern University
Subscriptions
Subscriptions are on sale for the 2018-2019 Season. Current subscribers who renew before May 1, 2018 will receive a 5% discount on their 2018-2019 subscription. Performances will be held at Lookingglass Theatre Company, located inside Chicago's historic Water Tower Water Works, 821 N. Michigan Ave. at Pearson.
Subscribers can choose between a 3-play subscription, or two flex pass options: the Gglasspass, or for those under 35, the Madhatter's Club. For the 2018-2019 season, 3-play subscriptions range from $116-$170.
The Gglasspass is a flex pass available to all ages. For $150, Gglasspass holders receive 3 tickets that can be used in any combination and denomination for any Lookingglass production in the 2018-2019 season.
The Madhatter's Club flex pass is available to those 35 or younger. The Madhatter's Club flex pass is $75 and includes 3 tickets that members can use in any combination and denomination for any Lookingglass production in the 2018-2019 season.
Lookingglass also offers a 3-play subscription for Accessible performances during the 2018-2019 season for $75. Patrons can choose between the Touch Tour/Audio Described performances or the Open Captioned performances.
Subscription benefits include access to the best seats in the house, pre-sale opportunities and savings before single tickets go on sale to the general public, special perks at restaurant partners, unlimited ticket exchanges, discounted parking at the nearby John Hancock Center, Water Tower Place and Olympia Centre Garage, reduced tuition for Lookingglass' renowned classes and summer camps, and access to exclusive subscriber-only events. For season subscription and ticket information, call the Lookingglass Theatre box office at (312) 337-0665 or visit lookingglasstheatre.org.
About Lookingglass Theatre Company
Inventive. Collaborative. Transformative. Lookingglass Theatre Company, recipient of the 2011 Regional Theatre Tony Award, was founded in 1988 by eight Northwestern University students. Now in its 30th season, Lookingglass is home to a multi-disciplined ensemble of artists who create story-centered theatrical work that is physical, aurally rich and visually metaphoric. the company has staged 65 world premieres, received 144 Joseph Jefferson Awards and nominations, and work premiered at Lookingglass has been produced in New York City, Los Angeles, Seattle, Berkeley, Philadelphia, Princeton, Hartford, Kansas City, Washington D.C., Atlanta, Louisville and St. Louis. Lookingglass original scripts have been produced across the United States. In 2016, Lookingglass received the MacArthur Award for Creative and Effective Institutions and in 2017, was the recipient of the League of Chicago Theatres' Artistic Achievement Award.
The Lookingglass Theatre in Chicago's landmark Water Tower Water Works opened in June 2003. In addition to developing and presenting Ensemble work, Lookingglass Education and Community programs encourage creativity, teamwork and confidence with thousands of community members each year.
Lookingglass Theatre Company continues to expand its artistic, financial and institutional boundaries under the guidance of Artistic Director Heidi Stillman, Executive Director Rachel L. Fink, Producing Director Philip R. Smith, Connectivity and Engagement Director Andrew White, General Manager Michele Anderson, a 24-member artistic ensemble, 22 artistic associates, an administrative staff and a dedicated board of directors led by Chairman John McGowan and President Nancy Timmers. For more information, visit lookingglasstheatre.org.

Related Articles
More Hot Stories For You
When Will Broadway Re-Open? "January," Hopes Broadway League President
'I actually am a little more optimistic than those who say Broadway will reopen in the spring, but I tend to be an optimistic person, I tend to think ... (read more)

Breaking: Playwright, Author & Activist Larry Kramer Dies at 84
According to the New York Times, Larry Kramer passed away this morning in Manhattan from pneumonia. He was 84 years old.... (read more)

OLD VIC to Stream Productions From an Empty Theatre; Will Kick Off With LUNGS Starring Claire Foy & Matt Smith
The Old Vic announces a new artistic initiative OLD VIC: IN CAMERA, combining a run of socially distanced performances of Duncan MacMillan's LUNGS wit... (read more)

Voting Now Open For Broadway's NEXT ON STAGE Top 10
Voting is now open for BroadwayWorld's NEXT ON STAGE Top 10! The nominees have submitted all new songs for you to listen to before casting your vote! ... (read more)

New Survey Shows Just 19% of UK Theatre Patrons Will Be Willing to Return When Venues Reopen
A new survey conducted shows that only 19% of audience members of U.K. arts venues and theaters will be willing to return to events, even after venues... (read more)

Times Square Billboards Will Go Dark on Wednesday in Support of Restaurants, Hospitality Businesses, and Non-Profits
The iconic digital billboards will go dark to alert the nation to the very real prospect that hundreds of thousands of American restaurants, non-profi... (read more)