Liza Minnelli's CABARET Costume Among 1,000 Pieces Up For Auction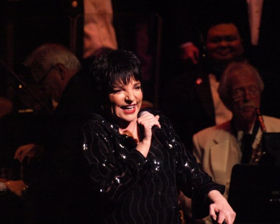 Profiles in History, an auction house located in Southern California, announced on Wednesday that Liza Minnelli would be auctioning off more than 1,000 items from her personal collection of items, including items that belonged to her mother, Judy Garland, and her filmmaker father, Vincente Minnelli, in the auction dubbed "Love, Liza".
Profiles in History has established itself as the world's largest auctioneer of original Hollywood memorabilia, having held some of the most prestigious and successful auctions of Hollywood memorabilia and owning virtually every Guinness Book record prices for original screen-used memorabilia.
The dazzling list of items includes her signature Cabaret costume -- the classic bowler hat, boots, and halter top vest included -- and her Cabaret script, complete with her hand-written annotations. In addition to these, the "Love, Liza" auction will also include her 1971 Rolls Royce Silver Shadow. Check out Liza in the infamous costume below:
The actress, now in her 70's, said that she was using "Love, Liza" to downsize her life. "Throughout my long career I have collected wonderful possessions and memorabilia and now I've reached a point in my life where I want to simplify and share with my fans who have always been there for me," she commented.
Prior to the auction, there will be a free public exhibition at the Paley Center in Beverly Hills from April 4-29. The exact date of the auction will be announced in May.
Profiles in History Chief Executive Joe Maddalena told Reuters, "Usually when you see these famous people auctions, it's household furnishings. This is pretty substantial. Liza Minnelli is a cultural icon, and this is the most important Judy Garland material that has ever been sold."
The Judy Garland memorabilia varies from an MGM studio paycheck she received before she was even in her first film to a green tramp clown tailcoat she was photographed in by Richard Avedon in 1956.
Maddalena also said, "Between Vincente Minnelli, Judy Garland and Liza, they kept everything. There are probably 500 Halston custom-made stage costumes. I am hoping that fashion and textile museums will get a chance to get this. Everything was custom made for her."
These custom Halston pieces were worn by Liza Minnelli on stage, screen and in personal appearances, including black and crimson beaded flapper dress and a 1970's red sequined tuxedo.
But don't worry if you think everything in the "Love, Liza" collection will be selling for a price tag abundant with zeros. The chief executive also told Reuters, "We have tried to make an auction where there is something for everybody. There will be things for a few hundred dollars, and things for tens of thousands. It will cover the gamut."
Click here to read the full Reuters article.
Photo by: Lily Lim