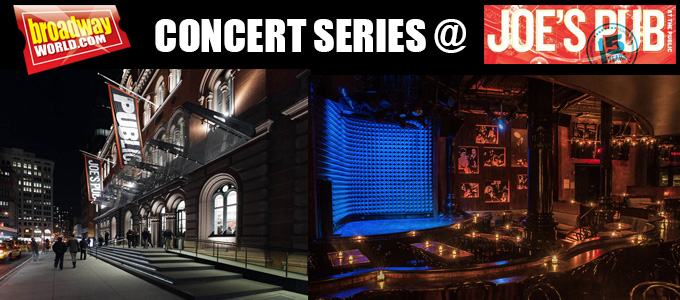 Click Here for More Articles on BWW CONCERT SERIES
Liza Minnelli Joins EVERYTHING'S COMING UP BROADWAYWORLD.COM: A JULE STYNE TRIBUTE On May 11!
On Sunday, May 11th, 2014 at 7:00pm, BroadwayWorld.com will continue its 2014 concert series at legendary cabaret venue Joe's Pub at The Public Theater, hosting an all-star tribute concert and benefit celebrating the music of incomparable multi-award-winning composer Jule Styne, while also honoring Mother's Day and raising funds for The Breast Cancer Research Foundation.
Today, we are incredibly priveleged and humbled to announce that legendary four-time Tony Award-winning Broadway and Hollywood icon Liza Minnelli has agreed to join the starry roster of leading ladies and gentlemen already confirmed for the event and pay tribute to the classic composer.
Tickets are now on sale for EVERYTHING'S COMING UP BROADWAYWORLD.COM, available here.
Following the sold-out success of BROADWAYWORLD.COM VISITS OZ, and FLY: A MUSICAL TRIBUTE TO DAMON INTRABARTOLO earlier this year, this next event in the ongoing series will be an evening directed by BroadwayWorld's own Pat Cerasaro, creator of the popular InDepth InterView series and a wide range of other innovative content for the site, with music direction by Broadway and cabaret veteran Phil Hall.
Performing talent currently scheduled to appear includes (in alphabetical order): David Burtka, Carolee Carmello, Jennifer Diamond, Mandy Gonzalez, Anita Gillette, Randy Graff, Dee Hoty, Rita McKenzie, Liza Minnelli, Marissa Mulder, Alice Ripley, Kate Shindle, Christiaan Smith-Kotlarek and Leslie Uggams, with some very special guests and additional surprises to be announced at a later date. Please note that as with all benefit concerts, talent announced is subject to change, based on scheduling.
Tickets are now on sale for EVERYTHING'S COMING UP BROADWAYWORLD.COM, available here.
Jule Styne is a Tony Award- and Academy Award-winning composer known for writing over 1500 songs over the course of his career, including scores for such notable Broadway musicals as GYPSY, FUNNY GIRL, GENTLEMEN PREFER BLONDES, PETER PAN, BELLS ARE RINGING, DO RE MI, SUGAR and HALLELUJAH, BABY! Teaming with lyricist Sammy Cahn in the 1940s, he also created a string of Hit Parade leaders and chart-topping hits, including the Oscar-winning "Three Coins In The Fountain" besides many hits culled from his film, TV and theatre scores. In addition to Sammy Cahn, Styne's illustrious collaborators include Stephen Sondheim, Betty Comden and Adolph Green, Bob Merrill, Leo Robin and E.Y. Harburg, with their combined efforts over the years having produced such unforgettable showstopping standards as "Everything's Coming Up Roses", "Don't Rain On My Parade", "Let Me Entertain You", "The Party's Over", "People", "Never Never Land", "Just In Time", and "Diamonds Are A Girl's Best Friend", just to name a few - many of which will be performed in this sure-to-be spectacular Mother's Day fundraising event.
The Breast Cancer Research Foundation® was founded in 1993 by the late Evelyn H. Lauder as an independent, not-for-profit 501(c)(3) organization dedicated to funding innovative clinical and translational research. The mission of the Foundation is not just cure - the eradication of existing disease - but also prevention, which implies stopping cancers before they happen by knowing how they happen. Determined to continue Evelyn Lauder's philanthropic ambition and honor her lasting impact on research, BCRF is fiercely committed to pursuing her vision.
Currently, 91 cents of every dollar spent by BCRF is directed towards breast cancer research and awareness programs. Since its inception, the Foundation has raised more than $465 million - over $71 million in fiscal year 2013 alone - to support research at medical institutions across the globe conducting the most advanced and promising breast cancer research.
For more information on the Breast Cancer Research Foundation, please call 646-497-2600 (toll-free, 1-866-FIND-A-CURE), or visit the Foundation web site: www.bcrfcure.org.
We would be thrilled if you would consider joining us for this once-in-a-lifetime special event this Mother's Day! After all, Jule Styne wrote the mother of all musicals, GYPSY, and musicalized the ultimate musical theatre mother, Madame Rose, so brilliantly within it - thus, this May 11 is... for him.
Photo Credit: Walter McBride
Related Articles
Pat Cerasaro contributes exclusive scholarly columns including InDepth InterViews, Sound Off, Theatrical Throwback Thursdays, Flash Friday and Flash Special as well as additional special features, (read more...)