LIVES OF SHAKESPEARE Trilogy Set For Readings At The Players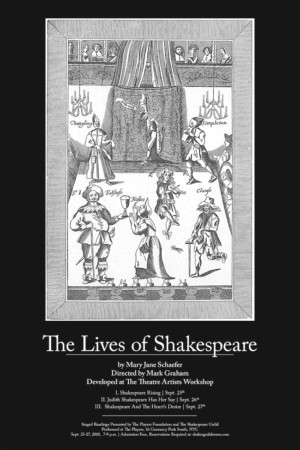 The Lives of Shakespeare will be celebrated with staged readings on successive evenings of three new plays by Mary Jane Schaefer.
Presented by The Players Foundation and The Shakespeare Guild on September 25, 26, and 27, the readings will be hosted at The Players, New York's storied social club for the dramatic arts and its patrons.
Shakespeare Rising is a portrait of the artist as a young man; Judith Shakespeare Has Her Say is a feminist view of a flawed but beloved father; and Shakespeare and the Heart's Desire is a 'vanity of human wishes' account of Shakespeare's devotion to the beautiful young man of the sonnets.
Schaefer's three plays are directed by Mark Graham and developed at The Theatre Artists Workshop.
Tickets are free and available to the public. Reservations are required at shakesguild@msn.com for entrance to the clubhouse and events. Each of the three evening events will begin at 7:00 p.m. at The Players, 16 Gramercy Park South, New York City. Attendees must adhere to the club dress code.
The Players Foundation is an independent not-for-profit focused on theatre education and fostering an understanding and appreciation for the theatre through educational events. The Foundation oversees the Hampden-Booth Theatre Library and its archives, housed within the clubhouse of The Players and online at hampdenbooth.org.
The Shakespeare Guild is a not-for-profit organization whose purpose is to cultivate wider and more informed audiences for the globe's most influential writer. With programs in Washington, New York, and London, among other locations, The Guild is well known for its presentation of The Gielgud Award for Excellence in the Dramatic Arts. Information at shakesguild.org
The Players celebrates the rich cultural life of New York City with exclusive member-only events that include live performances, readings by leading authors and playwrights, film screenings, and dining in its famous Grill Room. More information about The Players may be found at theplayersnyc.org or by emailing membership@theplayersnyc.org