Kelly McIntyre-Led A NIGHT WITH JANIS JOPLIN Tour to Hit Over 40 Cities This Season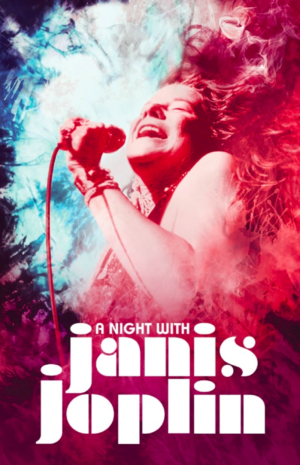 The Tony Award-nominated Broadway musical A Night With Janis Joplin will rock the road on its North American tour starting on November 3rd, 2017.
Tickets are now on sale for over 40 cities, including Columbus, Louisville, Cleveland, Denver, Portland, Beverly Hills, Boston and many more! For a complete list of performance dates and cities, visit www.ANightWithJanisJoplin.com.
A Night With Janis Joplin is a musical journey celebrating Janis Joplin and her biggest musical influences - trailblazers like Aretha Franklin, Etta James, Odetta, Nina Simone and Bessie Smith, all of whom inspired Joplin to become one of Rock 'n' Roll's greatest legends. Like a comet that burns far too brightly to last, Joplin exploded onto the music scene in 1967 and, almost overnight, became the Queen of Rock 'n' Roll. Her unmistakable voice, filled with raw emotion and tinged with Southern Comfort, made Joplin a must-see headliner from Monterey to Woodstock. Audiences will enjoy Joplin's favorites, including "Piece of My Heart," "Cry Baby," "Me and Bobby McGee," and many others.
Laura Joplin says A Night With Janis Joplin is a, "full belted memory that drives joy into my heart and tears from my eyes."
A Night With Janis Joplin is created, written and directed by RAndy Johnson. The North American Tour will feature Kelly McIntyre (Janis Joplin), Katrina Rose Dideriksen (Janis Joplin Understudy/Swing), Aurianna Angelique (Odetta, Bessie Smith, Chantel), Ashley Tamar Davis (Blues Woman, Aretha Franklin, Nina Simone, Chantel), Tawny Dolley (Etta James, Chantel), and Jennifer Leigh Warren (Blues Singer, Chantel).
RAndy Johnson (Writer, Director, Creator) Writer and director of the Tony- nominated production of A Night With Janis Joplin. A 30 year career that is complex, definable, and undefinable at the same time. As varied as it is diverse, he has broken career barriers, made and seen history first hand, all while being consistently committed to his artistic core values. His most recent work Shout Sister Shout, based on the life of rock and roll/gospel trailblazer Sister Rosetta Tharpe, premiered this summer at the Pasadena Playhouse to rave reviews and record breaking attendance. "RAndy Johnson certainly doesn't lack for ambition or vision, or social conscience. In the strictest sense of the word, he isn't a theater director- that might be too much of a constricted space for him, although he's certainly succeeded in almost every medium including: Broadway, Off-Broadway, regional theater and the concert world. If there is a trademark for RAndy Johnson's productions, it's that they're going to be nothing that you might expect." (The New York Times) www.randy-johnson1.com
Kelly McIntyre (Janis Joplin) McIntyre is thrilled to be coming back to A Night With Janis Joplin! After joining the show for the First National Tour in 2016, McIntyre went on to headline and perform in five more productions of Janis at Capital Reparatory Theatre, The Barter Theatre, American Conservatory Theatre, Laguna Playhouse, and McCarter Theatre. Other NYC credits include For Tonight (Goodspeed Opera House), Into The Sun (New York Musical Theatre Festival), Days of Rage (New York Theatre Barn), and Ruth Maier (New York Theatre Barn). McIntyre has sung in concerts and readings all over NYC in venues such as 54 Below, Joe's Pub, The Cutting Room, and Don't Tell Mama. Love to MD&S, My Fadeout, and Jeremy for all they've done! www.kellymcintyre.com
For more information about A Night With Janis Joplin, visit www.ANightWithJanisJoplin.com. For more about Janis Joplin, go to www.JanisJoplin.com.
Related Articles
More Hot Stories For You