Review Roundup: JOSEPH Opens in the West End, Starring Sheridan Smith and Jason Donovan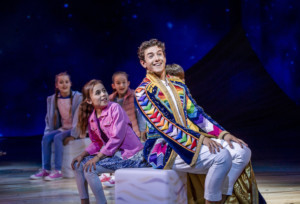 Joseph and the Amazing Technicolor Dreamcoat plays a strictly limited 11-week season at the London Palladium, directed by Laurence Connor (School of Rock, Miss Saigon).
Sheridan Smith (Narrator), Jason Donovan (Pharaoh), Jac Yarrow (Joseph), Michael Pickering (Simeon) and Richard Carson (Reuben) lead the cast of the new staging, which marks 50 years since the piece was first released as a concept album.
The adult cast is completed by Femi Akinfolarin, Casey Al-Shaqsy, JR Ballantyne, Lydia Bannister, Thalia Burt, Michael Cortez, Vanessa Fisher, Ahmed Hamad, Blythe Jandoo, Matt Krzan, Kelsie-Rae Marshall, Billy Mitchell, Georgina Parkinson, Emily Ann Potter, Matthew Rowland, Harriet Samuel-Grey, Carl Spencer, Joshua Steel, Hannah Taylor and Jack Wilcox.
Let's see what the critics are saying...
Marianka Swain, BroadwayWorld: The one downside of Smith's skilled but ever-present clowning is that the drama's darker moments are compromised; the seduction that dooms Joseph to prison is pure slapstick, and she pulls us out of the story by constantly breaking the fourth wall. That should soften the scary bits for younger viewers, but others may wish for a little more jeopardy to balance the elation of numbers like the dance-tastic, clap-along "Megamix". But this is otherwise a dream revival - and a lovely fit for a venue with such a rich history of variety entertainment. Go go go book!
Dominic Cavendish, The Telegraph: If you find irreverent takes on the Good Book irritating then you'll want to steer clear of this bright and beautiful (and knowingly brash) staging of Joseph, which revisits the genesis of the Lloyd Webber phenomenon and reminds us what an impish, impious start our most successful musicals composer had. Although the production, lavishly directed by Michael Harrison, harnesses the box-office power of Sheridan Smith (playing the omniscient Narrator) and Jason Donovan (a former Joseph here at the Palladium, now the omnipotent Pharaoh), the evergreen spectacle demands attention in its own right.
Alun Hood, WhatsOnStage: Playing not only the Narrator but also, unexpectedly, Jacob (of "And Sons" fame), Potiphar's comically libidinous wife ("come and lie with me, love") and an improbably Scouse gaoler, Sheridan is Everywhere. She leads the kids, heads up company numbers, she body-pops, belts, gurns, pokes her tongue out, she dons an eye patch and a false beard, she constantly pulls focus, and barely leaves the stage... It's an admirably committed performance and a resoundingly brash return to the West End that will delight her legions of fans. People less keen on her may find themselves somewhat bewildered and longing for the (comparatively) restrained charm that Linzi Hateley brought to the role on this same stage nearly 30 years ago.
Mark Shenton, London Theatre: That jaunty sense of fun permeates director Laurence Connor's constantly inventive new vision for the show, which is mostly a steamroller of pure joy and comic delights. It's, of course, a long way from how Joseph was originally far more modestly conceived as a 15-minute pop cantata for a South Kensington school choir in 1967. While that original spirit is more honestly maintained by Bill Kenwright's long-touring version - which still comes complete with a large on-stage choir of local school kids - this spectacular staging blows it up to a Palladium-sized spectacle that can rival this venue's now-annual pantomime in the scenic excess stakes, thanks to designer Morgan Large.
Nick Curtis, The Evening Standard: This basic biblical musical has been triumphantly reborn as a vibrant slice of all singing, all dancing exuberance, more than 50 years after Andrew Lloyd Webber and Tim Rice first conceived it. Director Laurence Connor breathes zesty new life into those potent, familiar songs, and in newcomer Jac Yarrow has found a man with formidable pipes and enough charm to imbue the blank lead character with some personality. But the real motor of the evening is Sheridan Smith, returning to the stage for the first time since 2016.
Tim Bano, The Stage: For its 50th anniversary, producer Michael Harrison has brought Joseph - and Jason Donovan - back to the Palladium for this joyful, colour-saturated production by Laurence Connor. The changes aren't colossal, but the scale is. Having directed the recent productions of Miss Saigon, Les Misérables, The Phantom of the Opera and School of Rock, it's a scale Connor is used to. There's clearly a lot of money behind this, but the show never feels pointlessly flashy.
Ann Treneman, The Times: It's a kitsch set by Morgan Large. Jason Donovan is full-on camp-tastic as Pharaoh in golden loincloth and sparkly trainers. The choreography (JoAnn M Hunter) feels wooden at times and the camels (with wheels) are just ropey, but there is no denying that, as a whole, this Joseph has mojo.
Matt Wolf, theartsdesk: Staged as an exercise in storytelling that finds Smith surrounded from the start with a retinue of eager and adoring kids, this really is a production to appeal to our inner child, which is intended as a real compliment: whereas previous Josephs (the TV-inspired Lee Mead one in particular) have felt like unnecessary cash grabs, this one never lets the capaciousness of its surroundings lose sight of the show's sweetness of spirit.
Michael Billington, Guardian: Occasionally John Cameron's orchestrations drown the lyrics and one or two ideas, such as guitar-wielding statues, prove there is no lack of corn in Egypt. But this is an ebullient production and, seeing Rice and Lloyd Webber reunited on stage at the curtain call, it is was good to be reminded of their show's cheerful genesis.
Amanda Cable, Metro: This performance isn't about the new boy. It was always about Sheridan Smith returning to the stage after her rollercoaster ride in Funny Girl, where she triumphed following a breakdown. And 'by 'eck', as her Narrator would say, she's reinvented this role with humour and intelligence, bringing Joseph something it's never had before - some actual depth.
Andrzej Lukowski, Time Out London: Despite the obviously enormous budget, there's a wilful am-dram larkiness to the whole thing: the cast is peppered with child performers, many of them playing adults and wearing crappy false beards, while many of the props - camels made from bicycles, towering golden statues - manage to simultaneously look incredibly expensive and like they cost about 5p.
Featured at the Theatre Shop
T-Shirts, Mugs, Phone Cases & More
Related Articles