IRTE Says 'Snack On This, Scooby-Do!'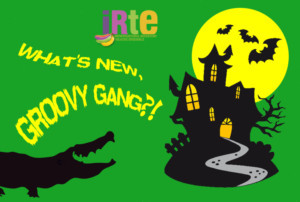 The Improvisational Repertory Theatre Ensemble, Inc. starts lucky Season Seven with the return of their send-up of Saturday morning cartoons!
What's New, Groovy Gang?!
Conceived by Nannette Deasy
Directed by Jeff Moulton
Featuring Robert Baumgardner, Nannette Deasy, Curt Dixon, Mike Hauschild, Jamie Maloney; and guest improvers, Bridget Knapp, Alexandra Palmer, and Steve Tardio.
FRIDAYS & SATURDAYS March 23, 24, 30 & 31, 8:00pm
The Producers Club, 358 West 44th Street, NYC
For further info and ticket info, visit www.irteinfo.com
Seven seasons ago, a group of theatrically-trained artists came together to create spontaneous and uproarious retro-themed improv-comedy shows. Their brilliance at stage craft made each event deeper and funnier than any other troupe of its kind. Today, the multi-award-winning national improv comedy troupe - the Improvisational Repertory Theatre Ensemble - is a respected leader in both the improv and theatrical circles.
They open this season with a popular favorite from back-in-their-day: THE GROOVY GANG!
Zoinks! The Groovy Gang is BACK! Catch up with your favorite band of teen sleuths and their talking alligator drummer, Chompers, as they turn the Producers Club into a haunted house filled with spooky improvised surprises! First surprise ... come in your best pajamas and get a FREE GIFT!
An alum of numerous comedy and theatre festivals, IRTE is an ensemble of comedy actors and writers who develop, produce and perform a season of original themed improvisational shows, following the basic model of traditional repertory theatre.
Return to those thrilling days when - later this season - the highly-skilled fighting force of fun-makers send-up horror shows and sci-fi flicks ... and even Quentin Tarantino in their tribute to black & white suspense films.
In the style of Saturday Night Live, IRTE features a musical guest (TBA).
Season Seven:
The Diabolical Dr. Fiend: FRIDAYS & SATURDAYS April 20, 21, 27 & 28, 8:00pm
IRTE Noir: FRIDAYS & SATURDAYS May 18 & 19, June 1 & 2, 8:00pm
Wow Wee 2! Adventures of a Little Girl Killbot: FRIDAYS & SATURDAYS June 22, 23, 29 & 30, 8:00pm
The Producers Club, 358 West 44th Street, NYC
For further info and ticket info, visit www.irteinfo.com