Photo Flash: Before and After the Restoration of Brooklyn's Historic Kings Theatre!
Civic and community leaders today marked the reopening of the historic Kings Theatre following an extensive $95 million restoration and renovation of the former movie palace and architectural gem. Originally constructed in 1929 and the largest theatre in Brooklyn with more than 3,000 seats, the Kings Theatre will serve as a fixture in the City's cultural landscape, presenting a wide spectrum of programming from local, national and international performing artists. An economic engine for the Flatbush neighborhood and the only major resource for live entertainment in the immediate area, the Theatre will present more than 200 performances annually.
Deputy Mayor for Housing and Economic Development Alicia Glen, representatives from the New York City Economic Development Corporation (NYCEDC) and ACE Theatrical Group President and CEO David Anderson were joined today by Brooklyn Borough President Eric L. Adams, New York City Council Member Dr. Mathieu Eugene, Goldman Sachs Urban Investment Group Managing Director Margaret Anadu, and National Development Council (NDC) Executive Vice President Dan Marsh to mark the Theatre's reopening.
"Today marks a milestone for the Flatbush community," said New York City Deputy Mayor for Housing and Economic Development Alicia Glen. "The City's investment in the revival of the Kings Theatre is about much more than the restoration of the beloved, historic building-it is about supporting the creation of local jobs, new traffic for area small businesses, and developing new state-of-the art space for the community to gather. Kings Theatre will become a destination for New Yorkers and visitors alike, and provide real community benefits in the process."
"Generations of Brooklynites called the Kings Theatre the cornerstone of their community, so it has been a unique honor for us and our partners to restore this piece of Brooklyn's rich cultural heritage to its former glory," said NYCEDC President Kyle Kimball. "The Kings Theatre shows us how Brooklyn can reinvent itself time and again, unlocking the full potential of City-owned assets to bring fresh dynamism to the people of every neighborhood, while also spurring growth in the surrounding areas."
"The Kings Theatre is now once again an integral part of this community, after being lost to the City for so long," said David Anderson, President and CEO of ACE Theatrical Group. "We are so proud to welcome New Yorkers back to the Kings and we thank the community for its incredible support of the revitalization project. It is our hope that everyone will join us as we celebrate the historic reopening and embark on the Theatre's inaugural year of performances."
ACE Theatrical Group was selected by NYCEDC to operate the City-owned theatre, and has worked with NYCEDC's HireNYC program to employ local residents and create opportunities for Flatbush and the surrounding communities. The Kings Theatre's ongoing operations are expected to create more than 100 full-time equivalent jobs annually.
The Kings Theatre's inaugural concert will be given on February 3 by internationally acclaimed artist, Diana Ross. A free concert will be held for community members on Tuesday, January 27, and a free open house with tours of the restored structure will be held Saturday, February 7. More information about these events and the Theatre's inaugural year of programming is available at KingsTheatre.com.
The Kings Theatre opened in the Flatbush neighborhood as one of the five Loew's 'Wonder Theatres' constructed in New York and New Jersey. It was designed by architecture firm Rapp & Rapp as an entertainment palace where films and vaudeville acts were presented amidst sumptuous interiors inspired by the Palace of Versailles and the Paris Opera House. The Theatre closed its doors to the public in 1977 and was acquired by the City of New York in 1983, which subsequently performed critical structural repairs. In 2008, NYCEDC launched a competitive search for an entity to undertake a major restoration and renovation to restore the Theatre as an economic engine and cultural hub. In April 2012, the Kings Theatre Redevelopment Company-a consortium of ACE Theatrical Group, the Goldman Sachs Urban Investment Group, and the National Development Council-was chosen to lead this effort and provide Brooklyn with a newly revitalized performing arts venue, which broke ground in January 2013.
Led by Martinez+Johnson Architecture, with Gilbane Building Company serving as construction manager, the revitalization of the structure faithfully restores the Theatre's original splendor while transforming it into a modern multi-purpose performance facility. Before falling into disrepair, the Kings Theatre featured high curved ceilings, ornate plaster walls, gold-leaf ornament, crystal chandeliers, carpeted floors, plush furniture, and salon-type lounge areas. Rich wood paneling and pink marble accented the Theatre's massive lobby and foyer, and the front of the building featured a glazed terra-cotta ornamental façade. These original, signature elements have been restored whenever possible, and faithfully recreated when damage to the original was too great. The project also included a significant expansion to the backstage area, with an additional 10,000 square feet constructed to accommodate the technical requirements of live performance.
"The wonder has been restored to Flatbush's historic 'Wonder Theatre.' The newly restored Kings Theatre is a remarkable open door to our glorious architectural and artistic past, as well as a gateway to the economic and cultural revival of central Brooklyn. I am proud that the Office of the Brooklyn Borough President was a catalyst and funder for this important project, which will leave patrons astonished, amazed and applauding for more. World-class talent and local rising stars alike will find the Kings Theatre to be their new favorite stage," said Brooklyn Borough President Eric L. Adams.
"I am delighted that the Kings Theatre is finally reopening and will serve as both a cultural hub and an important economic force for the community and our great City. It has been my pleasure to partner with so many others to see this historical wonder restored to the beautiful condition it was in over 80 years ago. With over 200 live performances every year, Kings Theatre is poised to be a premiere source of entertainment in Brooklyn and is already providing much needed employment to the local workforce," said New York City Council Member Dr. Mathieu Eugene, 40th District, Brooklyn.
"We are thrilled to help finance the restoration of the historic Kings Theatre into a vibrant cultural center right here in Flatbush" said Margaret Anadu, Managing Director of the Goldman Sachs Urban Investment Group. "In addition to the jobs and economic development opportunities resulting directly from performances at the Theatre, the improved facility on Flatbush Avenue itself will catalyze further revitalization and development of additional retail and community space."
"The National Development Council is honored to have been part of the innovative public/private partnership that preserved the historic Kings Theatre," said Dan Marsh, Executive Vice President of NDC. "We are extremely proud to be here today with our partners to celebrate with the citizens of this great city, the grand reopening of this magnificent historic community facility."
"The Kings Theatre is one of the borough's most iconic theaters, and its Flatbush Avenue façade is one of the few surviving Renaissance-inspired 1920s theater exteriors in New York City," said Meenakshi Srinivasan, Chair of the New York City Landmarks Preservation Commission. "I am very pleased that its beautiful interior will once again be open to the public, and I commend all involved for working to sensitively restore this building to its former glory."
"The renovation and reopening of the Kings Theatre defines the renaissance that Brooklyn is celebrating. The Kings Theatre will present the greatest entertainment for children, families, and adults and act as a catalyst of the rebirth of Flatbush Avenue as a premiere shopping and dining attraction for residents and visitors alike," said Marty Markowitz, Vice President, Borough Promotion and Engagement for NYC & Company.
"Those of us at Martinez+Johnson Architecture are extremely proud and honored to be the designers of a revitalized Kings Theatre, saving it from the brink of catastrophic loss and restoring it to its rightful place amongst the centers of lively arts for the citizens of Brooklyn and Flatbush," said Gary Martinez, President of Martinez+Johnson Architecture.
"Gilbane is proud to have played a role in bringing back this historic building to the community and to New York City. Breathing life back into this beautiful theatre has been an honor for the entire project team," said Neil Heyman, Vice President of Gilbane Building Company. "The extraordinary results are the product of a true collaborative effort between all parties involved - the owners, architect, construction manager, preservation specialist, and all the trades."
Photo Credit: Matt Lambros

Before Resortation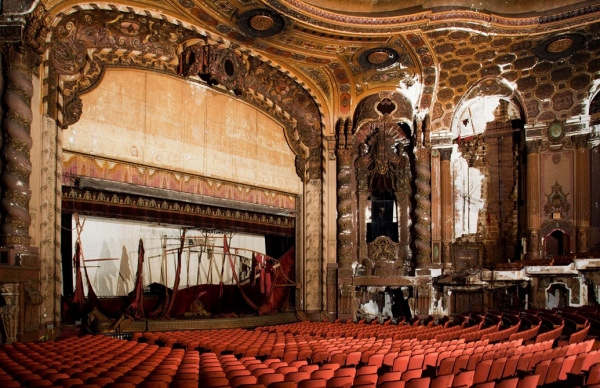 Before Restoration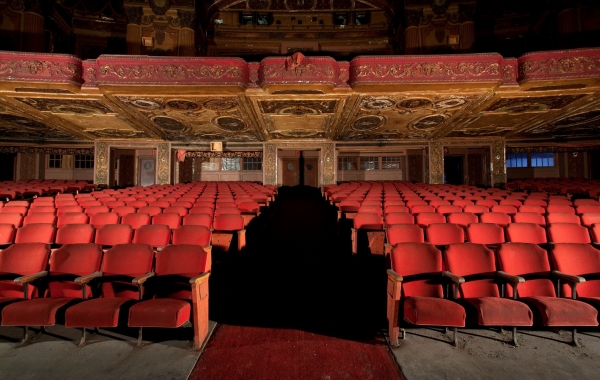 Before Restoration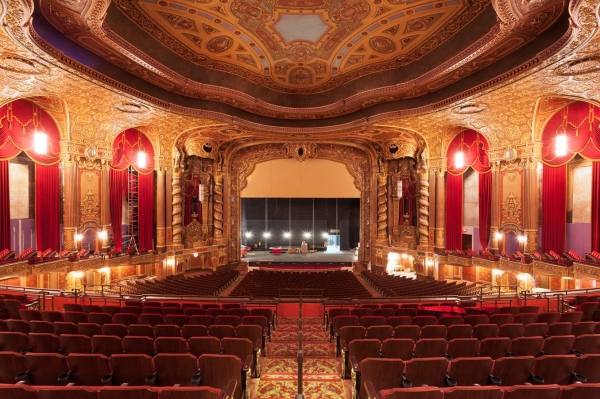 After Resortation

After Resortation

After Resortation

After Resortation

After Resortation