HOLLA DAYZ CABARET Will Feature Songs By Michael Mott, Carner And Gregor, Selda And Derek, And More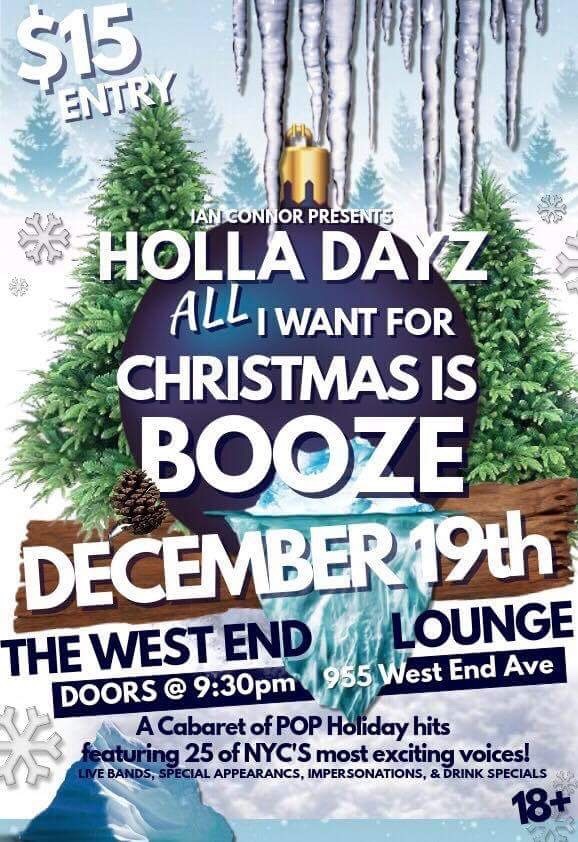 HOLLA DAYZ: All I want for Christmas is Booze will be presented for one-performance-only on December 19th, 2017 at The West End Lounge in NYC. Featuring 20 singers, pop star renditions of favorite Holiday Hits, original christmas music by Michael Mott (Where The Sky Ends, Abandoned Heart), Carner and Gregor (Island Song), Selda and Derek (Grind), with special performances by host, Carmen Sidemi.
Singers include: Cory Wade (America's Next Top Model, 2nd Runner Up), Emily Schultheis (Wicked; N' Tour), David LaMarr (Jersey Boys; N' Tour), Kelly McLntyre (A Night With Janis Joplin; N' Tour) Emily Jewell (Beauty and the Beast; N' Tour), Alexa Lowis (Norwegian Cruise Lines), Elijah Caldwell, Kristin Dausch, Evan Dolan, Brittany Dorazio, Sarah Kleist, Peter Dunn, Christopher Michael Milligan, Kyra Burke, Nicole Loewenstein, Adelaide James, Gregory Driscoll, Charlotte Morris, Jacob McKenna, Tunisia Renee, Brendan Eprile, Taylor James, Chelsea Zeno, Becky Filer, Lindsay Rose, and more!
Accompanied by Nathaniel Beliveau with LIVE BAND!
Produced/Directed by Ian Connor (co-writer of The Naked Truth)
Tickets can be purchased at https://ianconnorpresents.ticketspice.com/holla-dayz - All seats $15. Email Ian@Ian-Connor.com for an industry discount promo code. 
Doors open at 9:30pm, Show starts at 10:00pm. For additional information, please call (574) 549 4779
The West End Lounge is located at 955 West End Ave, New York, NY 10025. Please note there is a two-item venue minimum.