HERE & QUEER Announces New Show at Upright Citizens Brigade Theater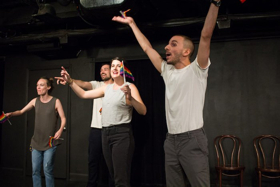 Kelsey Bailey, Patrick Keene, Steven Polletta, Kelley Quinn host HERE & QUEER, a monthly all-queer improv show featuring a rotating cast of LGBTQIA identifying-improvisers and special queer monologists.
Past guests include Patti Harrison (The Tonight Show with Jimmy Fallon), Antoni Porowski (Queer Eye), and Nyle DiMarco (America's Next Top Model).
This month, Here & Queer will improvise scenes based off of the stories of Phillip Picardi, Chief Content Officer of Teen Vogue and Them!
Previously, Here & Queer has been featured in TimeOut NY
Here & Queer: Laugh Till You're An Ally
Wednesday, July 11th @ 11 PM
The Upright Citizens Brigade Theater Hell's Kitchen
555 W 42nd St, New York, NY 10036
https://hellskitchen.ucbtheatre.com/performance/63528
(212) 366-9176
$7
Monologist: Phillip Picardi
Cast:
Kelley Quinn
Kelsey Bailey
Patrick Keene
Steven Polletta
Pat Regan
Peter Valenti
Lili Pujol
Images: Joe Quinn