First Annual Andrew Park Composition Prize Winners Announced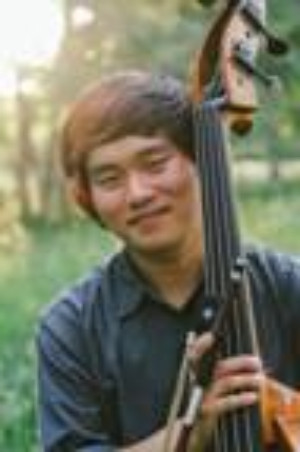 The Andrew Park Foundation has named composers June Young Kim (South Korea) and Joseph Lee (USA) prize-winners in the Foundation's first annual Andrew Park Composition Prize. Messrs. Kim and Lee will each receive a cash prize valued at $1,500 and will have their new works premiered at New York's Merkin Concert Hall on Sunday, December 16, 2018, 3 p.m.
The purpose of the Andrew Park Composition Prize is to build a broader understanding of the connections between the traditions of the West and East through music and poetry. In the past, Toru Takemitsu and Isang Yun produced some of the most important works of Asian modernism, combining their experiences of their own and Western cultures. The Foundation encourages composers to continue in this spirit, bridging differences and forging stronger ties.
Judges received the applicants' scores (sent anonymously) and selected the winners based on the judges' points and the applicants' proposals for the new works to be composed. Applicant eligibility was open to students of any age and nationality. Each applicant submitted an original work. The judges then chose the two winning composers. These composers are now in the process of writing the new works which will be premiered on the December 16 concert. Mr. Lee's work will be scored for mezzo-soprano, violin, oboe and harp. Mr. Kim's work will be scored for mezzo-soprano, flute, violin, clarinet and cello. The theme of this year's prize is music inspired by Korean poetry. The poems, chosen by the committee, were The Lake and A Tall Tree by Yi Yuksa (1904-1944).
This year's judges were: Daniel Weymouth, Associate Professor, composition and theory, Stony Brook University; Chang Soo Park, pianist, composer, and the artistic director of The House Concert in Korea; Yezu Woo, artistic director of the Andrew Park Foundation; Tomoki Park, assistant director of the Andrew Park Foundation.
Applications for the 2019 Andrew Park Composition Prize will be available in February, 2019. For more information please visit www.andrewparkfoundation.org/en/composition-prize/
About The Andrew Park Foundation
The mission of the Andrew Park Foundation is to promote and support youth education. The main emphasis is to recognize students who respond creatively to current and emerging social needs. For the past five years, the AP Foundation has awarded over $120,000 to such students. This year is the Foundation's sixth event.
About June Young Kim
The music of South Korean composer and bass-baritone June Young Kim is an elaborate blend of tradition, lyricism and experimentation. His highly detailed music invites audiences to interact with it on both intellectual and emotional levels. He began his musical career as a singer-songwriter before turning to concert music and film scoring. He bases many of his compositions on his own texts.
Also a gifted instrumentalist, June Young has been involved in many classical, jazz, and rock ensembles, performing on piano, clarinet, guitar and saxophone. Besides composition, he studies choral conducting with Betsy Burleigh and voice with Peter Volpe. Since 2015, he has been an active performer specializing in contemporary works.
His teachers in composition include David Dzubay, Don Freund, Andrew Mead, Aaron Travers, Phuc Phan, and most recently, Sven-David Sandstrom. His teachers in electronic music include John Gibson and Jeffrey Haas. In Fall, 2018, June Young will begin his senior year at the Jacobs School of Music, Indiana University, Bloomington.
About Joseph Lee
Joseph Lee (b. 1998) is currently a student in the Columbia-Juilliard Exchange program, pursuing a degree in Operations Research at Columbia and Double Bass Performance at Juilliard. As a bassist, he has been a member of the World Youth Symphony Orchestra at Interlochen, the New York Youth Symphony Orchestra, and the Aspen Festival Orchestra. He is also currently a composer in the New York Youth Symphony Composition Program where he studies under Dr. Kyle Blaha and Dr. Tim Mauthe. Mr. Lee has worked with David Adamcyk and Paola Prestini through the composition program. Before moving to New York, Joseph also studied composition with Dr. Cynthia Van Maanen at Interlochen Arts Academy while he pursued his main double bass degree. At Interlochen, Joseph participated in classes with Gabriel Kahane, John Murphree, Chris Theofanidis, and Son Lux.
Outside of music, Joseph's interests include economics, writing, and mathematics. Joseph hopes to study composition in graduate school, and eventually pursue a composition career.
About Yezu Woo, Violinist
Violinist Yezu Elizabeth Woo made her debut at Carnegie Hall in 2004, where she became the youngest performer to play all 24 of Niccolo Paganini's Caprices for solo violin. Since then, she has been invited to perform at the United Nations and has traveled extensively for performances at Lincoln Center and Merkin Hall in New York, Smetana Hall in Prague, and the storied Musikverein in Vienna. Yezu is a recipient of the "Best Outstanding International Musician of the Year" award by the Arts Critics Association, as well as "Artist of the Year" by the Gangwon Talent Support Foundation of Korea. Yezu co-founded and served as the Artistic Director of Shattered Glass, a conductorless string ensemble based in NYC, from 2012 to 2016, and she is currently the Artistic Director of the New York in Chuncheon Music Festival in her Korean hometown of Chuncheon, where she was recently appointed Honorary Ambassador to the city. Yezu is also Artistic Director of the Andrew Park Foundation, an organization that supports young composers.
About Stuart Breczinski, Oboist
Stuart Breczinski is a New York-based oboist, improviser, composer, and educator. His early interest in making unusual sounds on the oboe developed into a passion for creating and sharing innovative audio with audiences of all backgrounds. A proponent of chamber and contemporary music, Breczinski is a member of the City of Tomorrow, a woodwind quintet dedicated to the promotion and performance of contemporary works. He performs regularly as a chamber musician with Ensemble Mélange, NOVUS NY, and the Talea Ensemble. He has also performed with Bang on a Can, Contemporaneous, the International Contemporary Ensemble, the New York New Music Ensemble, and Signal. He received an honorable mention at the 2015 IDRS Gillet-Fox International Competition, and from 2012-2014 he was the oboist with Ensemble ACJW (now Ensemble Connect), a joint program of Carnegie Hall, the Juilliard School, and the Weill Music Institute in partnership with New York City's Department of Education.
About Michael Nicolas, Cellist
A "long-admired figure on the New York scene" (The New Yorker), cellist Michael Nicolas enjoys a diverse career as chamber musician, soloist, recording artist, and improviser. He is the cellist of the intrepid and genre-defying string quartet Brooklyn Rider, which has drawn praise from classical, world music, and rock critics alike. As a member of the acclaimed International Contemporary Ensemble (ICE), he has worked with countless composers from around the world, premiering and recording dozens of new works. Another group, Third Sound, which Michael helped found, made its debut with an historic residency at the 2015 Havana Contemporary Music Festival in Cuba. Earlier in his career, he played with the extremely popular South Korean chamber group Ensemble Ditto, and also held a post as Associate Principal Cellist of the Orchestre Symphonique de Montréal. His solo album Transitions is available on the Sono Luminus record label.
Of mixed French-Canadian and Taiwanese heritage, Michael was born in Canada, and currently resides in New York City. He is a graduate of the Juilliard School.
About Tomoki Park, Pianist
Pianist Tomoki Park was born in Japan to Korean parentage. He moved to the United Kingdom at age 11 to study piano and composition at the Purcell School of Music. Mr. Park is a graduate of Berlin University of Arts (UdK) and is currently studying with Peter Serkin at Bard Conservatory. He has performed as a soloist and chamber player at Suntory Hall and Opera City in Tokyo, Wigmore Hall in London, and Lincoln Center and National Sawdust in New York. He was a prizewinner at the 10th International Competition for Young Pianists in Ettlingen, Germany, and won the top prize at the 14th Young Artists' Piano Competition in Tokyo. Recent engagements include performances at Pierre Boulez Retrospective (Geneva), a Mozart recital at Mozarteum (Salzburg), and Bach and Takemitsu Double Piano Concertos with Peter Serkin and the Sacramento Philharmonic. Festival appearances include Tanglewood, Marlboro and Ensemble Modern's Klangspuren (Austria). Tomoki studied piano with Tessa Nicholson, Pascal Devoyon and Rikako Murata, and composition with Dai Fujikura, Haris Kittos and Jonathan Cole.
About Beomjae Kim, Flutist
The New York Times singled out flutist Beomjae Kim's playing for its "memorable eloquence." A winner of Astral Artists' 2017 National Auditions, he has appeared at the Seoul Arts Center, Lincoln Center, SubCulture, National Sawdust, Trinity Wall Street, Guggenheim Museum, Brooklyn Museum, Kimmel Center, and Carnegie's Zankel Hall, Weill Recital Hall, and Stern Auditorium. From 2014-2016, he was a fellow of Ensemble Connect (formerly Ensemble ACJW), a joint program of Carnegie Hall, The Juilliard School, and Weill Music Institute.
Mr. Kim has been featured in such festivals and concert series as the Alba Music Festival in Italy, the Dani Muzike Festival, the Charles E. Gamper Festival of Contemporary Music, the Naumburg Orchestral Concerts, "Concerts at One" at Trinity Wall Street, and the New York String Orchestra Seminar.
About Yoonah Kim, Clarinetist
A young artist of uncommon musical depth and versatility, clarinetist Yoonah Kim is a winner of the 2016 Concert Artists Guild International Competition. The first solo clarinetist to win CAG in nearly 30 years, this Korean-Canadian artist joins the ranks of prominent solo clarinetists, discovered by CAG, that include David Shifrin, Michael Collins and David Krakauer. Also in 2016, Yoonah became the first woman to win first prize at the Vandoren Emerging Artist Competition. Other honors include first prize at the 2017 George Gershwin International Competition.

Yoonah recently completed her tenure with Ensemble Connect, a highly selective two-year fellowship program under the joint auspices of Carnegie Hall, The Weill Institute, and The Juilliard School. Currently, Yoonah tours with the ensemble FOUNDERS and Frisson, and has appeared at chamber music festivals including the Chautauqua Music Festival, Sarasota Music Festival, and Banff Music Festival. She has been invited to participate in the Marlboro Music Festival beginning in summer, 2019. Born in Seoul and raised in British Columbia, Yoonah holds degrees from Mannes College and The Juilliard School.
About Mélanie Genin, Harpist
Hailed as a "singular harp virtuoso," French harpist Mélanie Genin is known for her "desire to re-shape and re-invent classical music." She returned to Carnegie Hall this year as a soloist with the Alumni Ensemble of Lucerne Festival, five years after her debut with International Shining Stars. She has performed at venues around the world, including the Concertgebouw, Royal Albert Hall, KKL Luzern, Lincoln Center, Salle Pleyel, and Théâtre des Champs Elysées, under conductors such as Pierre Boulez, Sir Mark Elder, Matthias Pintscher, Alan Gilbert, Pablo Heras-Casado, and Leonard Slatkin.
Her interpretation of the Dohnanyi Harp Concertino has been featured by Lyra publishing company. She performs at festivals including the Lucerne Festival, BBC Proms, Flaneries Musicales de Reims, Chelsea Music Festival, New Music Art Sound Summit Austin, Chamber Music NY, and Prism Festival Hong Kong.
Ms. Genin received her Bachelor's and Master's degrees from the Paris Conservatoire and received a Bruni-Sarkosy scholarship to study at The Juilliard School. In 2014 she was the only harpist finalist of the Concert Artist Guild competition, and to date the only Artist Diploma harpist at MSM.
About Lucy Dhegrae, Mezzo-soprano
"Vocal versatility and an omnivorous curiosity" (New York Times) are the hallmarks of vocalist Lucy Dhegrae, whose flexible technique fits a variety of styles. She has performed with the International Contemporary Ensemble, Talea Ensemble, and Cantata Profana at such venues as Miller Theatre, Lincoln Center, and the Kennedy Center. Dhegrae, who is "everywhere new music is being sung" (New York Classical Review), regularly premieres new works. Her opera premieres include Trillium J by Anthony Braxton, Andy: A Popera (Opera Philadelphia/Bearded Ladies Cabaret), A Marvelous Order by Judd Greenstein, and Ashley Fure's The Force of Things. Dhegrae's festival appearances include Darmstadt (Germany), Klangspuren (Austria), Mostly Mozart, Bard Music Festival, Gesher Music Festival (St. Louis), and Aldeburgh Music Festival.
Lucy Dhegrae is the 2018 recipient of University of Michigan School of Music's Emerging Artist Award. She was among the first Lumos Fellows with Turn the Spotlight, a new mentorship program for young professionals. As "soprano and raconteur" (The New Yorker) she directs Resonant Bodies Festival, an international presenter of boundary-pushing contemporary music vocalists, which she founded in 2013.
Featured This Week on Stage Door
Shoutouts, Classes, and More from Your Favorite Broadway Stars
Related Articles
More Hot Stories For You
Breaking: Tony-Winning Choreographer Bob Avian Passes Away at 83
BroadwayWorld is saddened to report that beloved Broadway choreographer Bob Avian passed away yesterday from cardiac arrest at Holy Cross Hospital in ...

Final Lineup Announced For SAVE BIRDLAND: A Celebration Of Music, History, And Community
The fundraising campaign for Birdland Jazz Club will conclude on January 24th with a free streaming concert titled Save Birdland: A Celebration of Mus...

Disney Adaptation of BETTER NATE THAN EVER Holds Virtual Open Call
Calling all kids! Casting is underway for Walt Disney Studios Motion Pictures' film adaptation of Tim Federle's children's book Better Nate Than Ever....

Ellen's Stardust Diner Presents STARDUSTERS Concert Next Weekend
An interactive musical theatre benefit show, Broadway Alive, will stream live from Broadway's iconic Ellen's Stardust Diner, on Saturday, January 30 a...

VIDEO: Christopher Jackson Performs 'The Times They Are a-Changin' at The Creative Coalition's Inaugural Ball
On January 20, 2021, The Creative Coalition brought together leaders from entertainment, media, Congress, and the White House Cabinet and Administrati...

Social Roundup: The Theatre Community Mourns the Loss of Bob Avian
Read what theatre stars from across social media are saying about the passing of Bob Avian....