Click Here for More Articles on FROZEN
FROZEN's Olaf Balloon to Debut in Macy's Thanksgiving Day Parade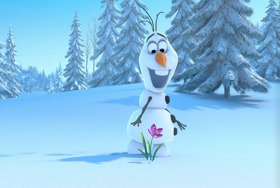 Everyone's favorite snowman Olaf, from Disney's hit animated film FROZEN, will be making his debut as a giant character balloon at this year's THANKSGIVING DAY PARADE, according to USA Today. The character is voiced by Tony nominee Josh Gad (BOOK OF MORMON), and will appear in Disney's upcoming short OLAF'S FROZEN ADVENTURE, set to debut in front of Pixar's COCO, hitting theaters on November 22nd.
The 91st annual
MACY'S THANKSGIVING DAY PARADE
will take place in New York City on Thursday, November 23rd and will air on
NBC
at 9 a.m. ET/PT. Shares Gad, "Having an Olaf balloon alongside Mickey, Elmo and Big Bird is a dream come true and something that, because (the parade's) so storied and has such a long tradition, I now get to share with my own kids."
Chris Buck, who directed the first FROZEN film, provided Macy's Parade Studio design team with a sketch for the balloon. Check it out below:

The BEAUTY AND THE BEAST star recalled watching the parade alongside his then-girlfriend, now wife Ida Darvish in 2005, the year he made his Broadway debut in THE 25TH ANNUAL PUTNAM COUNTY SPELLING BEE. "We were standing there on this rooftop watching all this in the rain, and it was just such a magical experience," Gad says. "To now have one of my own characters inspire one of those iconic floats is pretty surreal."
Asked what makes Olaf such a loveable character Gad offers, "Whether it's his purity, innocence or naivete, there's something they all can relate to or have some sort of entertaining response to." He adds, "I absolutely treasure that."
Image courtesy of Disney