Exhibition Of Amy Kaslow Photos Accompanies IATI's THREE ON A MATCH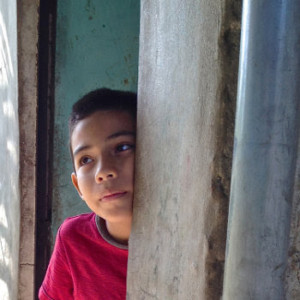 San Salvador, 2014: Six-year-old Enri is not allowed to go outside because gang leaders live next door and across the street. His family does not venture beyond their own house after six in the evening. Photo by Amy Kaslow.
As part of its 50th Anniversary celebration, IATI Theater Toto Vanguardia, 64 East 4th Street, will mount an exhibition by famed photojournalist Amy Kaslow (www.amykaslow.com), "Victims, Perpetrators, Eyewitnesses and Survivors: Life After War," from March 2 to 17 in conjunction with the theater's production of "Three on a Match" by Rhett Martinez, an allegorical drama examining the legacy of state terrorism in Latin America. The theater company, now in its 50th season, is devoted to contemporary, cutting-edge Latino works. "Three on a Match" examines, absurdly and gravely, the terrifying plague of "disappearances" during Argentina's "Dirty War" of 1974-83 and similar experiences of countries across South America in ensuing decades. Written and performed in English, it is directed by Eric Parness; it opened February 23 and runs through March 17.
Amy Kaslow will conduct a talk-back Saturday, March 3 following the 8:00 PM performance, in which she will discuss "disappearance" and its consequences as a technique of politics in Latin America and worldwide.
A great part of Kaslow's body of work chronicles life after "disappearances" in Central and South America and beyond. Argentina's disappeared, Brazil's battle against its poor, El Salvador's gang control, Guatemala's sexual violence, and Cuba caught in a lingering Cold War are among the images and storyboards featured in "Victims, Perpetrators, Eyewitnesses and Survivors: Life After War." This collection contains two dozen images from as many conflict zones around the world, including stunning portraits of men, women and children as they rebuild their lives.
For more info on "Three on a Match," visit: http://www.jsnyc.com/season/three_on_match.htm.

ARTIST'S STATEMENT BY AMY KASLOW
"These are the men, women and children whose lives have been ravaged by conflict, The Holocaust, the Gulag, the Cold War, Apartheid, Khmer Rouge killing fields, the eight-year battle between Iran and Iraq, the gassing of Kurdistan, Argentina's "Dirty War," ethnic cleansing in the Balkans, insurgency in Nigeria, the Rwandan genocide, HIV-AIDS' assault on Sub-Sharan Africa, gang control in Central America, the Drug Way in Brazil's favelas, the endless clash between Israel and the Palestinians. Hardly an exhaustive list, but all in one lifetime.
"Vulnerability and opportunism define the days and years that follow. Accountability, the very essence of a civil society, is elusive. It's a time when national leaders line their pockets at the expense of their own citizens' hunger, health and education, and when corruption is so corrosive, entire countries are ruined. Rapists live among their wartime prey anmd families mourning murdered relatives reside next-dorr to the culpable. Leaders appoint themselves for life, while children, traumatized and scraping by, becoime the lost generation.
"For over three decades, I've been chronicling life after war. This selection of portraits appreciates the integrity and grace of those left behind." -- Washington, DC 2008
ABOUT AMY KASLOW
For three decades, Amy Kaslow (www.amykaslow.com) has shared the stories of victims, perpetrators, eyewitnesses, and survivors in the immediate aftermath of conflict and well into the post-war period. Among the arenas: South Africa's Apartheid; the eight-year battleground between Iran and Iraq; massacre in Kurdistan; ethnic cleansing in the Balkans; endless conflict between Israel and the Palestinians; gang violence in Central America; the killing fields in Cambodia; Nigeria's north-south strife; the nations caught up in the Cold War; the favelas in Brazil; the "Dirty War" in Argentina; genocide in Rwanda; the many countries and parties in the Holocaust.
A writer, photographer and broadcaster specializing in economic reconstruction, her work has been featured in Fortune Magazine, Institutional Investor, Harvard Business Review, The Economist, Huffington Post, SLATE, Middle East Insight, The Middle East, Moment, Emerging Markets, Europe Magazine, The Wall Street Journal, The Washington Post, The Washington Quarterly, The International Economy, on NPR, PBS, CNBC, the CBC, and many other news outlets. She was the longtime lead economic correspondent for the Christian Science Monitor and special global correspondent for PRI's Marketplace. She is on the board of the Daniel Pearl Investigative Journalism Initiative.
Kaslow's current photojournalism exhibition, "Victims, Perpetrators, Eyewitnesses and Survivors: Life After War" has been at the Center for Conflict Resolution, Texas A&M, the US Library of Congress, Vassar College's Palmer Gallery and New York's Chinatown Soup Gallery.
Active in the domestic policy arena, Kaslow works with fallout from the failed War on Poverty, and fosters collaboration among businesses, educators, grassroots groups and political leaders to convert at-risk populations into local assets. On the wide array of talent issues, she gives university talks, corporate guidance, Congressional testimony, and helps municipal, state government and federal agencies glean critical insights from the field. She has advised Manpower Inc., Junior Achievement, the ACT Foundation, the National Academies, Congressional committees, the White House, and the Departments of Labor, Health and Human Services and Education inspired ways low income learners and earners can surmount their challenges. Kaslow reaches a diverse audience by conveying what's happening on the ground with context: history's lessons and the broad horizon of future needs. Her outreach ranges from testifying before the House Science Committee on critical skills to a TEDx talk on how college students can best position themselves for meaningful work.
Kaslow led Sinai House, an award-winning wrap-around transitional housing program for homeless families in Southeast Washington, D.C. She served eight years as a Presidential Appointee to the governing board and executive committee of the United States Holocaust Memorial Museum and is committed to the Museum's dual charge of teaching the lessons of the Holocaust and working to prevent contemporary genocide in the many trouble spots around the world. Kaslow is a trustee of Living Classrooms, an education, community action and economic development initiative that targets at-risk communities, from early childhood to adulthood. She has served and chaired K-12 school boards, designing experiential global education, STEM initiatives, and programs to attract and retain teachers.
Kaslow is the recipient of MOMENT's International Change-maker Award for global reporting on crisis zones. She is a member of the Belizean Grove.
ABOUT "THREE ON A MATCH"
The shadowy American interloper (Sean Phillips) forces The Bellhop (Rosa Rodriguez) to spit-shine his shoes. Photo by Jonathan Slaff.
Plays February 23 to March 17, 2018
IATI Theater, 64 East 4th Street (between Bowery and 2nd Ave.)
Presented by IATI Theater
Fridays and Saturdays at 8:00 PM, Sundays at 3:00 PM, plus two Thursdays: March 8 and 15 at 8:00 PM.
$30 General Admission, $25 Students & Seniors
Box office (212) 505-6757, http://www.iatitheater.org
Running time: 85 minutes.
Complete Info