Click Here for More Articles on KRISTIN CHENOWETH
Exclusive: Kristin Chenoweth on World Tour Plans, Confirms Broadway Return in 20th Century, Soapdish & More!
Emmy and Tony Award winner Kristin Chenoweth will co-host the AMERICAN COUNTRY AWARDS ON FOX airing Monday, December 10 (8:00-10:00 PM ET live/PT tape-delayed). Chenoweth is an accomplished singer and actress of stage, television and film. She recently completed a North American concert tour featuring music from her latest album, "Some Lessons Learned," as well as an array of her most memorable songs and Broadway show tunes. She is known for her Tony Award-nominated turn as the original "Glinda," the good witch, in Broadway's "Wicked" and her show-stealing, Tony Award-winning performance in "You're a Good Man, Charlie Brown." She has received two Emmy Award nominations for her role as "April Rhodes" on the hit series GLEE. She won an Emmy Award for her role as "Olive Snook" on "Pushing Daisies." She also starred in "GCB" and appeared on this season's "The Good Wife" on CBS.
The petite actress with the larger than life voice chatted about the upcoming Broadway revival of 'On The Twentieth Century,' dating Bachelor contestant Jake Palveka and what's in store for her next album.
Chenoweth most recently appeared on Broadway in the revival of Promises, Promises, but has also originated such memorable roles as 'Glinda' in Wicked. I asked her if she has a preference for doing one over the other?
"It's interesting, and thank you for asking that question, I am kind of an odd duck." she began. "I view every role I do as original. If I thought for a second about Barbara Harris playing 'The Apple Tree' or anything I've done as a revival, I might be too intimidated. So I view them all as, "Okay, you're putting your stamp on this. Think of it as it's never been done before."
She continued, "That's sort of what I think when I do a revival. Of course I love doing original
work because there are no rules. There are no rules. We just did a reading of Soapdish and even though it was a movie it has never been done on stage. So there are no rules and I enjoy that aspect of creating. But I look at them both the same. If it's a revival and/or if it's new, I think in my mind, "Don't think that it's ever been done before. Do it your way." That's kind of what I do."
For the past year, Broadway fans have been eagerly awaiting Chenoweth's return to the stage in a rumored revival of On the Twentieth Century, a musical with book and lyrics by Betty Comden and Adolph Green and music by Cy Coleman. The actress confirmed that following a European tour in March, her plan is to bring the project to fruition. "Right off the bat I have some concerts coming up. I have one New Year's Eve in Park City, Utah. I have a Lincoln Center, American Songbook Series that will be filmed for PBS on February 15th. And then I do like a mini European tour in March. I was supposed to do that in September. We had to put it off while I healed and that I can tell you is going to be exciting because I haven't been over there in nine years. I'm going to do London, Scotland, Australia and surrounding areas. After that it'll be 'On the Twentieth Century', we're trying to work out the dates because I want to do that, as well as Soapdish, on Broadway. Those are, I know, the two things that I'm looking to do on Broadway sooner rather than later. That's a lot right there. I'm also trying to put together my next record and do a pilot. It's busy, but those are the "for sures" on the horizon."
The busy actress admits that she still has difficulty juggling her busy career with her personal life. "That's my biggest struggle in life, is the balance issue," she explained. "I know that a lot of people know that I got hurt in July. I'm doing so much better, so much better, but I think it slowed me down to a point to really try to be very, very careful. I like to do a lot of different things and I've realized that life is short and I want to do things that make me happy and really help me leave my mark in this world. I really just try to weigh my time and how much I'm going to be able to-I want to be great. When I say yes to something I want to be great at it. So that's what helps me decide."
On the romanctic front, Chenoweth confirmed recent rumors that she has been seeing 'Bachelor' star Jake Palveka. "I met him doing the 'Hero Dog Awards' for Hallmark channel, which is dogs who basically save lives," she explained. "We met that night and we've been spending a little time together. It's been really fun to get to know him. That's kind of where that is."
Though her recent TV project GCB did not last through its first season on ABC, the actress maintained that it was a worthwhile experience. "Those characters that we all played on GCB were so fun. It disheartened me to think that there was a few that thought it was making fun of God, which I would never do. I thought it was just having fun with a world that I knew very well. I love that people come up to me now and say, "Where's GCB? What happened? We want to see it." But, you know, when you lose a lot of your major advertisers I understand why ABC did what they did, but it still makes me sad. I miss her. I miss [Chenoweth's character] Carline, but whenever I do I just put on my wig and I feel better."
Chenoweth spoke about some of her country music idols who influenced her most recent album, 'Some Lessons Learned'. "With this last album I really wanted to pay homage to how I grew up singing. That was a huge influence on me because in Oklahoma there are 4,500 country music stations and maybe one pop rock. So think about who my influences were. They were Dolly and Reba and Tricia and Shania and Patsy. Those were the people that I listened to. Of course I loved the Broadway cast albums because we didn't have tons of Broadway coming through Broken Arrow, but that was largely my musical influence."
So who's on Chenoweth's iPod? The country music fan revealed, "I have to say I love The Band Perry. I'm still listening to their hit from last year. It's on repeat. And I really am happy for Little Big Town. I think that they are-let me just say this, it's very hard to walk in this world and get to know people. Little Big Town made me; when I met them, feel so welcome and loved and accepted. For them to be as talented as they are nice, I'm going to root for them."
I also like Thompson Square," she continued. "And I'm always going to be partial to Carrie. I just can't help it. But I still like my old timers like Dwight Yoakam and I don't think you'd call Faith Hill an old timer, please God no, because we're about the same age. But there are just some singers I'm never going to not listen to, Shelly Wright being one of them. She hasn't released an album in two years, but I keep telling her she's got to do it. But that's whom I'm listening to right now. I just love Little Big Town. I'm really happy for them."
Fans of country music will be happy to hear that her next musical endeavor will pick up where her last album left off. "I just didn't feel like I got done with that first album. I thought it was a really good start. I didn't get to do a lot of the songs on that album that I wanted to do because at some point you have to make a decision about how many songs are going to be on there. So yes, there's going to be a part two there for sure.
Finally, Chenoweth shared the secret to being a successful host for the upcoming ACA Awards,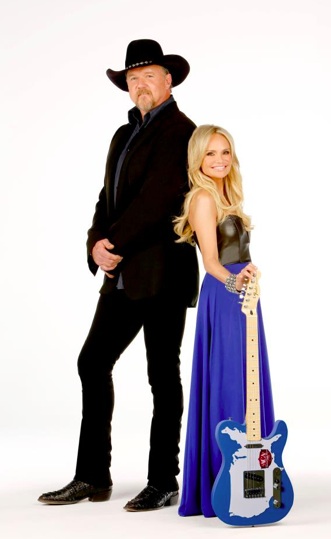 "The key for a good host is to be a good listener. Because as you know, things happen that aren't supposed to happen when you're doing a live show, and for someone like me, you pray for it because it just makes it more fun. So my challenge will be to be a great listener and to make sure and give Trace Adkins a really hard time...I can't give too much away, but it's going to be fun!"
About the AMERICAN COUNTRY AWARDS (ACA)
Rascal Flatts, Kip Moore and Jake Owen are set to perform at the AMERICAN COUNTRY AWARDS (ACA) airing live from Mandalay Bay in Las Vegas Monday, Dec. 10 (8:00-10:00 PM ET live/PT tape-delayed) on FOX. Owen, Moore and Rascal Flatts will join previously announced performers Jason Aldean, Lady Antebellum, Dierks Bentley, Luke Bryan and Little Big Town.
The star-studded special also will feature appearances by Miranda Lambert, Natasha Bedingfield, Ron White and champion cowboy Trevor Brazile. Previously announced participants include Scotty McCreery, Lauren Alaina, Casey James, LeAnn Rimes, Lee Brice, Jana Kramer, Dustin Lynch and Chris Young. Additional performers and presenters to be announced soon.
The two-hour live music spectacular offers country music fans the opportunity to vote for their favorite artists not only in traditional categories, but also in a previously unrecognized area - touring - encompassing the entire spectrum of country music.
Voting for Artist of the Year continues until Friday, Dec. 7 at www.theacas.com.
Featured This Week on Stage Door
Shoutouts, Classes, and More from Your Favorite Broadway Stars
Related Articles
Caryn Robbins is a Senior Editor and daily contributor to BroadwayWorld, Follow her daily podcast "The Broadway Scoop" at http://www.buzzsprout.com/541726. Caryn's original musical comedy DEAR (read more...)