Click Here for More Articles on AMERICAN IDOL
Exclusive Coverage! Brian Stokes Mitchell's Singing Lesson
"It's a song about climbing Mount Everest, not summiting Everest." This realization guided Brian Stokes Mitchell's reinterpretation of "The Impossible Dream" as he prepared to play Don Quixote in the 2002 revival of Man of La Mancha, Mitchell told attendees of a special Q&A sponsored by the New York Singing Teachers' Association (NYSTA).
The teachers, students and singers who attended the event—which was open to the public and held Sunday evening at the West Bank Cafe's Laurie Beechman Theater in Manhattan—were privileged to hear Mitchell speak candidly and personably about training and protecting your voice, working in the theater, and singing for stage, cabaret and CD. Mitchell spent about 40 minutes answering questions, the first three asked by the event's host—and Mitchell's close friend—David Sabella-Mills, who's on the board of directors of NYSTA (and was the original Mary Sunshine in the Chicago revival).
After taking questions from the audience, Mitchell discussed how he went about making "The Impossible Dream" his own. In a highly animated 30-minute discussion akin to opening up his diary for the audience, Mitchell analyzed the words and melody, recounted his scrutiny of and experimentation with the song, and described his efforts to differentiate himself from Richard Kiley's iconic performance. He even sang the song three different ways—"old style," i.e., as Kiley sang it; the cheesy version that's been proffered by lounge lizards the world over; and, finally and thrillingly, the way he had performed it (to Tony-nominated effect) on Broadway.
Kiley's "classical" approach to the song entailed "long-line phrasing" that put the emphasis on the last word of each line ("dream," "foe," "sorrow," e.g.), according to Mitchell. But he felt the emphasis belonged on the adjectives—"unbeatable," "unbearable," etc.—since the song is about trying to do the impossible. And that's where the Mount Everest analogy came in. Mitchell recalls seeing an IMAX movie about Mount Everest and how the footage of climbers struggling to reach the summit struck him as a visual rendition of "The Impossible Dream."
Because the song is so famous, Mitchell wanted to "give it my spin and take it someplace that people aren't expecting." So he added a key change toward the end and hit a high note on the last line: "…the unreachable star!" Man of La Mancha composer Mitch Leigh liked the key change but not the high note—because, Leigh told him, "the song is about trying to reach the unreachable star, and that note makes it sound like you've reached it." Mitchell decided to sing it with the high note anyway, though once the show opened he realized he should have listened to Leigh since it put such a strain on his voice. So he stopped using the high note, although it's on the cast recording.
Mitchell wanted to make one other change, to the lyric "To bear with unbearable sorrow." He'd always thought "To bear the unbearable sorrow" made more sense and followed the word pattern in the other lines. When he asked Leigh why lyricist Joe Darion hadn't written it with "the," Leigh gave him "like a 10-minute answer," so he decided it wasn't worth fighting. "But still I think that 'the' would be a better word," Mitchell confided to the NYSTA audience.
During the Q&A, Mitchell answered audience questions about his typical vocal warmup, using classical training when singing popular music and show tunes, and the infiltration of American Idol-style singing on Broadway. He told the NYSTA guests the three bits of advice he most wanted them to take away from the evening: Learn to listen to your heart. Follow it. And know thyself, meaning your strengths and weaknesses. The event concluded with a reception, during which Mitchell answered even more questions for about an hour.

Sabella-Mills' first question for Mitchell was about his music training. Mitchell said it began informally—he learned harmony from his brother, borrowed his sister's books from her classical training, and started playing piano by ear. He later studied film scoring, orchestration, conducting and arranging at UCLA (he scored some episodes of Trapper John, M.D. when he appeared on that TV series). His teachers have included Warren Barigian, a specialist in "vocal biomatrix," and Joan Lader, whom he considers his "vocal technician" because he sees her when he has special demands or problems.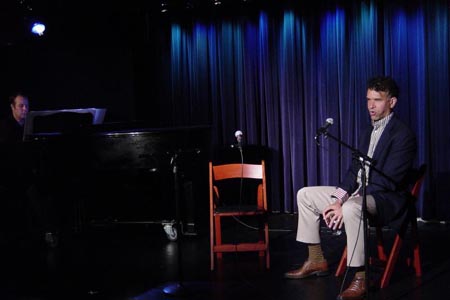 Of his approach to "The Impossible Dream," Mitchell said: "I decided to break up the long-line phrases. I always like to talk about how important space is. Art is in the spaces. Anybody can sing a note; it takes an artist to sing the spaces. Anybody can paint a brushstroke; it takes an artist to know when not to put the brushstroke. So I thought: Spaces! That's what's going to do it, and make people stop and think."

In a hilarious sequence, Mitchell reenacted scenes from an IMAX movie about Mount Everest. While talk-singing "The Impossible Dream," he imitated the bedraggled mountain climbers in the film to illustrate the corroboration. Just as they get worn down as they struggle toward the summit, he panted and gasped as the song progressed.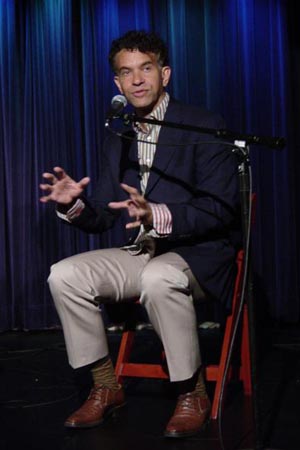 Asked how he keeps his voice healthy, Mitchell said he does "minimal talking" offstage when he's performing regularly. He also shared some vocal remedies he's used: drinking a combination of water, lemon, cayenne pepper and maple syrup or honey; steaming with Alkalol (a eucalyptus/menthol solution sold in pharmacies); mixing a spoonful of alum in some lemon juice and adding hydrogen peroxide to gargle it or honey to drink it ("It tastes like death"); taking a swig of honey or putting a massager on his neck right before going on; jogging before a performance, because "it helps open me up."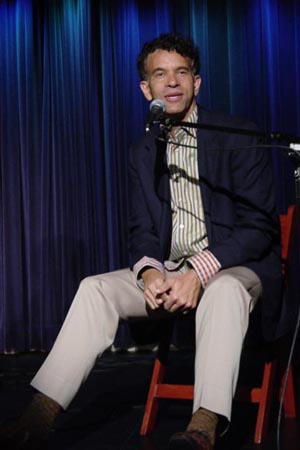 "The first time I really had an influence on a show was during Ragtime," said Mitchell, who participated in three workshops and the Toronto and L.A. productions of Ragtime before it bowed on Broadway (and got him a Tony nomination for his portrayal of Coalhouse Walker Jr.). "It's still the most magical show that I've ever done."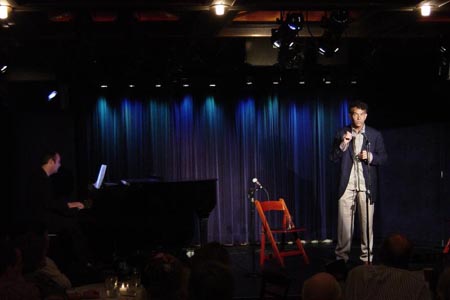 There's both "good news and bad news about doing Don Quixote," Mitchell revealed. "The good news is you get to sing 'The Impossible Dream'…the bad news is you get to sing 'The Impossible Dream.' It's one of the most famous songs in the world; the challenge is how am I going to do it in a fresh, new way."

Though his baritone is greatly admired (and envied!), Mitchell said he finds listening to baritones "like eating meat and potatoes every night for three weeks"—too heavy. "My brother John used to call it 'baritone poisoning,'" he quipped. It can make you "feel like your ears are assaulted."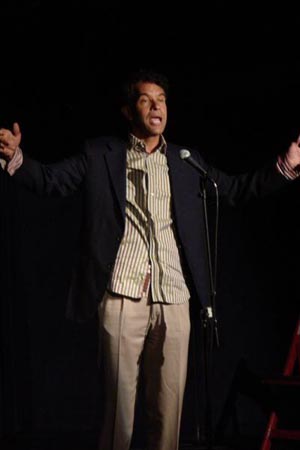 Mitchell followed his in-depth analysis of "The Impossible Dream" with a grand-finale performance of the song. "I think it's one of the most brilliant songs ever written…an incredibly masterful work," he says. "One of the things that's so great is it's a very simple song. It doesn't have these bizarre, Sondheimesque intervals. It's very, very straightforward."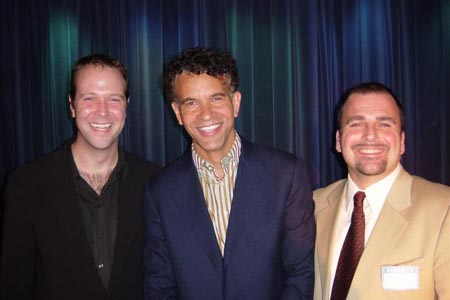 Mitchell with Wilson Southerland (left), his accompanist for the evening, and Sabella-Mills.

Young voice students in attendance were eager to chat with Mitchell during the reception.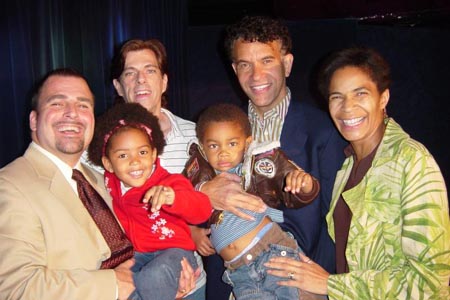 It's a family affair! David and Thomas Sabella-Mills and their daughter, Iraina; Brian Stokes Mitchell and his wife, Allyson Tucker, and their son, Ellington. Mitchell is Iraina's godfather. She and Ellington are just four months apart in age and consider each other sister and brother, David told me.

Mitchell with members of NYSTA's board of directors, from left: Nancy Adams, Lisa Hogan, Katherine Hoffman, David Sabella-Mills, Dora Ohrenstein, Paula Liscio, Daniel James Shigo and Janet Pranschke.
Related Articles
Adrienne Onofri has been writing for BroadwayWorld since it was launched in 2003. She is a member of the Drama Desk and has moderated panels (read more...)