ELEPHANT Extended For Two Encore Performances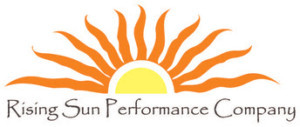 Artistic Director, Akia Squitieri today that after a Sold Out run of Rising Sun Performance Company's world premiere production of ÉLÉPHANT at the Planet Connections Theatre Festivity, the production is being given two encore performances at the Kraine Theatre.
Producing Artistic Director, Erez Ziv of FRIGID NEW YORK, is transferring the production to the Kraine Theatre on East 4th Street for an extended run after it received rave reviews from critics and audiences alike.
ÉLÉPHANT is written by Eva MeiLing Pollitt. The production is co-directed by RSPC Artistic Director, Akia Squitieri, and Associate Artistic Director, Anna Hogan. ÉLÉPHANT will perform at the Kraine Theatre Thursday August 16th at 8:00 pm and Sunday August 19th at 4:00 pm. The Production has ambitions to continue development and transfer opportunities after its 19th closing date.
ÉLÉPHANT follows the Story of Clérèse. The only world Clérèse has ever known is the 19th century Parisian brothel where her mother, Magdith works as a prostitute. Magdith desperately struggles to protect her daughter from growing up too fast and out of the clutches of her volatile father. Everything is shaken when a young man arrives at the brothel with his master and Clérèse's belly begins to grow. What is the fantastical thing that grows within her?
The play was inspired by an amalgamation of fever dreams, works by Henri de Toulous-Lautrec, the documentaries Born in a Brothel and Netflix's Whore's Glory, and the playwright's travels to France. ÉLÉPHANT was workshopped as a part of Rising Sun Performance Company's Residency program, Laboratorium, last summer on Governors Island.
The production features the talents of RSPC's critically acclaimed company members and guest artists. Culling from a pool of international talent, actors representing Brazil, Italy, Germany, Israel, and the US will be featured. ÉLÉPHANT stars Raiane Cantisano (Ms. Estrada/The Flea) as Clérèse, and Ita Korenzecher (Answers to Apathy/Hanging Cow Productions), as her mother Magdith. The ensemble cast includes Eric Parness (Helvetica/RSPT), William Serri (Glory of Living/RSPT), Laura Lamberti (Terranova/FringeNYC), Maera Daniel Hagage (Graduate of Bezalel Academy of Art & design in Jerusalem), Ayesha Saleh, Maggie Kissinger, Michael Pichardo (Glory of Living, Punk Grandpa), and Julia Geromin (The Glory of Living).
The design team includes costume design by Allison Crutchfield (award nomination for Glory of Living), set design by Akia Squitieri & Anna Hogan, lighting design by Christina Tang, and sound design by Jorge Olivio (Gallery Players, Pan Asian Rep).
With creative and production support includes stage management by Krissy Delahanty, dramaturgy by Andrew Gonzales & Ashley O'Neil, fight direction & dialect coach Monica Blaze Leavitt (Transport Group), assistant costume design by Frank New, and production support from Jason Karos, Sarah Manas, Ali Basalyga, Ashley O'Neill, Allie McLoughlin, and Susan Cavalcanti.
Tickets are $20-25 and available online at www.horsetrade.info or at the door. Performances take place at the Kraine Theatre 85 East 4th Street (Btw Bowery & 2nd Avenue) Subways: 6 to Astor, R/W to Broadway/8th or F to 2nd Ave Running time 90 minutes.
Performance dates: Thursday August 16th at 8PM Sunday August 19th at 2PM
Additional information can be found online at www.horsetrade.info or www.risingsunnyc.com
Founded in September of 2001, Rising Sun Performance Company (RSPC) is dedicated to producing ensemble-based work. It is run by artists for artists to allow them to create their own opportunities. RSPC is the full time artistic home for a wide range of theatre artists, including actors, writers, directors, designers, singers, and dancers.
Since its inception, RSPC has produced over 100 productions and events including the development of countless NYC, national, international plays, over 70 one-act plays as well as their annual series which features 3 musical cabaret's, free outdoor performances, children's theatre, and immersive themed theatrical experiences.
Rising Sun Performance Company has produced numerous works at PCTF including Donkey which was published by Indie Theatre Now, Next Stage Press, and Smith & Kraus Anthologies. Donkey received 12 PCTF award nominations, winning four. In 2015, Rising Sun presented The Firebird by Tim Errickson, which received 5 festival award nominations. Their 2016 production of Helvetica garnered 7 Award Nominations and won for Outstanding Ensemble, Outstanding Script, and Sound Design. Last years revival of The Glory of Living received 9 nominations and won for Outstanding Direction & Lighting Design.
RSPC is well known for their trademark revivals, including the sold-out critically acclaimed productions of Goodnight Lovin' Trail, The Shape of Things, An Adult Evening of Shel Silverstein, Hellcab The Last Supper, Fool for Love, Bug and Brilliant Traces. RSPC has been Artist in Residence at Horse TRADE Theater Group, The Field's Far Space, Hosteling International and Space on White. The company has received 7 New York Innovative Theatre Award Nominations, 30 PCTF nominations, 9 awards from Planet Connections Theatre Festivity, and is a 5-time FRIGID NY Festival award winner.
Eva MeiLing Pollitt (Playwright) is a Colorado born, Brooklyn based writer/director. Her first film, Tenny, has screened in festivals in New York, Denver, and online. She is currently in post-production for her second film, High, set in the Colorado Rockies. Eva's playwriting work has been produced with House Party Theatre (Dallas), SoundPlay.Media, and Southern Methodist University Theatre. She is a Robert Mayer Research Fellow, Engaged Learning Fellow, and Meadows Exploration Award Recipient for her research in Moscow, Avignon, and Edinburgh on International Theatre. She also writes songs and poems. Eva wrote Éléphant while living in the French Alps and was working as an English Teaching Assistant with the TAPIF program. This is her first production with Rising Sun Theatre after partaking in their residency on Governor's Island in Summer 2017. BFA Theatre/BA World Languages, SMU.
Akia (Co-Director/Founding Artistic Director) is an active member of the flourishing Off-Off/Indie & Off-Broadway theatre communities having produced, directed, and performed with numerous NYC companies for over 15 years. She served as the Company Manager for the international sensation, Blue Man Group at the Astor Place Theater for 10 years. Akia has received critical praise for her direction of RSPC long running hits such as "Hellcab", "Goodnight Lovin' Trail", "The Last Supper", "Crapshoot", "Bug", "Sprucehaven B" and most recently the award-winning revival of "The Glory of Living".
She served as an advisory Board Member for The Paul Butterfield Fund & Society and is the Company Manager & Producer for The New York Innovative Theatre Awards & Foundation, where she serves on their honorary awards committee. Past notable credits include working on staff at Horse Trade Theatre Group, serving as General Manager for FRIGID New York's inaugural year, and returning as Volunteer Coordinator in 2009, and House Manager for subsequent years since. Akia also served as Production Coordinator for the nationally acclaimed Puerto Rican Traveling Theatre, overseeing the playwright's unit and INSIGHT's 13 production series. She is a recipient of the New York Innovative Theatre Awards "Founders Award" for her contributions to the organization and Off-Off Broadway Community. She was awarded the Congeniality Award in both 2014 & 2015 by Planet Connections Theatre Festivity for RSPC's productions of Donkey & The Firebird.
Anna Hogan (Co-Director/Associate Artistic Director) is a Texas born and Brooklyn based director and actress. In 2017, she worked on 13 productions and received festival nominations for "Outstanding Direction of a Staged Reading" and "Outstanding use of Multimedia." You can see her work on both stage and screen, most recently in the Nice IFF's "Best Short Film" nominated Leigh une Femme where she was nominated for "Best Lead Actress in a Short Film." Recent New York credits: Three on a Match (Assistant Director, IATI Theatre), A Self-Help Guide to Killing Your Boss (Director, Alchemical Theater Studios), Hawley and Levelland (Director, RSPT's Laboratorium), Baby Monitor (Assistant Director, Playwrights for a Cause). Previous Planet Connections credits: Hold My Spot (Director, Opportunist Productions), The Glory of Living (Assistant Director, RSPC), and Helvetica (Assistant Director, RSPC). www.Annamaureenhogan.com
Related Stories
More Hot Stories For You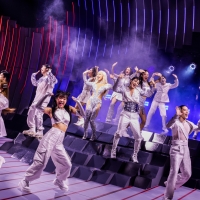 The New York Times Issues Response To Criticism Of KPOP Review

December 6, 2022

The New York Times has released a statement in response to the criticism of Jesse Green's review of the new Broadway musical, KPOP.
---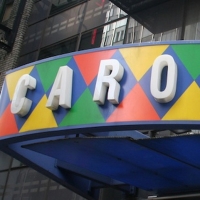 Carolines On Broadway Comedy Club To Close Times Square Location

December 6, 2022

Iconic New York City comedy venue, Carolines On Broadway, will close its doors come 2023.
---
KPOP Announces Final Performance on Broadway

December 6, 2022

Today, the producers of KPOP announced that the groundbreaking new musical will have its final Broadway performance on Sunday, December 11 at Circle in the Square Theatre.
---
Video: Bob The Drag Queen, Kornbread & More Pay Tribute to A STRANGE LOOP With New Medley

December 6, 2022

Watch A Strange Loop Medley, produced by Michael Korte and Bryson Camper, starring Bob The Drag Queen, Kornbread, Anania Williams, Kyle Freeman and Elyn.
---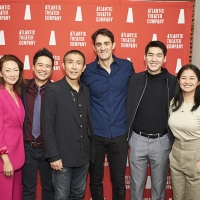 Photos: Go Inside Opening Night of THE FAR COUNTRY at Atlantic Theater Company

December 6, 2022

See photos from opening night of Atlantic Theater Company's The Far Country, an Atlantic commissioned world premiere play by Lloyd Suh, directed by Eric Ting.
---