Drilling Company Presents GABRIEL: A POLEMIC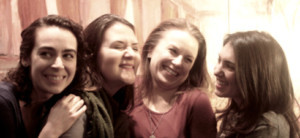 Reacting to Wendy Davis' 2013 anti-abortion in the Texas Legislature, playwright C. Denby Swanson, author of "The Norwegians," resolved to write a play about a woman's right to choose and the effect of this wedge issue on female friendship or "sisterhood." The result was a darkly comedic drama, "Gabriel: A Polemic," in which four tightly-bonded women, confounded by issues of abortion and free will, are divided unexpectedly by a crisis of faith at their weekly dinner. The Drilling Company, which developed the play in a series of readings and workshops since 2014, will mount its world premiere March 9 to 26 at North of History, a new performance/gallery space founded by Gene Kaufman that is located at 445 Columbus Ave. (between 81st and 82nd Streets). Hamilton Clancy directs.
At their weekly potluck gatherings, Susan, Jennifer, and Brenda are as likely to exchange recitations of scripture as they are casual insults over what exactly is in the "potato thing" that Brenda brings regularly. A fundamental disagreement is prompted when Susan, the hostess of the gathering, asks: when the Angel Gabriel appeared, did Mary have a choice, or could she have said no to bearing Jesus? Swanson's timely play poses intractable questions: Do women have free will? Do they want it? Do they want it for each other? The piece raises serious issues, but its proceedings are laced with the wit and flare for comedy that Swanson displayed in "The Norwegians," The Drilling Company's best-known hit show, which it presented from 2013-14 in its former home at 236 West 78th Street. In that play, Swanson applied film noir and mob movie genres to life in Minnesota. It was a critic's pick in the The New York Times, with critic Anita Gates cheering the piece as "[an] extremely odd and delightful comedy...hysterical." The production made the leap from OOB to OB and logged over 200 performances. With "Gabriel: A Polemic," Swanson tackles more serious themes. "This is the most personal play of my career," she declares. As a playwright, Swanson is sympathetic to women's spirituality and the role it plays in their lives. And it is easy to interpret the women's group of this play as a microcosm of the American body politic. Swanson lives in Austin, TX, where she is on the faculty of Southwestern University and was formerly Director of Austin Script Works. She wrote the play partly in reaction to the Texas legislature's attacks on women's reproductive freedoms. She relates, "In 2013, I breathlessly watched a webcast of state Senator
Wendy Davis
filibuster in the Texas legislature over anti-choice legislation, and it was this heroic 13 hour battle, and it ended with all kinds of ridiculous shenanigans, and then Senator Leticia Van De Putte rose to make a motion. But she was ignored in favor of a Republican. So she raised a point of parliamentary inquiry and said, 'At what point must a female senator raise her hand for her voice to be recognized over the male colleagues in the room?' This ignited the protestors in the gallery, who just rose up, yelling, this tsunami of sound. It was midnight, it was incredible, all these women and allies who were just fully, wholly activated. I was watching from home, although I live about 15 minutes from the state capitol, with my infant foster son asleep in the next room, and when the protesters stood, I stood in my chair also, with my hands in the air, just like, YES. YES." Swanson's passionate positions on reproductive issues have set her against members of her own family, whose own convictions often oppose hers. She adds that many people she loves are single-issue pro-life voters, with whom she can't broach certain issues without an emotionally bloody fight ensuing. She writes that she subtitled the play "a polemic" because it's a play about argument. "First, it's my argument with myself about my own beliefs. I tried to give myself a test. I tried to invoke the truly-held beliefs of my family members. And I tried to create an experience that is a test, essentially, of whether, with my/our ardently polar, oppositional beliefs, we can find a new way of talking to each other so that we can break bread, share space, and, ultimately, create a new bond." Her seizing on the issue of "choice" seems even more prescient during the Trump era, as more states seek to curtail women's access to abortion and reproductive health care and the issue stands defiantly as a prime source of polarization in today's politics. The Drilling Company has developed the play for three years through readings and workshops, all with the same four actresses and director
Hamilton Clancy
, who says, "We've literally grown the relationships between the characters as the actresses have matured in the roles. Sometimes the time it takes to develop a production has benefits." Additionally, there was a workshop production at Southwestern University of Texas that was instructive in revealing to Swanson that audiences across the political spectrum would respond positively to the story and the issues that the four characters were confronting. The actors are
Jane Bradley
,
Elaine Ivy Harris
, Rachel Collins and Brandi Varnell. Lighting and technical design are by
Eric Nightengale
. Scenic design is by Jennifer Varbalow. Assistant director is
Karla Hendrick
. Stage managers are Niamh Ryan and Denis Hough. Dramaturg is Maggie Rothberg. C. Denby Swanson (playwright) graduated from Houston's High School for the Performing & Visual Arts, Smith College, the National Theatre Institute, and the University of Texas Michener Center for Writers, where she was a fellow in playwriting and screenwriting. She has been a Jerome Fellow, a
William Inge
Playwright in Residence, and a McKnight Advancement Grant recipient. Her work has been commissioned by the Guthrie Theater, 15 Head a Theatre Lab, Macalester College, and The Drilling Company, and developed at the Southern Playwrights Festival, the Women Playwrights Project, the Lark Theater's Playwrights Week, PlayLabs, the WPA Festival at Salvage Vanguard, JAW: A Playwrights Festival at Portland Center Stage, New York Stage & Film,
The
Culture Project
's Impact Festival, the Icicle Creek Theatre Festival, and the Earth Matters on Stage Festival at the University of Oregon. Her blues play "Blue Monday" was developed at ZACH Theatre Center as part of the NEA/TCG National Theater Residency Program for Playwrights. Her plays for young people include "Everything So Far," adapted from a 9th grade biology textbook, and "Relative," based on a story about her father, a mathematics professor. Her "killer comedy" The Norwegians was published by Dramatists Play Service and the Smith & Kraus Best Plays and Best Monologues of 2014 collections. Other work is published by Heinemann and Playscripts, Inc.
Hamilton Clancy
(director) is an actor/director. TV watchers know him as Kowalski in "Orange is the New Black." His other on-camera credits include "Bridge of Spies," "Wizard of Lies," "Mindhunter," "Billions," "Burn After Reading" and "American Gangster. Onstage, he was features in The Drilling Company's long-running hit, "The Norwegians." As founder and Artistic Director of The Drilling Company, he has commissioned over 330 short plays by 100 writers in premieres through 21 projects. His most-noted stage directing credits include "Reservoir" by Eric Henry Sanders, "Mutant Sex Party" by Ed MacDonald and "Over the Line" by P. Seth Bauer. The Drilling Company has been producer since 2006 of Shakespeare in the Parking Lot and Bryant Park Shakespeare, mounting 22 titles of The Bard's canon of which Clancy has directed over a dozen. He has also acted at
Playwrights Horizons
and The
American Place Theatre
; the latter was founded by his mentor,
Wynn Handman
. As a Catholic University graduate, Clancy feels especially connected to this play's themes of women's choice and free will.
Jane Bradley
(Susan) is well-known for her appearances in The Drilling Company's productions of "As You Like It" (as Rosalind), "The Merchant of Venice" (as Portia) and "Othello" (as Emilia) and is Associate Artistic Director of The Drilling Company.
Www.jane-bradley.com
Rachel A. Collins (Brenda) appeared with The Drilling Company in "As You Like It" (as Phoebe), "Twelfth Night"(as Fabian) and "Measure for Measure (as Provost). She is a member of New York Madness Acting Company, Ego Actus Advisory Council and The Downtowners Improv.
Www.rachelacollins.com
Elaine Ivy Harris
(Jennifer) has appeared with The Drilling Company in "As You Like It," "Much Ado About Nothing" and "All's Well That Ends Well." She has also appeared at
Williamstown Theatre Festival
and other regional theaters.
Www.elaineivy.com
Brandi Varnell (Louise) is an actor and director. She is co-founder of Squeaky Bicycle Productions, for which she just directed "Or Current Resident," which is now playing at Theater for the New City. North of History, a "popup" gallery and performance space, was created by architect Gene Kaufman to present plays and art exhibits by a broad range of under-represented artists who will use the space for performances, exhibitions, concerts and interactive art displays. It is a flexible space located in a former storefront at 445 Columbus Ave. between 81st and 82nd Streets, within sight of the Museum of Natural History. North of History is a project of New Vision, a nonprofit arts organization founded by Mr. Kaufman. The space illustrates the expansion of the alternative art scene into multi-use spaces. "Due to rising real estate prices and business licensing obstacles, maintaining an art space in New York City is increasingly difficult, even though the art itself is alive and well," said Gene Kaufman, whose wife Terry Eder is a concert pianist. "As a result, we must expand the definition of 'gallery,' 'concert venue' and other terms in an effort to fully integrate the arts into neighborhoods across the city."
Related Articles
More Hot Stories For You
Breaking: MRS. DOUBTFIRE Will Open on Broadway in Spring 2020 at the Stephen Sondheim Theatre
This just in! Mrs. Doubtfire, the new musical based on the film of the same name, will open on Broadway this coming spring at the Stephen Sondheim The... (read more)

Photo Flash: First Look at Jonathan Groff & More in LITTLE SHOP OF HORRORS
LITTLE SHOP OF HORRORS, starring Jonathan Groff, Tammy Blanchard and Christian Borle, opens October 17 at The Westside Theatre (407 W. 43rd St, NYC), ... (read more)

HAMILTON's Miguel Cervantes and Family Mourn Passing of Three Year-Old Daughter, Adelaide
BroadwayWorld is saddened to report that Miguel Cervantes, who plays Alexander Hamilton in Chicago's Hamilton, and his wife, Kelly,  have confirmed th... (read more)

Photo Flash: First Look at FROZEN's National Touring Cast; Plus Go Inside Rehearsal!
We've got your first look at Frozen North American tour stars Caroline Bowman (Elsa) and Caroline Innerbichler (Anna) in costume! In addition, Disney ... (read more)

HAMILTON Will Hold A Fan Performance on October 31 With All Tickets Available For $10 Via Lottery
For the second year in a row, Hamilton will host a special fan performance on Thursday, October 31 at the Richard Rodgers Theatre on Broadway, with al... (read more)

Review Roundup: Renee Fleming, Dove Cameron, Brian Stokes Mitchell, and More in THE LIGHT IN THE PIAZZA
L.A. Opera presents The Light in the Piazza!Renée Fleming and Emmy winner Dove Cameron star as Margaret and Clara Johnson, two American tourists in It... (read more)