David Bernard Offers Unique Halloween Experience with InsideOut Concert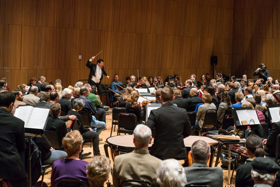 Music Director David Bernard will conduct with the audience seated amongst the musicians, continuing his trailblazing 'InsideOut' concept, at New York's DiMenna Center for Classical Music
It will be a musical Halloween with a difference at the DiMenna Center for Classical Music on October 28th. Launching their 2017/18 season, Music Director David Bernard and the Park Avenue Chamber Symphony will play Saint-Saens's Danse Macabre and Berlioz's Symphonie Fantastique - two works shot through with witches and ghosts. And the audience will experience the musical ghouls up close, as they will be seated amongst the musicians throughout the orchestra, in Bernard's popular and vivid InsideOut concert format.
"These are two of the most scenic works in the classical canon," says Bernard, "each in their own ways works of genius - the Saint-Saens a perfectly structured piece of entertainment, the Berlioz a blazing, revolutionary masterpiece. Each paints devilish, extraordinarily evocative sound-pictures, and our audiences will have the opportunity literally to sit in the midst of all of that. They will be able to follow the motifs as they whizz around their ears, moving from section to section, they will find themselves immersed in dark and magical worlds. I can't think of a better way to spend Halloween!"
A sold-out success in trials with PACS this past season, Bernard's 'InsideOut' concert positions audience members in the precise configuration of the orchestra - placing them inside the sections as though they themselves might be musicians, and the orchestra retains its shape. Every InsideOut concert so far has elicited hugely enthusiastic responses, both from media and audience members:-
"InsideOut is transforming the traditional concert experience...the seats are with the players themselves, in the thick of the violins or right next to a harp. There's no separation here, just a mass of pumping hearts in a singular musical communion." - WQXR.com
"It sounds great! The acoustics, sitting here among the musicians of the Park Avenue Chamber Symphony, are amazing." - Stephanie Simon, NY1
And, from audience members,
"What a wonderful, thrilling experience! To 'feel colors' is a unique gift!"
"This is the second Inside Out concert I've attended, and to borrow a term from Gene Youngblood, it's Synaesthetic Symphony - music that is of course first an auditory experience, but is as substantive and tactile an experience as a work of sculpture, and a transformation of the relationship between performer and audience, to boot. WOW!"
As well as the full evening concert, starting at 5pm, the orchestra afternoon will offer a shortened family afternoon event at 2pm (featuring Danse Macabre and several excerpts (explained by David Bernard) from Symphonie Fantastique), at which parents will be welcome to bring young children and give them unique InsideOut Concerts experience.
Tickets are available online only for both versions of the InsideOut Experience:
Full Experience (Saturday, October 28th at 5pm):
http://tix.smarttix.com/Modules/Sales/SalesOcalPage.aspx?SalesEventId=6906&OccurenceId=31466&DateSelected=10%2F28%2F2017+5%3A00%3A00+PM&OccurenceTitle=Full+experience&ControlState=3&ChangeParams=1
Family Experience (Saturday, October 28th at 2pm):
http://tix.smarttix.com/Modules/Sales/SalesOcalPage.aspx?SalesEventId=6906&OccurenceId=31465&DateSelected=10%2F28%2F2017+2%3A00%3A00+PM&OccurenceTitle=Children+&+chaperones&ControlState=3&ChangeParams=1
ABOUT THE ARTISTS
David Bernard's conducting has received critical acclaim in the US and worldwide. Noted recent performances include Stravinsky's The Rite of Spring at Lincoln Center ("transcendent...vivid....expertly choreographed", LucidCulture) and Beethoven's Ninth Symphony at Carnegie Hall ("taught and dramatic", superconductor). Bernard's critically acclaimed catalog of recordings include a premiere recording of a new edition of Stravinsky's The Rite of Spring ("committed and forceful...(with) thrilling moments", Gramophone) and a complete cycle of Beethoven Symphonies praised for its "intensity, spontaneity, propulsive rhythm, textural clarity, dynamic control, and well-judged phrasing" by Fanfare Magazine.
A multiple First Prize winner of the Orchestral Conducting Competition of The American Prize, Bernard is Music Director of the Park Avenue Chamber Symphony and the Massapequa Philharmonic Orchestra, as well as a frequent guest conductor. Bernard has worked on the Edwin F. Kalmus editorial team with Clinton F. Nieweg, retired librarian of the Philadelphia Orchestra, developing new editions of Stravinsky's The Rite of Spring and The Firebird Suite-1919 Version, which was published in 2016. In addition, he has published his own editions of Mozart's Clarinet Concerto, K. 622, and Schumann's Symphony No. 2, Op. 61.
David Bernard is an acclaimed orchestra builder and is sought after for his artistic leadership and innovation in community engagement, including his new InsideOut format (seating audiences inside the orchestra) which hve been acclaimed by WQXR, NY1, Newsday, ClassicalWorld and the Epoch Times.
The Park Avenue Chamber Symphony is well known to New York audiences through its frequent appearances at Carnegie Hall. The ensemble regularly features important soloists such as David Chan (concertmaster, Metropolitan Symphony Orchestra), Carter Brey (principal cellist, New York Philharmonic), Jeffrey Biegel and Anthony McGill (principal clarinet, New York Philharmonic). PACS international activities include a nine-city tour of China. Recently they have attracted particular attention for their "Inside Out" initiative, spearheaded by David Bernard, which places audience members amongst the orchestra musicians during performances, so that they can experience the thrill of the music from within the fabric of the orchestra itself. Their recording of Stravinsky's The Rite of Spring and Bartok's Concerto For Orchestra, launched the new label Recursive Classics in 2016, followed-up recently by Beethoven's Symphony No 9. They recently gave the New York Premiere of Jake Runestad's work Dreams of the Fallen, at Carnegie Hall.
Related Articles
More Hot Stories For You
The Drama Book Shop, Now Co-Owned by Lin-Manuel Miranda, Will Reopen in March
 It was announced today that The Drama Book Shop will reopen its doors in March 2020 at its new Times Square home at 266 West 39th Street (between 7th... (read more)

Voting Now Open For The 2019 BroadwayWorld New Jersey Awards, Presented by TodayTix!
Voting is NOW OPEN for the 2019 BroadwayWorld New Jersey Awards, brought to you by TodayTix! The nominees are set, and now you can vote to make sure y... (read more)

HADESTOWN Becomes First Musical Of 2018-2019 Season To Recoup Investment
Hadestown, the Tony Award-winning Best New Musical has become the first musical of the 2018-2019 Broadway season to recoup its initial investment of $... (read more)

TOOTSIE To Play Final Broadway Performance in January
It was announced today that the Tony-nominated musical TOOTSIE will play its final performance at at the Marquis Theatre on Sunday, January 5, 2020.... (read more)

Betsy Wolfe and Matt Bogart Will Star in Developmental Reading of Original New Musical INDIGO
Sing Out, Louise! Productions will hold a developmental reading of Indigo, an original new musical featuring music & lyrics by MAC Award winning compo... (read more)

LES MISERABLES Changes Dates of Broadcast in U.S. Cinemas
Les Misérables a?" The Staged Concert will be shown in cinemas across North America on Sunday December 8 & Wednesday, December 11 from the Gielgud The... (read more)