Craig Bierko, Anita Gillette, Frances Ruffelle, and More Join Tribute to Jamie de Roy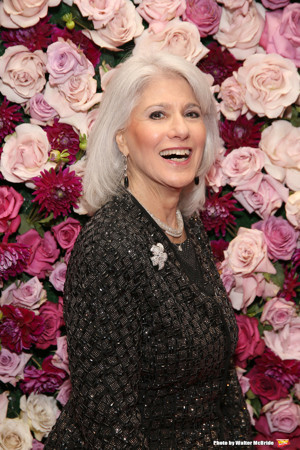 A stellar cast of Broadway's finest performers will be on hand Wednesday, April 11, when The New York Friars Club honors show business tour de force Jamie deRoy at a celebration marking her 30th anniversary as one of the Club's first eight female members. The event, Jamie deRoy, 30 Years a Friar, will be at The Friars Club, 57 East 55th Street, starting at 6 PM for cocktails, 7 PM for dinner and 8:30 PM for the show.
In 1988, deRoy joined illustrious performers Liza Minnelli, Joan Rivers and Brooke Shields; Broadcast Music, Inc. President and CEO Frances Preston; Filmworld Television President Beverly Partridge; independent television commercial producer Jeanne Harrison and Outer Critics Circle President Marjorie Gunner in rounding out the eight.
The Friars is the preeminent members-only club for entertainment professionals and others involved in show business. It is dedicated to charitable endeavors and committed to fostering and promoting strong social and professional bonds among its members. Perhaps best known for its famed rollicking roasts, the Club through its Friars Foundation has historically raised funds to help entertainers in times of need.
"It is especially fitting that we honor Jamie, a Friars Club trailblazer, for her many show business achievements, including her devotion to the Club and its Foundation," Michael Gyure, New York Friars Club executive director, said.
Gyure noted her Jamie deRoy & friends cabaret series has been attracting New York audiences for 28-years. "A three-time Tony® Award winner, Jamie has produced numerous Broadway and off-Broadway plays and musicals, is a cabaret, stage, film and TV performer, recording artist and humanitarian," Gyure said. "In addition to her many contributions to the Friars Foundation, her acclaimed Actors Fund: Jamie deRoy & friends Cabaret Initiative assists those in the cabaret industry who have medical needs and concerns."
"The Friars Club is a truly wonderful organization with which to be associated," deRoy said. "The event will be especially meaningful to me with my multi-talented friends taking part. I am deeply honored."
Directing the show will be Barry Kleinbort with Musical Director Ron Abel. Hosting will be comedian Judy Gold, who has had stand-up specials on HBO, Comedy Central and Logo and has written and starred in two critically acclaimed off-Broadway hits, The Judy Show ---- My Life as a Sitcom(Outer Critics Circle nomination) and 25 Questions for a Jewish Mother (GLAAD Media Award - Outstanding NY Theater, Drama Desk nomination - actor). Gold also received rave reviews for portraying "Gremio" in The Public Theater's all female production of The Taming of The Shrew for New York's Shakespeare in the Park.
Jamie deRoy, 30 Years a Friar, will feature special tributes and performances by:
· Craig Bierko, Tony Award nominee for lead actor in The Music Man. He has appeared in Stephen Sondheim's Company and in numerous movies and TV shows, including Cinderella Man with Russell Crowe, The Good Wife, The Thirteenth Hour, UnREAL, Law & Order: Special Victims Unit and Murphy Brown. His accolades include being named Sexiest Broadway Star by People magazine.
· Chuck Cooper, featured in 15 Broadway shows in every theatrical genre from Shakespeare to musical comedy. He won a Tony Award for his performance in Cy Coleman's The Life. Cooper has guest-starred on TV's The Good Wife, House of Cards, Madam Secretary andNurse Jackie, among others.
· Jim Dale, whom Lord Laurence Olivier once called "God's gift to Shakespeare comedies." He won a Tony for Barnum and Tony nominations for Joe Egg, Candide, The Threepenny Opera and Scapino. A Grammy award-winning narrator, Dale recorded seven books in the Harry Potter series for the United States and Canadian markets.
· Penny Fuller, an Emmy Award-winner for The Elephant Man. She also appeared in last year's Broadway revival of Sunday In the Park with George, Horton Foote's Dividing The Estate and Neil Simon's The Dinner Party for which she won a Tony nomination.
· Larry Gatlin, who with his brothers became country music legends, racked up hit after hit and won some of the most prestigious awards in the recording industry, including the Grammy. After many years of touring with his brothers, Larry experienced a major turning point in his career when he took the lead role on Broadway in the Tony Award-winning musical, The Will Rogers Follies.
· Anita Gillette, a Tony nominee for best actress for Chapter Two, made her Broadway debut in Gypsy and has performed in 11 shows on the Great White Way, the hit movie Moonstruck and the NBC series, 30 Rock, in which she played Tina Fey's mother.
· Julie Gold, a singer/songwriter, best known for Bette Midler's version of From a Distance which won her a Grammy for Song of the Year. Her songs have been performed by artists including Patti LaBelle, Patti LuPone, Cliff Richard, The Byrds, Kathie Lee Gifford, Lea Salonga and Jewel, among others.
· Rupert Holmes, the first person in theatrical history to solely win Tony awards for Best Book, Best Lyrics and Best Music, for his creation,The Mystery of Edwin Drood, which also won the Tony for Best Musical. Holmes has written, arranged and conducted platinum albums for Barbra Streisand and he wrote and sang the iconic "Pina Colada Song."
· Frances Ruffelle, who originated the role of "Eponine" in Les Misérables for which she won a Tony. She turned "On My Own" into one of Broadway's most beloved standards. Ruffelle appears frequently on the New York cabaret scene and has performed in numerous shows on London's West End, including her most recent critically-acclaimed performance in Wild Party.
· Benjamin Scheuer, who won a Drama Desk Award for his solo show, The Lion. He has been nominated as the 2018 "Man of the Year" by the Leukemia & Lymphoma Society. A survivor of Hodgkins Lymphoma, Scheuer credits the Society for saving his life.
In addition to Tony Awards, deRoy has won eight MAC Awards; four Back Stage Bistro Awards and 11 Telly Awards for her extensive work on stage and screen. She has appeared with luminaries like Joan Rivers and has headlined at many New York nightclubs. deRoy has produced nine CDs in the Jamie deRoy & friends series, all available on Harbinger and PS Classics labels. Her monthly cable television show spotlights well-known entertainers and newcomers
Photo Credit: Walter McBride / WM Photos