Controversy Erupts After Albee Estate Objects to Casting of Black Actor in WHO'S AFRAID OF VIRGINIA WOOLF?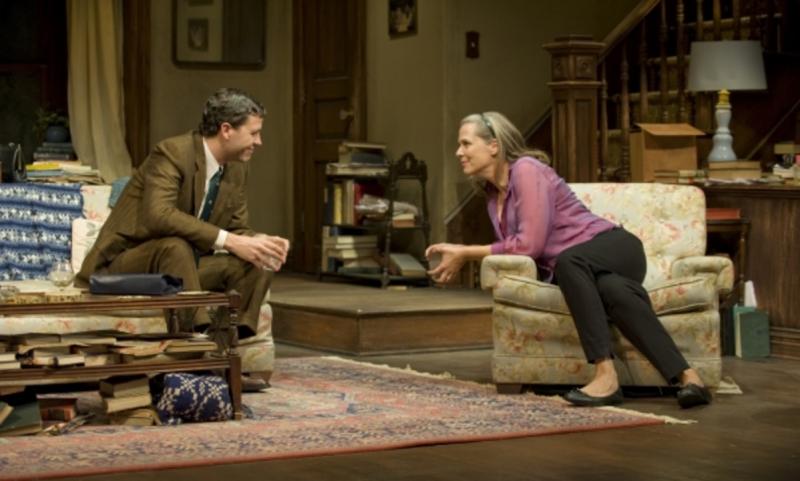 Controversy has erupted this week over an Oregon production of Who's Afraid of Virginia Woolf? Shoebox Theatre director Michael Streeter posted the below statement after receiving news from the Edward Albee estate:
Streeter elaborates: "I do not question the motives of those that made the decision. I think they have some fealty to a sense of integrity to Edward Albee's desires. But I had hoped the negative aspects of Albee would die with him. I do not question their right to make the decision. If I did, I would pursue it legally. All I did was post a very short Facebook rant about my disappointment in their decision. I think they made the wrong one. I think the benefits of casting Nick with an African American Actor outweigh the drawbacks."
The Albee estate responded with a letter below:
Dear Michael Streeter --

This email confirms receipt of your note on Wednesday, May 17, 2017, and also to advise you that we are, of course, aware of your post on Facebook on the same date. Also know that it has come to our attention that poster art for a production of WHO'S AFRAID OF VIRGINIA WOOLF? to be presented by Michael Streeter in September was advertised in March, before rights to produce the play had been granted.

Which brings us to the matter of protocol: you were made aware on November 28, 2016 by Samuel French that any intended production of WHO'S AFRAID OF VIRGINIA WOOLF? requires, by contract, approval by the Albee Estate of your casting choices for all roles in the play before a license to produce the play can be granted. As such, your statement on Facebook is errant as it reads "the Albee Estate...said I need to fire the black actor and replace him with a white one." Insofar as the Albee Estate had not approved the actor in question, you were in violation of the agreement by hiring him in the first place. The decision to 'fire' him was yours and yours alone by virtue of your own misstep.

In a second instance of placing the cart before the horse, you as producer were in gross violation of standard agreements by advertising a production of WHO'S AFRAID OF VIRGINIA WOOLF? without having obtained the rights. This has been confirmed by Samuel French, the licensing agent for the play. It is upsetting that you would have such blatant disregard for the work of one of the most acclaimed playwrights of his generation, the late Edward Albee, not to mention mislead the public by promoting a production of his play before a license to produce it had been granted.

Regarding the matter of your request to cast an actor who is African-American as Nick in VIRGINIA WOOLF?, it is important to note that Mr. Albee wrote Nick as a Caucasian character, whose blonde hair and blue eyes are remarked on frequently in the play, even alluding to Nick's likeness as that of an Aryan of Nazi racial ideology. Furthermore, Mr. Albee himself said on numerous occasions when approached with requests for non-traditional casting in productions of VIRGINIA WOOLF? that a mixed-race marriage between a Caucasian and an African-American would not have gone unacknowledged in conversations in that time and place and under the circumstances in which the play is expressly set by textual references in the 1960's.

This provides clear evidence that productions of WHO'S AFRAID OF VIRGINIA WOOLF? must, indeed, continue to be cast per Mr. Albee's intention, and according to the legal rights held by his estate, which works with great care to ensure that the author's intent is upheld as closely as possible and with great consideration given to his stage directions and dialogue.

It is unfortunate, to say the least, that you have misrepresented the Albee estate's rightful position in this situation to the Facebook community. We are addressing your egregious actions on our end. We expect that you will publicly correct your role in this matter, also.

Respectfully,

Sam Rudy

Press representative

The office of Edward Albee
Related Articles
More Hot Stories For You
VIDEO: Watch New Ad for Broadway-Bound THE MUSIC MAN; Tickets On Sale 9/14
Meredith Willson's beloved classic, The Music Man starring two-time Tony Award, Grammy Award, and Emmy Award-winning star Hugh Jackman as Harold Hill ... (read more)

Broadway Stage Manager Arthur Gaffin Has Passed Away
BroadwayWorld is saddened to learn that Broadway stage manager, Arthur Gaffin, has passed away.... (read more)

Newcomer Sam Tutty To Lead DEAR EVAN HANSEN West End; Additional Casting Announced
The West End premiere of the Tony Award-winning Best Musical, Dear Evan Hansen has found its Evan!... (read more)

Just In: Cast Announced for Les Miserables West End Return at Sondheim Theatre
Cameron Mackintosh announced today the new cast of Boublil and Schönberg's LES MISERABLES at the newly restored Sondheim Theatre, when the theatre re-... (read more)

Angela Lansbury Will Lead Roundabout's Benefit Reading of THE IMPORTANCE OF BEING EARNEST
Roundabout Theatre Company will present a one-night only Benefit Reading of Oscar Wilde's beloved comedy The Importance of Being Earnest starring the ... (read more)

THE MUSIC MAN Is Accepting Online Submissions to Find Tommy Djilas
As BroadwayWorld previously reported, The Music Man is coming back to Broadway next fall, starring Hugh Jackman and Sutton Foster. The production, dir... (read more)