Click Here for More Articles on NEW YORK CITY
Cady Huffman to Direct New Musical CITY OF LIGHT at SheNYC Festival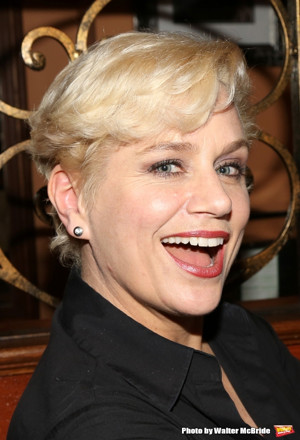 City of Light, a new musical by Gabrielle Wagner, Julie Weiner and Jan Roper with direction by Tony Award-winner Cady Huffman, will play three performances at the SheNYC Summer Theater Festival.
Performance dates are set for Saturday July 8th at 5:30pm, Tuesday July 11th at 7:00pm and Friday July 14th at 8:30pm. For tickets visit www.shenycarts.org/city-of-light.
Molly always lives her life by a to-do list and a plan. On the morning of her 25th birthday (also the 1-year anniversary of her father's death), she packs to embark on the trip to Paris that her dad always wanted to take her on. Now, she's taking "him" instead to scatter her father's ashes from the top of Eiffel Tower...What could possibly go wrong?
Led by an all-female creative team, City of Light is a charming new musical of self-discovery, friendship, and listening to your heart. Sometimes you have to get lost to find yourself.
Valarie Pettiford as Madame Courcelles (Big Deal, Fosse -Tony Nomination), Kimberly Immanuel as Molly (Pacific Overtures, The Fantasticks), Keri Safran as Juliette, Jack Cotterell as Olivier, Anthony Norman as Phillipe (Newsies Nat'l Tour), Darren Bunch as Patrick, Rakel Aroyo as Keely/ensemble, KaTy Wilson as Laura/ensemble, Zach Schanne as BACC Guy/Ensemble.
Cady Huffman (Director) Throughout her more than 30 years as a performer, TONY-winning actress Cady Huffman has also written, produced and directed for theater and film as well as mentoring young writers, directors and musicians. She is a popular host and auctioneer for many charity events and has directed galas for The Drama League and Creative Alternatives of New York, among others. So yes, she has a Tony Award (which is awesome!) but what drives her are the collaborations with creative minds that have literally taken her all over the world and stretched her ambitions in directions she has dreamed of since her days on the hardscrabble streets of Santa Barbara, California.
Jan Roper (Composer) has had a long and busy career in LA as a music director, songwriter, arranger and vocal/piano coach. As an artist she has two CDs on iTunes (The Horizons) and is releasing her third later this summer. She just finished music directing three short musicals for the Hollywood Fringe Festival.
Gabrielle Wagner (Bookwriter)* is an actor/singer/writer. Favorite roles include: Divorce! The Musical (Ovation Award Nominee 2010); The Threepenny Opera (Garland nod for Best Lead in a Musical); The Most Happy Fella (Rosabella) Film/TV: Mad Men, Wilfred, Firefly (dir. Joss Whedon), Strong Medicine, Stonerville, Unscripted (George Clooney). Librettist for musical iWish, produced 3 times in LA. With City of Light, has worked with Stephen Schwartz in his ASCAP Musical Workshop, in addition to other festivals and concerts. And is writing Book and lyrics on new Faerie musical.
Julie Weiner (Lyricist) studied musical theatre at The Einhorn School for the Performing Arts in NYC under Adam Gwon and Kate Kerrigan, and at New Musicals Inc. ("NMI") in Los Angeles. Julie completed NMI's two year curriculum and co-wrote the original 15 minute musical, Bank Shot, which was produced at The Colony Theatre in 2012 and at the UC Irvine Digital Natives Festival in 2013. Julie was selected for the 2015 ASCAP NYMF Musical Theater Songwriting Workshop and participated in a Master Class with Lawrence O'Keefe.
Lorna Ventura (Associate Director/Choreographer) is a performer and choreographer with a long list of credits in Broadway, Film and Television. Broadway credits include: Associate Choreographer, alongside George C. Wolfe in HARLEM SONG and Christopher Ashley in ALL SHOOK UP, SDC Observer to Kathleen Marshall in, NICE WORK IF YOU CAN GET IT. Original Broadway cast: WICKED, GREASE and HOW TO SUCCEED IN BUSINESS (National). Film and television choreography credits include, KATE AND LEOPOLD, IT RUNS IN THE FAMILY, Seasons 1-4 GOSSIP GIRL, Seasons 1-2, CARRIE DIARIES.
For information and tickets visit, www.shenycarts.org/city-of-light.
Photo Credit: Walter McBride