Latest News on Ty Wilson:
Ty Wilson News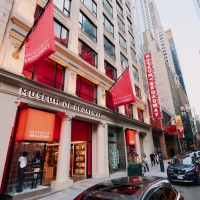 Museum of Broadway Announces Student and Senior Pricing
by Chloe Rabinowitz - Dec 7, 2022
The Museum of Broadway has announced new special pricing for student and senior visitors. The Museum, located in the heart of Times Square at 145 W 45th St, is the first-ever permanent museum dedicated to the storied history and legendary artistry of Broadway musicals, plays, and theatres.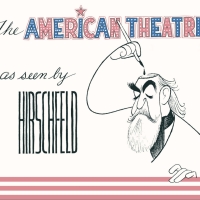 Museum Of Broadway to Present THE AMERICAN THEATRE AS SEEN BY AL HIRSCHFELD as First Special Exhibit
by Blair Ingenthron - Oct 5, 2022
The Museum of Broadway has announced the first special exhibit that will be featured in the Museum, The American Theatre as seen by Hirschfeld, curated by David Leopold, Creative Director of The Al Hirschfeld Foundation.
Work by David Rockwell, Bunny Christie & More to be Featured in The Museum of Broadway
by Chloe Rabinowitz - May 3, 2022
Today, The Museum of Broadway announced a group of featured artists who have designed various rooms and exhibits within the Museum, as well as their team of expert curators. Tickets will go on sale on June 14th.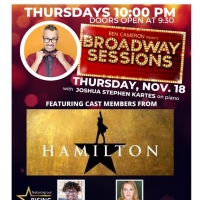 HAMILTON Cast Members to Join Upcoming BROADWAY SESSIONS
by Chloe Rabinowitz - Nov 15, 2021
This week Broadway Sessions will celebrate all things HAMILTON! Current Broadway cast members scheduled to perform include Fergie L Phillipe, Thayne Jasperson, Gabby Sorrentino, Deonte' Goodman, Jennifer Geller, Daniel Yearwood, Ta-Ty Wilson and more!
BWW Review: Richmond Triangle Players' CLOUD 9: A Mysterious Cup of Tea
by Brent Deekens - Oct 7, 2017
CLOUD 9 is a charmingly funny but introspective head-scratcher of a play that shouldn't be missed. The entire company, production team, and everyone at Richmond Triangle Players have delivered a solid piece of theatre.

RTP'S 25th Anniversary Season Continues with CLOUD 9
by A.A. Cristi - Sep 12, 2017
Richmond Triangle Players continues its 25th Anniversary Season with a production of Caryl Churchill's gender-bending comedy Cloud 9. A sex farce that is really more about sexual politics, the production opens Thursday, September 28, 2017 at 8 pm, following a low-priced preview on Wednesday, September 27. The production runs through October 21.
Kimberly Immanuel, Valarie Pettiford to Star in CITY OF LIGHT at SheNYC
by BWW News Desk - Jul 8, 2017
City of Light has a charming musical theater score with music by Jan Roper, lyrics by Julie Weiner, and book by Gabrielle Wagner. The show will star Kimberly Immanuel (Pacific Overtures, The Fantasticks) as Molly. It will also feature Tony nominee Valarie Pettiford (Fosse, Big Deal), Anthony Norman (Newsies Nat'l Tour), Darren Bunch, Keri Safran, and Jack Cotterell.
Rubicon Theatre Company's Summer Program Soars with ALADDIN JR.
by A.A. Cristi - Jun 23, 2017
'A Whole New World' kicks off the summer youth program with Aladdin JR., based on the iconic animated film and featuring an Academy Award-winning score by Alan Menken, Howard Ashman and Tim Rice. Soar to new heights on a magical, flying carpet ride filled with romance, adventure and hilarious hijinks. When street urchin Aladdin vies for the attention of the beautiful princess, Jasmine, he uses a genie's magic power to become a prince in order to marry her. Iago, Jafar, the Genie and more beloved characters come to life in this fantastical musical that celebrates the power of love and friendship. Aladdin JR. is directed and choreographed by Carolanne Marano, with Musical Direction by Miriam Arichea. The production opens July 7 and runs for 5 performances only through July 9.