CRUEL INTENTIONS Announces Final Extension, National Tour to Launch This Fall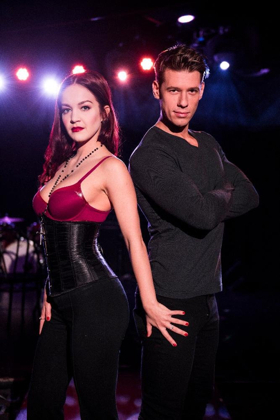 Eva Price and Sucker Love Productions have announced the third and final extension of the hit New York Premiere engagement of CRUEL INTENTIONS - the new musical nightlife experience based on Roger Kumble's 1999 cult-hit film. The musical, which began as a ten-week run starting November 17, 2017, will now play twenty-one weeks and 112 performances by its conclusion on Sunday, April 8, 2018.
The show's hit run marks the first-ever theater production staged at downtown Bleecker Street hotspot (le) Poisson Rouge, transforming the nightclub venue into an immersive theatrical atmosphere as audience members enjoy bar & table service while the story unfolds around them.
Due to demand from several presenters across the country, a national tour is now being planned, to launch in Fall 2018. Tickets for the final block of New York dates are on sale now via CruelMusical.com.
Set to the greatest pop and rock hits of the '90s and songs from the film's iconic soundtrack, CRUEL INTENTIONS is an exhilarating and deceptively funny new musical that pulls you into the manipulative world of Manhattan's most dangerous liaisons: Sebastian Valmont and Kathryn Merteuil. Seduced by revenge and fueled by passion, the two diabolically charming step-siblings place a bet on whether or not Sebastian can deflower their incoming headmaster's daughter, Annette Hargrove. As the two set out to destroy the innocent girl - and anyone who gets in their way - they find themselves entangled in a web of secrets, temptation, and the cruelest game of all: love. Staged at famed nightlife venue (le) Poisson Rouge, complete with bar and table service, audience members are thrown into '90s euphoria as the intoxicating story unfolds around them, set to the greatest throwback hits of the decade by such artists as No Doubt, Goo Goo Dolls, 'NSYNC, R.E.M., Boyz II Men, Ace of Base, Jewel and more - in addition to songs from the film's iconic soundtrack such as "Bittersweet Symphony" by The Verve and "Colorblind" by Counting Crows.
CRUEL INTENTIONS is created by Jordan Ross, Lindsey Rosin and Roger Kumble, with immersive stage direction by Lindsey Rosin, choreography by Jennifer Weber (KPOP, The Hip Hop Nutcracker), and Music Supervision & Arrangements by Zach Spound. The show stars Lauren Zakrin (The Great Comet of 1812; Rock of Ages) as Kathryn, Constantine Rousouli (Wicked, Ghost) as Sebastian, Carrie St. Louis (Rock of Ages, Wicked) as Annette, Jessie Shelton (Hadestown; 36 Questions) as Cecile, Alex Boniello (Spring Awakening) as Blaine, Brian Muller ("The Good Wife") as Greg, and Matthew Griffin (The New Yorkers at Encores!) as Ronald. Jenn Harris (Silence! The Musical) will play Mrs. Bunny Caldwell beginning Saturday, February 24 and Emma Hunton (Next to Normal, Spring Awakening) will take over the role of Cecile beginning Saturday, March 10.
The New York Times called the show "Funny and nostalgia-fueled! In this Cruel Intentions, high school schemers sing the best of the '90s... the choice lines and the inspired soundtrack hits are all there in this enjoyable show." Vanity Fair's Richard Lawson hailed, "I can't believe how much I recommend the Cruel Intentions musical. It's perfect nostalgia - sweet, silly, sincere... and genuinely joyous." Entertainment Weekly raved that the musical "infuses the story of the original film with a soundtrack of guilty pleasure pop hits, making it the ultimate night out for those looking for a '90s throwback." Page Six's Elizabeth Wagmeister said, "Run, don't walk! This show is so much fun, and the talent is unbelievably exceptional." InStyle Magazine described the show as "Brilliant and Magical. It's 110 minutes of pure '90s bliss. Top-notch performances by a supremely talented cast with stage chemistry that's off the charts... This is one production that you do not want to miss." Seventeen labeled it "a religious experience," and Buzzfeed's Louis Peitzman said, "Cruel Intentions: The Musical is a blast - a thoroughly delightful two hours of 90s jams performed by serious talent."
Roger Kumble's film Cruel Intentions - a sexy, modern-day telling of the classic 1782 French novel Les Liaisons Dangereuses by Pierre Choderlos de Laclos - was produced by Neal Moritz and released by Columbia Pictures on March 5, 1999, starring Sarah Michelle Gellar, Ryan Phillippe, Reese Witherspoon, Selma Blair, Joshua Jackson, Eric Mabius, Sean Patrick Thomas and Christine Baranski. In addition to being an immediate box office hit, Cruel Intentions went on to carve itself a permanent spot in the pop culture lexicon. Rated the "#1 90s Teen Movie" by Buzzfeed and the "#1 Sexiest Thriller of All Time" by Bustle, Cruel Intentions is "still as enormously entertaining as ever" nearly 20 years after its release, according to Entertainment Weekly, "thanks to an uncommonly sharp script, a killer soundtrack, and, most importantly, an impeccable cast."
The CRUEL INTENTIONS musical is produced by Eva Price and Sucker Love Productions, and features Costume Styling by Tilly Grimes, Sound Design by Robert Bradley, Lighting Design by James Kolditz and Props Design by Carolyn Mraz. The show debuted at The Rockwell Table & Stage in Los Angeles in 2015, where it ran for 38 sold-out performances, before being remounted for a second sold-out run at LA's Prospect Theatre in November 2016. In February 2017, the musical played a "pop-up" engagement at (le) Poisson Rouge, which was a sold-out smash success.
PERFORMANCE SCHEDULE
The regular performance schedule is: Mondays at 7PM, Saturdays at 5PM & 8PM, and Sundays at 3PM & 7PM. Performances have been added on: Thursday, March 15 at 7PM; Friday, March 16 at 8PM; Friday, March 23 at 8PM; Tuesday, March 27 at 7PM; and Friday, April 6 at 8PM.
TICKETS
General admission tickets start at $39 for bar area, $59 for table seating, and $109 'Secret Society' tickets which are in a reserved, premium seating location. All seated tickets require a 2-beverage or food minimum. Cruel Intentions is a 13+ show. Those under 18 can be admitted only if accompanied by a legal guardian. Tickets are on-sale via www.CruelMusical.com or can be purchased in person at the (le) Poisson Rouge box office (158 Bleecker Street) between the hours of 5:00-8:00PM Monday-Saturday.
Photo Credit: Jenny Anderson