COME FROM AWAY's Gander Township Rejects Application To Build Trump Hotel and Casino
The town council of Gander, Newfoundland has unanimously voted against an application to clear land adjacent to the community's historic airport for the construction of a Trump Hotel and Casino.
The application was received on March 20th, five days after First Daughter Ivanka Trump was the guest of Canada's Prime Minister Justin Trudeau for a performance of the Broadway musical COME FROM AWAY, which is based on true events which took place in Gander on September 11th, 2001 and several days following.
President Donald Trump declined an invitation to the show from the prime minister and instead spent the day in Nashville, Tennessee attending a ceremony at the gravesite of America's seventh president, Andrew Jackson, on the 250th anniversary of his birth.
Built in 1935, Gander International Airport served as a major refueling station for international flights before the development of jet fuel made such stopovers unnecessary. On September 11th, 2001, when American airspace was closed following terrorist attacks, thirty-eight civilian planes carrying a total of approximately 7,000 passengers and crew members were ordered to make emergency landings in Gander.
The story of how the community worked together to help house, feed and comfort the stranded travelers is the subject of Irene Sankoff and David Hein's musical, which recently opened on Broadway after previous engagements at San Diego's La Jolla Playhouse, Seattle Repertory Theatre, Ford's Theatre in Washington, DC and the Royal Alexandra Theatre in Toronto.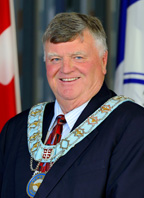 "Gander has been receiving a lot more attention as a tourist attraction because of COME FROM AWAY," says the town's mayor, Claude Elliot, who is portrayed in the Broadway production by Joel Hatch.
"At first the chamber of commerce would be getting calls maybe a few times a month asking about visiting the airport and the buildings we used to shelter our visitors. But since the show has been on Broadway we've been getting tour buses coming through here. They're blasting the music from the cast album. People are asking if there are any piano bars in town."
Deputy Mayor Cyril Abbott says there was very little discussion among council members before rejecting the application.
"It's nice that people want to visit Gander after seeing the musical and we have been considering ways to make the airport and other locations around town more convenient for our tourist friends, but a luxury hotel and casino is just too much."
According to the application, Trump Gander Hotel and Casino would have contained a gaming facility geared towards attracting fans of Broadway musicals, with RENT, SPRING AWAKENING and A LITTLE NIGHT MUSIC themed slot machines and blackjack dealers dressed as characters from LES MISERABLES.
The hotel would not only provide several luxury suites, but would also offer budget customers an all-inclusive "Refugee Experience" stay, where up to 300 guests sleep together on cots in a recreation of a high school gym, eat buffet meals of donated tuna casserole and poutine and may take their pick among sacks of second-hand clothing.
BroadwayWorld wishes its readers a very happy April Fools Day.