Click Here for More Articles on COME FROM AWAY
COME FROM AWAY Newfoundland Concerts Sell Out Amid 'Ticket Mania'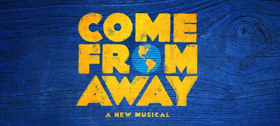 The CBC reports that tickets for the Come From Away concert performances sold out in record time, with both a wait to purchase online, as well as lines around the block at the Holy Heart Theatre in St. John's, Newfoundland.
People began lining up around 5 AM for tickets to one of the eight performances, which will feature the Tony-winning musical in concert starring the Toronto company.
Tickets are now appearing on resale websites for multiples of the original purchase price. The concert is now entirely sold out from the Holy Heart Theatre Box Office.
A warning from Mirvish productions, the presenters of the concert in Newfoundland notes "Holy Heart Theatre handles all of its own box office sales here locally in St. John's, NL. Never give your credit card info to a 1-800 number or a website claiming to represent Holy Heart Theatre (besides holyhearttheatre.com, theatreheart.com, and our service provider, Seat Advisor) to buy our tickets. If you have done this please call your credit card company to dispute charges. We will not be able to give any refunds or accommodations for tickets bought through non-authorized websites."
"Together with Junkyard Dog Productions, the show's lead producer, we have been looking for an opportunity to bring Come From Away back to the province that inspired it..." said David Mirvish. "Long before it played New York or Toronto, the show's original cast played two performances of the show in concert at the arena in Gander. Over 5,000 people from Gander and the surrounding towns packed the arena. It was truly a magical time, made even more special because many of the people depicted in the show were in the audience, as were some of the 'plane people' who had landed at Gander Airport.
"The opportunity to return to Newfoundland finally arrived when we realized that there would be a short gap between the Toronto production's transfer from the Royal Alexandra Theatre to the Elgin Theatre in January 2019. The show closes at the Royal Alex on January 20, 2019. It will take about 10 days for the set and equipment to be transported and loaded into the Elgin, where it will begin performances on February 5, 2019. During the time between the two engagements the cast would be available. So, that was our window.
"We canvassed the cast and band to find out if they would be willing to travel and perform in what otherwise would have been a holiday week for them. Before we could finish our request, all of them were jumping for joy at the opportunity to visit Newfoundland. Having played in Toronto for over eight months to standing-room-only crowds, they all cherished the chance to tell the story on 'native soil'. Of course, they are used to Newfoundlanders visiting them backstage when they come to see the show in Toronto. In fact, there isn't a performance when someone in the audience doesn't bring a Newfoundland flag and waves it during the curtain call. But that's not the same as playing to an entire crowd of Newfoundlanders.
COME FROM AWAY tells the remarkable true story of 7,000 stranded passengers and the small town in Newfoundland that welcomed them. Cultures clashed and nerves ran high, but uneasiness turned into trust, music soared into the night, and gratitude grew into enduring friendships. On September 11, 2001 the world stopped. On September 12, their stories moved us all.

COME FROM AWAY features a book, music and lyrics by two-time Tony Award nominees and Outer Critics Circle Award and Drama Desk Award winners Irene Sankoff & David Hein, direction by Tony Award winner and Outer Critics Circle Award winner Christopher Ashley (Memphis), musical staging by two-time Tony Award nominee Kelly Devine (Rocky), and music supervision by Ian Eisendrath (A Christmas Story).
COME FROM AWAY features scenic design by Tony Award winner Beowulf Boritt, costume design by Tony Award nominee Toni-Leslie James, lighting design by two-time Tony Award winner Howell Binkley, sound design by Tony Award nominee and Outer Critics Circle Award winner Gareth Owen, orchestrations by two-time Tony Award nominee August Eriksmoen, and music arrangements by Ian Eisendrath.
The Toronto company of Come From Away features Saccha Dennis, Steffi DiDomenicantonio, Barbara Fulton, Lisa Horner, James Kall, George Masswohl, Ali Momen, Jack Noseworthy, Cory O'Brien, Kristen Peace, Eliza-Jane Scott, Kevin Vidal, Susan Dunstan, Kate Etienne, Amir Haidar, Jeff Madden, David Silvestri and Cailin Stadnyk.
Related Articles
More Hot Stories For You
VIDEO: Josh Gad Recaps AVENGERS: ENDGAME as Olaf
After promising his followers to recap the latest Avenger film as Olaf once 1500 registered to vote or verify their registration, Josh Gad has deliver...

Broadway Performers, Ballet Dancers, Industry Vets & More Discuss the Impact of the Shutdown of Live Entertainment
Broadway performers, industry veterans and more are discussing the ways in which the extended shutdown of live entertainment is going to affect Broadw...

VIDEO: Lin-Manuel Miranda, Mandy Gonzalez & More From HAMILTON Sing Out the Importance of Voting
In honor of National Voter Registration Day, Lin-Manuel Miranda, Mandy Gonzalez, Miguel Cervantes and more from the cast of Hamilton (and the video's ...

COME FROM AWAY to Play to a Socially-Distanced Audience of 50 Tonight in Sweden
Come From Away is set to play to a socially-distanced crowd in Sweden tonight! David Hein, who co-wrote the show with his writing partner and wife, Ir...

VIDEO: Andrew Lloyd Webber Reveals Details of His Experience With the COVID-19 Vaccine Oxford Trial
Andrew Lloyd Webber recently discussed his experience receiving an experimental COVID-19 vaccine as part of the Oxford trial, on Good Morning Britain....

Glenn Close, Laura Linney, Patti LuPone and More Set For ANGELS IN AMERICA Benefit Performance
An all-star livestream benefit performance of scenes from Angels in America will be presented in support of amfAR's Fund to Fight COVID-19. ...