'Broadwaysted' Welcomes Broadway Legend Liz Callaway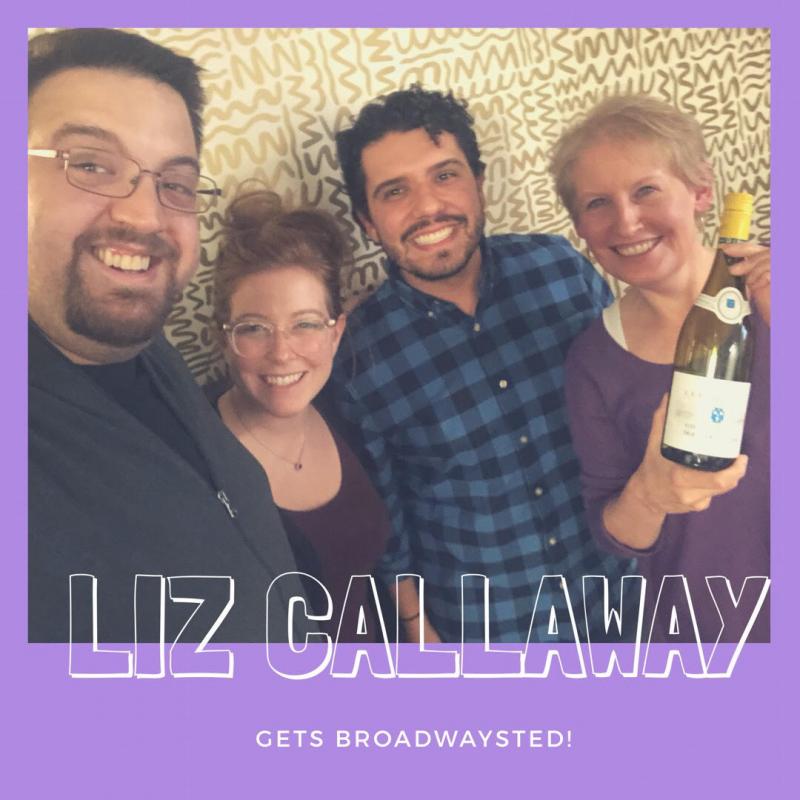 This week on Broadwaysted, we're thrilled to be welcoming the Godfather of the Broadway Mix Belt, the hilarious and incredible Liz Callaway!
We're pouring out white wine and Maker's Mark while Liz spills about her passionate love of the Mets, singing back-up vocals on "The Nanny" theme song, and her amazing career working with many of the masters of Musical Theatre.
"What Have You Seen This Week" finds us raving about Lincoln Center's My Fair Lady and Roundabout's Travesties and getting into an in-depth discussion about when is the right time to read reviews. Liz chats about her wild Miss Saigon experience (complete with helicopter omen), her fascination with animated characters not breathing when they sing, and the importance of auditioning with your own voice.
Game Master Kimberly leads us through two new games: "Buzz Words" with classic lyrics and "The Story Goes On" with Lights of Broadway Show Cards. Along the way we also talk about Sondheim's Act Twos, Liz shares a hilarious Stage Door Story, and then Liz
stops by Kevin's Corner for some delightfully convoluted questions.
We have a blast with new #FriendoftheShow Liz Callaway so grab a glass and join us as we get Broadwaysted!
This episode also contains a fun "Off-Broadwaysted" segment featuring the New Wave Theater Collective's production of the new play "The Angel of Allegheny County" by Alec Silberblatt.
Kevin chats with the playwright as well as director Daniella Caggiano and producers Jenny Hickman and Sarah Wolff about this new play and the importance of roles where women can be "nasty" and "gross." The show plays April 24-29th at The Bridge Theater at Shelter Studios so check it out!
Listen to the episode here:
---
About Liz: Liz Callaway is a Tony nominee and Emmy Award-winning actress, singer and recording artist. She made her Broadway debut in Stephen Sondheim's Merrily We Roll Along, received a Tony Award nomination for her performance in Baby, and for five years, won acclaim as Grizabella in Cats. She has also starred in the original casts of Miss Saigon, The Three Musketeers, and The Look of Love. Off-Broadway she received a Drama Desk nomination for her performance in The Spitfire Grill (Playwrights Horizons) and appeared in the legendary Follies in Concert at Lincoln Center. Liz sang the Academy Award nominated song "Journey to the Past" in the animated feature Anastasia and is also the singing voice of Princess Jasmine in Disney's Aladdin and the King of Thieves and The Return of Jafar. Follow her @LizGoesOn
---
About the Show: Broadwaysted: Where we're drunk on Broadway! Literally. This isn't your typical theatre podcast. Come "take a glass together" with us every Tuesday!
Join our cocktail hour as we pour a few rounds, play some games, and chat all things theatre with your favorite members of the Broadway community. From current hits, to past flops, and future stars, Broadwaysted drinks to it all. It's a place to unwind, be yourself, and hang out among friends who love what you love. Feel like you're at the table with your host Bryan Plofsky, co-host Kevin Jaeger, game master Kimberly Cooper, and amazing guests! Let's all get Broadwaysted!
Twitter: @Broadwaysted
Instagram: @Broadwaysted
Bryan's Twitter: @nuttyplofessor
Kevin's Twitter: @JaegerKev
Kimberly's Twitter: @KimberCoops