Click Here for More Articles on Podcasts
Broadwaysted Podcast Gets Five Cents of Advice from 'Little Known Facts' Host Ilana Levine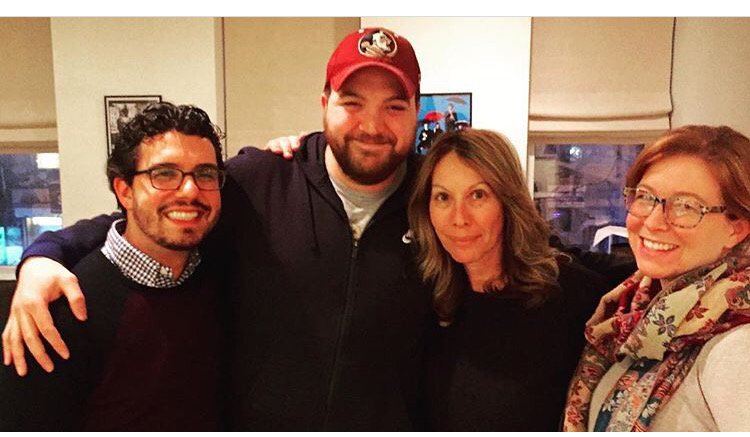 "The Doctor is In" this week as we get Broadwaysted with actress and podcast buddy Ilana Levine! The crew is pouring out cider and red wine as we discuss our favorite kinds of apples and how cute it would be if a shark gave you a hickey. Ilana spills about her amazing experience with YOU'RE A GOOD MAN CHARLIE BROWN and the different ways she and her fellow cast members warmed up.
This week's edition of #WhatHaveYouSeenThisWeek includes Kevin and Kimberly's discussion of the new musical THE VIEW UPSTAIRS and a passionate group discussion about the revival of SUNDAY IN THE PARK WITH GEORGE at the newly reopened Hudson Theatre--including how Ilana and pal Frank DiLella ended up alone in the theatre moments before opening night with Stephen Sondheim.
Game Master Kimberly leads the group in a new game called "Little Known Alternative Facts" (True, False, or Ridiculous) and a Lights of Broadway Show Cards game of Two Truths & A Lie and we all discuss what we're looking for when we go to see a new musical. Ilana also shares some hilarious stories about why you should never bring your laser pointer or your lunch to a Broadway show. It's not a "Little Known Fact" that we have a blast with new #FriendOfTheShow Ilana Levine, so put down your "Book Report" and join us for "Happiness" Hour on Broadwaysted!
Listen to the episode here:
---
About Ilana:
As an actress, Ilana Levine has performed on stage and screen to critical acclaim. On Broadway, Ilana is best known to musical theater fans for her comedic turn as "Lucy Van Pelt" in the Broadway revival of, YOU'RE A GOOD MAN CHARLIE BROWN.
Ilana also starred in the Broadway productions of JAKE'S WOMEN, WRONG MOUNTAIN and THE LAST NIGHT OF BALLYHOO. She has performed on the Tony Awards.
SEINFELD fans recognize her from the infamous episode "The Contest." She has appeared in many television shows and films including LAW AND ORDER, TANNER ON TANNER, DAMAGES, THE JOB, CASHMERE MAFIA, CONFESSIONS OF A SHOPAHOLIC, KISSING JESSICA STEIN, GIGANTIC, IRA AND ABBY, FAILURE TO LAUNCH, THE NANNY DIARIES, FRIENDS WITH KIDS and FIVE FLIGHTS UP.
In May of 2016, Levine joined the podcast universe when she began hosting Little Known Facts with Ilana Levine. Follow her on Twitter @ilanalevine and on Instagram and Facebook @LittleKnownFacts.
---
About the Show:
Broadwaysted: Where we're drunk on Broadway! Literally. This isn't your typical theatre podcast. Come "take a glass together" with us every Tuesday!
Join our cocktail hour as we pour a few rounds, play some games, and chat all things theatre with your favorite members of the Broadway community. From current hits, to past flops, and future stars, Broadwaysted drinks to it all. It's a place to unwind, be yourself, and hang out among friends who love what you love. Feel like you're at the table with your host Bryan Plofsky, co-host Kevin Jaeger, game master Kimberly Cooper, and amazing guests! Let's all get Broadwaysted!
Twitter: @Broadwaysted
Instagram: @Broadwaysted
Bryan's Twitter: @nuttyplofessor
Kevin's Twitter: @JaegerKev
Kimberly's Twitter: @KimberCoops
Related Articles