BroadwayCon Announces 2018 Programming for Young Pros, Fans, Creators and More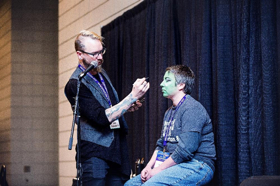 BroadwayCon has announced the programming schedule for BroadwayCon 2018 on January 26-28, 2018 at the Jacob K. Javits Convention Center.
The BroadwayCon 2018 Schedule features three days packed with events curated with Broadway's biggest fans, performers, and creators in mind. From The Intern Hustle: Young Professionals in Theatre to Playing Theatre History, there is something for every theatre lover at BroadwayCon.
Featuring over 160 hours of original programming and with more than 60 hours to be added in the coming weeks, BroadwayCon will host 12 fan-led meetups for everyone from out-of-towners to theatre teachers, 18 workshops led by top industry professionals, Show Spotlights featuring the cast and creative teams of shows currently running on Broadway, and the 10th Anniversary Reunion of In The Heights. BroadwayCon will also offer the unique chance to catch a First Look at some of the most talked-about new shows coming to Broadway in the upcoming season.
Autograph and photograph experiences, brought to you by Audience Rewards, are free of charge at BroadwayCon and available through a lottery system. Registered attendees may enter the lottery for autograph and photograph experiences with select Special Guests at BroadwayCon.com/extras by January 5, 2018.
---
Schedule highlights include:
FRIDAY, JANUARY 26
BroadwayCon 101: Make the Most of Your Visit
11:00-11:50 AM
Newcomers, join four veteran BroadwayCon attendees to learn valuable information on how best to take advantage of the events happening all weekend. BroadwayCon can be overwhelming but attending our discussion will help you navigate the conference. Topics include using the app, getting the most out of the panels and events, the marketplace, food and cosplay tips. Plus, hear about our favorite moments, celebrity encounters and what we've learned during the first two conventions.
Auditioning for College Theatre Programs
1:00-1:50 PM
"What song do I sing?" "What schools do I apply to?" "What are they looking for in a pre-screen?" "What monologues should I avoid?" If you have asked yourself any of the above questions then you are probably getting ready for your college auditions. Come hear some of the nation's most respected educators demystify the college audition process.
BroadwayCon Jukebox
9:00-9:50 PM
We're turning karaoke on its head. Take your seat at the BroadwayCon Jukebox, fire up the app, and use our live poll to choose what the stars onstage will sing next!
SATURDAY, JANUARY 27
Are We Living in Another Golden Age of Broadway Musicals?
10:00-10:50 AM
Are we living in another Golden Age of the Broadway Musical? Some may say that the American Broadway musical began with Oklahoma. Others say Show boat...(and if we are getting really technical, one may even say The Black Crook...) William Cortez-Statham will try to answer this question by delving into various stages that he classifies as definitive eras ("Golden Ages") of the American Musical Theatre from it's birth to those two gentlemen we now all know so well on Broadway: Alexander Hamilton and Evan Hansen.
Show Spotlight: Dear Evan Hansen
11:00-11:50 AM
It's been a year since Evan Hansen burst onto the scene, earning six Tony Awards. Hear about what it's been like to watch your show take off so quickly, and the challenges of stepping into a role that earned its originator raves.
Building Theatre Community in your Hometown
4:00-4:50 PM
Love the theatre but can't make it to NYC all the time? Come learn how to build the theatre community right where you live. From grassroots theatre criticism, to writing and producing shows, to developing a theatre company, and even building a fan community to attend events in your area, our panelists have done it all. Nothing can compare to the experience of Broadway, but having high quality theatre where you live is not only possible, it improves the quality of life, love, and art in a local community.
BroadwayCon Blizzard Party Line
7:00-8:30 PM
In 2016, stranded in the middle of one of New York City's largest blizzards in history, we started calling everyone who couldn't make it to BroadwayCon. Now, it's a BroadwayCon MainStage Mainstay. Join us as we call some of Broadway's best and brightest. You never know who might pick up...
SUNDAY, JANUARY 28
Resident and Associate Directors
11:00-11:50 AM
What does a director do once a show is open? Or when a show is playing in multiple places at once? In comes their associate, who keeps the show in tip?top shape as it ages and the cast changes. Meet some of Broadway's top associate directors and learn about their role in keeping long?running shows as polished as they were on opening night.
When You Help Others: Theatre for a Cause
1:00-1:50 PM
Four high school students who started their own theatre companies to raise money for different charities talk about how and why they do what they do, and how you can do it, too. Founders of Long Island-based companies Zneefrock Productions and The Crossed Path Players discuss how anyone can use their talents for good.
Defying Negativity: Staying Positive in the World of Show Business
3:00-3:50 PM
Join an intimate conversation with two-time Tony Award nominee, Stephanie J. Block, as Retreat to Broadway's Director and Founder, Brian Reavey, interviews her about the power of positivity in an industry often permeated with competition, self-doubt, rejection, criticism and fear. Topics include: lessons learned when dealing with the pressure to please so many at once, practical skills for how to rise above negativity, and simple strategies and takeaways for incorporating positivity into everyday life.
---
The BroadwayCon 2018 Schedule can be found at www.BroadwayCon.com/Preview. Additional programming will be announced at a later date and is subject to change. The BroadwayCon 2018 app, hosted by Guidebook, is available at www.BroadwayCon.com/app.
Previously announced Special Guests include Co-Creator Anthony Rapp, as well as Christy Altomare, Alessandra Baldacchino, Nicholas Barasch, Laura Benanti, William Berloni, Griffin Birney, Heidi Blickenstaff, Stephanie J. Block, Sierra Boggess, Alex Brightman, Andrea Burns, Liz Callaway, Ben Cameron, Carolee Carmello, Donna Lynne Champlin, Adam Chanler-Berat, Andrew Chappelle, Jenn Colella, Lilli Cooper, Veanne Cox, Janet Dacal, Ariana DeBose, Ben Fankhauser, Drew Gasparini, Gideon Glick, Molly Hager, Lennon Nate Hammond, Ann Harada, Rodney Hicks, Patrick Hinds, Noah Hinsdale, Emma Hunton, Georgi James, Jay Armstrong Johnson, Andrew Keenan-Bolger, Maggie Keenan-Bolger, Chad Kimball, Derek Klena, Michael John LaChiusa, Raymond J. Lee, Sydney Lucas, Rick Lyon, Lesli Margherita, Chris McCarrell, Ruthie Ann Miles, Zell Steele Morrow, Donna Murphy, Laura Osnes, Bryce Pinkham, Gabriella Pizzolo, Anthony Rosenthal, Pierson Salvador, Kyle Scatliffe, Alexandra Silber, Leigh Silverman, James Snyder, Oscar Williams, and Doug Wright. Additional Special Guests will be announced at a later date. All Special Guest appearances are subject to change.
BroadwayCon is theatre's answer to comic-con, tailor made for fans. From January 26-28, 2018, join some of Broadway's biggest fans, performers, and creators from classic and current shows as we gather at the Jacob K. Javits Convention Center to perform, discuss, debate, and celebrate theatre. BroadwayCon 2018 will feature panels, performances, interviews, workshops, singalongs, and more, all packed into an epic three-day weekend. Past panels have included previews from upcoming Broadway shows, conversations with the casts and creatives of this season's hits, and discussions featuring the industry's top producers and designers, not to mention the giant Opening Ceremony, nighttime concerts, and dance parties. BroadwayCon is produced by Mischief Management. The BroadwayCon Artistic Director of Headline Programming is David Alpert.
Mischief Management produces fan conventions focusing on community, content, and creativity. Since 2009, it has served tens of thousands of fans, providing a fun, vibrant, and safe space to enjoy the things they love. Mischief Management's event lineup includes Con of Thrones (for fans of Game of Thrones and the writings of George R.R. Martin), and BroadwayCon (for fans of theatre and Broadway), and LeakyCon (for fans of Harry Potter and J.K. Rowling's Wizarding World). Mischief Management produces AlienCon 2018 on behalf of A+E Networks. More information about each of Mischief Management's events can be found at www.MischiefManagement.com.
Pictured: Joe Dulude II, makeup designer for WICKED, demonstrates the "greenifying" process on the BroadwayCon 2017 Marketplace Stage. Photo by Cheri Root Photography, 2017.