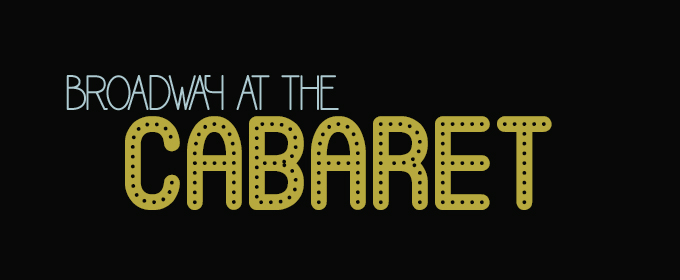 Click Here for More Articles on Broadway at the Cabaret
Broadway at the Cabaret: Cristin Milioti, BANDSTAND's The Donny Nova Band, Eva Noblezada & More!
What good is sitting alone in your room this week? If you don't already have plans to see a Broadway show, come out to see your favorite Broadway stars in a cabaret act instead. After Broadway orchestras begin their overtures, ensemble members take their dance breaks, and performers belt out their eleven o'clock numbers, the party continues at various cabaret venues throughout New York City.
Below, BroadwayWorld brings you our top Broadway acts that can't be missed this week, May 27 - June 2, 2018. Come hear the music play!
---
Broadway Loves Gwen Stefani
May 28 at Feinstein's/54 Below- BUY TICKETS!
The Broadway Loves series will return to Feinstein's/54 Below on May 28th when over a dozen of Broadway's most distinctive voices will celebrate the two-decade long, multi-platinum career of Grammy Award winner and fashion icon Gwen Stefani. Broadway Loves Gwen Stefani will feature a set-list filled with iconic hits both from her four multi-platinum solo albums, including "Hollaback Girl," and "Used To Love You," as well as timeless classics from her time as the front-woman of No Doubt, including "Don't Speak," "Hella Good," and a dozen more from both catalogs. This is one night no pop and rock music fan should miss as Broadway's best celebrate one of the most distinctive, vivacious, and iconic vocalists and songwriters of our generation. Featuring Jeremy Jordan, LOLO , Jennifer Damiano, Lesli Margherita, Christine Dwyer, Emma Hunton, Janet Krupin, Ginna Le Vine, Adam J. Levy, Ashley Loren, Kyle Dean Massey, Daniel Quadrino, Nathan Salstone, and Carrie St. Louis.
---
The Donny Nova Band Featuring Julia Trojan
May 28 at Birdland- BUY TICKETS!
How you know them: Bandstand
The Broadway at Birdland concert series is thrilled to announce that after three sold-out performances on the historic stage, "The Donny Nova Band Featuring Julia Trojan" from the Broadway musical, Bandstand, will reassemble once more on Memorial Day, Monday, May 28 at 7pm. "The Donny Nova Band featuring Julia Trojan," fresh from the Tony Award-winning musical Bandstand, continues to make it big in New York City! Corey Cott (as Donny Nova), Brandon J. Ellis, Joe Carroll, Joey Pero, Geoff Packard, Nate Hopkins, and Laura Osnes (as Julia Trojan) will perform favorite tunes from the original score - plus some swingin' standards and new surprises! Fred Lassen will be Musical Director for the event. Don't miss your chance to be back with the band!
---
Eva Noblezada: Girl No More
May 28 at Green Room 42- BUY TICKETS!
How you know her: Miss Saigon
Through her favorite artists like Amy Winehouse and Frank Sinatra, Eva sings from her heart and reveals a side of her story you've never heard. Join her for an intimate evening of music, a good drink, and a wonderfully colorful set list.
---
Kathleen Turner
May 27 - June 2 at Cafe Carlyle- BUY TICKETS!
Screen icon Kathleen Turner has garnered critical acclaim for her performances in movies including Body Heat, for which she was nominated for a Golden Globe; Romancing The Stone and Prizzi's Honor, which earned her a Golden Globe Award for each; Peggy Sue Got Married, which brought Turner both an Academy Award nomination and a Golden Globe nomination; and War of the Roses, and yet another Golden Globe nomination. Turner's extensive film credits also include The Man with Two Brains, with Steve Martin; Jewel of the Nile, with Michael Douglas; The Accidental Tourist; V.I. Warshawski; John Waters' Serial Mom; Naked in New York; Moonlight and Valentino; The Real Blonde; and Sofia Coppola's The Virgin Suicides. Ms. Turner has also starred on Broadway in Cat On a Hot Tin Roof, for which she received a Tony nomination for Best Actress; Indiscretions; The Graduate; and Who's Afraid of Virginia Woolf, for which she received a second Tony nomination for Best Actress.
---
Cristin Milioti
June 2 & 3 at Joe's Pub- BUY TICKETS!
How you know her: ONCE
Cristin Milioti returns to Joe's Pub after numerous sold out concerts, including the prestigious Lincoln Center's American Songbook. Cristin is known for her dramatic, comedic, and musical work on stage, television and in film. She starred as "Girl" in the Broadway musical ONCE, for which she won a Grammy Award and was nominated for a Tony Award, and most recently starred in Netflix's award-winning anthology series BLACK MIRROR. She was also seen in David Bowie's "Lazarus", Martin Scorsese's THE WOLF OF WALL STREET, FX's hit series FARGO, 30 ROCK, and HOW I MET YOUR MOTHER, to name a few.
Related Articles
More Hot Stories For You
Patti LuPone Wants to Narrate Mary Trump's New Book For Randy Rainbow to Lip-Sync
Could we be getting a new Randy Rainbow/Patti LuPone collaboration? We sure hope so!...

QUIZ: Attend the Winter's Ball to Find Out Which Hamilton Star Will Be Your Date!
We're going back to 1780 for A Winter's Ball (you know, where the Schuyler Sisters are the envy of all?) for our latest Hamilton quiz!...

VIDEO: On This Day, July 9- Lin-Manuel Miranda, Phillipa Soo, Ariana DeBose, and Leslie Odom, Jr. Say Goodbye to HAMILTON
On this day in 2016, original Hamilton cast members, Leslie Odom Jr., Phillipa Soo, and Ariana DeBose along with the musical's star and composer, Lin-...

VIDEO: Listen to Act 1 of HAMILTON, Acted Out by The Muppets
Voice actor and comedian Ricky Downes III has recorded all of Act I of Hamilton... in the voices of all The Muppets!...

Governor Cuomo is 'Concerned' About Prolonged Shutdown of the Arts in New York City
Governor Andrew Cuomo said on Monday that he is 'concerned' about the prolonged shutdown of the arts and culture industries in New York City....

Ben Platt Talks Broadway Return, MERRILY, DEAR EVAN HANSEN Film and More
In a new interview with Deadline, Tony Award-winner Ben Platt has revealed updates on a few of his many upcoming projects, including his 'hankering' t...