Broadway Will Go Car-Free For Earth Day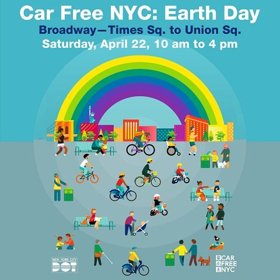 Traffic is a staple in New York City, the taxis, horns, and pollution from the exhaust come as part of the territory. But on Earth Day (April 21), a mile-long stretch of Broadway will be car-free, according to Time Out.
From 9am-3pm next Saturday, Broadway between 47th and 26th streets will have no cars. There will be activations and performances in five different intersections in the area, including environmental programs to promote activism and provide education on the Earth and how to protect it.
St. Nicholas Avenue between 181st and 190th Streets in Washington Heights will also be a no-car zone from 10am to 4pm. There will also be an environmental activism jamboree at Albee Square and Albee Square West from 1pm to 4pm.
Read more about these upcoming events on Time Out.