Breast Cancer Comedy NICE T!TS Pairs Up with Avon 39 for Benefit Performance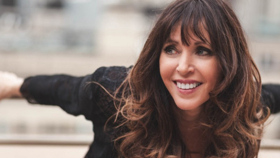 Writer and performer Amy Marcs pairs up with Avon 39 The Walk to End Breast Cancer for a special benefit performance of her critically acclaimed one-woman comedy, "Nice T!ts" at The PIT (123 E 24 Street, NYC) on Thursday, August 10 at 8:00p.m. A percentage of ticket sales will be donated to Avon 39 The Walk to End Breast Cancer. The performance will be followed by an exclusive after show talk-back, featuring a representative from Avon, esteemed breast cancer plastic surgeon Doctor Nolan Karp, and Breast Oncology surgeon Doctor Karen Hiotis (both of NYU Langone Cancer Center). The panel will be hosted by Sandy Ames (aka Jamie Lee) from 106.7 Lite FM Radio.
Says Marcs, "One of the goals of 'Nice T!ts' is to get the topic of breast cancer (and its aftermath) out of the closet, in order to inspire an honest conversation about what it means to lose your breasts to cancer, how that impacts you, your partner, your sexuality, your identity, and even your family. We are thrilled to be working with Avon and to be able to offer proceeds of ticket sales to their worthy causes." "Nice T!ts" is a comedic exploration of Marcs' roller coaster experience with cancer and its effect on her perceptions of femininity, womanhood, confidence and mortality. It's a unique perspective full of humor and heart-felt honesty. WHAT: Nice T!ts
Written and Performed by Amy Marcs
Directed by Peter
Michael Marino
WHEN: 8:00p.m. Thursday August 10
WHERE: The PIT - 123 E 24th Street, New York City
HOW MUCH: $25
TICKETS:
https://thepit-nyc.com/event/2017-08-10-nice-tts
MORE INFO:
www.amymarcs.com
"Marcs finds the universal in one woman's story. She has the breezy pace and snappy timing of a stand-up comedienne." - Lancet Oncology Journal "Simultaneously hilarious and touching. One show you don't want to miss!" - Bust Magazine Playwright/Performer Amy Marcs is an actress and voice over artist signed with The Don Buchwald Agency. Her voice has been heard on numerous national network television, promo and political campaigns. She teaches the Meisner technique at The New York Conservatory of Dramatic Arts, is on the faculty of Acteen, and also has a very successful private coaching practice. Amy was a long time student of
Fred Kareman
. She also studied with
Bobby Lewis
,
Terry Schreiber
, and Charles Kakatsakis and studied improv at The Upright Citizens Brigrade. Amy has worked in regional theaters across the country. Some of her favorite roles include Gorgeous in The Sisters Rosensweig, Myrtle in Kingdom of Earth and Lucille in Gemini. Amy was a member of a Harold team at The UCB Theater and also performed in an original piece called "The Adler" directed by
Matt Walsh
. You can see her in the independent film "The Waiting Game," starring
Will Arnett
, and hear her as the voice of Peg the Pig in the animated feature film "Impys Island", which had its premier at the Tribeca Film Festival. The Avon Breast Cancer Crusade seeks to improve breast cancer outcomes and reduce disparities in survival rates at the community and national levels. Our strategic grant making reflects: a holistic and place-based approach in high-need areas throughout the United States; a commitment to enabling access to medical advances and support services for breast cancer patients, particularly those from vulnerable populations; and a commitment to investing in research on the prevention, diagnostics, and treatment of breast cancer. Contact: Linda Coughlan linda@avon39.org Check out what's happening on the New York Calendar:
http://www.avon39.org/new-york/calendar/
Produced in association with PM2 Entertainment.