Baryshnikov Arts Center to Hold Annual Fall Fete October 1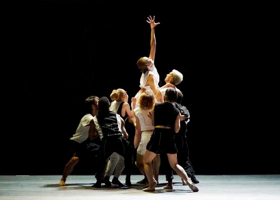 Baryshnikov Arts Center (BAC) will host its annual benefit to support BAC's programs on Monday, October 1, 2018, in the Jerome Robbins Theater and Howard Gilman Performance Space (450 W. 37th Street, Manhattan). This year, BAC proudly honors the Jerome Robbins Foundation, which carries forward the legacy of the iconic choreographer Jerome Robbins by supporting artists and cultural organizations throughout New York City. The intimate, festive evening-which coincides with a series of events commemorating Robbins' centennial-will raise funds for BAC through ticket purchases and a silent auction of visual art works. Proceeds will support BAC's artist-centered programs and help to maintain affordable ticket prices.
Of the choreographer with whom he worked closely, Mikhail Baryshnikov, BAC's Founder and Artistic Director, said: "Jerome Robbins was an artist whose influence and vision will never wane. It brings all of us at BAC great joy to have the privilege of acknowledging the Jerome Robbins Foundation at our annual Fall Fête. We thank them for the work they do to extend Jerry's impact by supporting new generations of visionary artists."
The Jerome Robbins Foundation said: "We have had a remarkable year celebrating Jerry's centennial. It is a great honor for us to have BAC dedicate its annual Fall Fête to our work. The Jerome Robbins Theater at BAC will live always as a tribute to his legacy, and tonight's program both acknowledges his work and extends his influence on young artists who have been shaped by Jerry as a person and as an artist."
The program in the Jerome Robbins Theater includes an excerpt of Bach Studies (Part 1) choreographed by Benjamin Millepied, performed by L.A. Dance Project; and excerpts from the film NY Export: Opus Jazz (2010) directed by Henry Joost and Jody Lee Lipes, featuring choreography by Jerome Robbins danced by members of New York City Ballet.
The Fall Fête evening includes a silent art auction powered by Paddle8 and curated by Auction Co-Chairs Natasha Schlesinger and Vajra Kingsley in the spirit of the movement, diversity, and expression that were intrinsic to Jerome Robbins' work.

The 16 auction lots include works by Barry X Ball, Marc Dennis, Kamiesha Garbadawala, Stephanie Hirsch, Walid Layadi-Marfouk, Heidi Lanino, Jessica Lichtenstein, Stefano Losi, JEN RAY, Jerome Robbins, Jeremy Silva, Adam Parker Smith, Sam Tufnell, and Weegee. In line with BAC's mission to support artists, the organization will return 20% of the proceeds of each sale to the donating artist.
Unique auction lots include four photographs taken by Jerome Robbins himself throughout his storied career, and a photograph of Marilyn Monroe taken by Weegee as a part of his Distortions photo series. Another special auction lot is the exclusive opportunity for a private guided tour of Barry X Ball's new studio in Brooklyn, New York, led by Barry X Ball. Natasha Schlesinger, founder of ArtMuse, will accompany the tour.

The auction can be viewed online at Paddle8.com. Bidding is open as of Monday, September 17 at 12PM EST, and will close Monday, October 1 at 10:30PM EST. Advance registration is available on Paddle8.com or by downloading the Paddle8 app from the App store.

The Fall Fête Committee includes Catherine M. Brennan, Camille Brown, Stuart H. Coleman and Meryl Rosofsky, Jacqueline Z. Davis, Paul Epstein, Harkness Foundation for Dance, John Heginbotham, Carine Joannou, Kate Lear and Jon LaPook, Bruce H. Lipnick, Brian Meehan, Laura Packer, Kirk and Liz Radke, Michael Tersigni and David Palachek, Jennifer Tipton, and Damian Woetzel.
The Fête is hosted by BAC's Board of Directors, which includes Diana DiMenna, Chairman; R. Jarrett Lilien, Treasurer; Frank Cordasco; Richard DeScherer; James H. Duffy; Steven C. Dupré, William James Earle, Sandra Foschi, Slavka B. Glaser, and Natasha Schlesinger.
The 7PM performance is preceded by a reception at 6PM in the Jerome Robbins Theater Lounge. Dinner, catered by Canard, Inc., is at 8PM in the Howard Gilman Performance Space. Generous Fall Fe?te sponsors include Slovenia Vodka, Tenuta Luce, and Attems. Floral arrangements provided by Fleurisa are made possible by a generous donation from Ekaterina Shchelkanova and Open World Dance Foundation. Special thanks to Lynn McCary Events.
Program Information
Baryshnikov Arts Center's Fall Fête
Monday, October 1, 2018
450 W. 37th Street, Manhattan
6PM - Reception
7PM - Program: L.A. Dance Project performing Bach Studies (Part 1) and NY Export: Opus Jazz (Excerpts)
8PM - Dinner and Silent Art Auction in the Howard Gilman Performance Space
Ticket Information
Single tickets from $1,500 are available for purchase at https://bacnyc.org/support/way/fall-fete-2018.
About Baryshnikov Arts Center (BAC)
Baryshnikov Arts Center (BAC) is the realization of a long-held vision by artistic director Mikhail Baryshnikov who sought to build an arts center in Manhattan that would serve as a gathering place for artists from all disciplines. BAC's opening in 2005 heralded the launch of this mission, establishing a thriving creative laboratory and performance space for artists from around the world. BAC's activities encompass a robust residency program augmented by a range of professional services, including commissions of new work, as well as the presentation of performances by artists at varying stages of their careers. In tandem with its commitment to supporting artists, BAC is dedicated to building audiences for the arts by presenting contemporary, innovative work at affordable ticket prices. For more information, please visit www.bacnyc.org.
About Jerome Robbins
Jerome Robbins is world renowned for his work as a choreographer of ballets as well as his work as a director and choreographer in theater, movies and television. His Broadway shows include On the Town, Billion Dollar Baby, High Button Shoes, West Side Story, The King and I, Gypsy, Peter Pan, Miss Liberty, Call Me Madam, and Fiddler on the Roof. His last Broadway production in 1989, Jerome Robbins' Broadway, won six Tony Awards including best musical and best director. Among the more than 60 ballets he created are Fancy Free, Afternoon of a Faun, The Concert, Dances At a Gathering, In the Night, In G Major, Other Dances, Glass Pieces and Ives, Songs, which are in the repertories of New York City Ballet and other major dance companies throughout the world. His last ballets include A Suite of Dances created for Mikhail Baryshnikov (1994), 2 & 3 Part Inventions (1994), West Side Story Suite (1995) and Brandenburg (1996). In addition to two Academy Awards for the film West Side Story, Mr. Robbins has received four Tony Awards, five Donaldson Awards, an Emmy Award, the Screen Directors' Guild Award, and the New York Drama Critics Circle Award. Mr. Robbins was a 1981 Kennedy Center Honors Recipient and was awarded the French Chevalier dans l'Ordre National de la Legion d'Honneur. Mr. Robbins died in 1998.
Photo Credit: Sergi Alexander
Related Articles
More Hot Stories For You
Breaking: MRS. DOUBTFIRE Will Open on Broadway in Spring 2020 at the Stephen Sondheim Theatre
This just in! Mrs. Doubtfire, the new musical based on the film of the same name, will open on Broadway this coming spring at the Stephen Sondheim The... (read more)

HAMILTON Will Hold A Fan Performance on October 31 With All Tickets Available For $10 Via Lottery
For the second year in a row, Hamilton will host a special fan performance on Thursday, October 31 at the Richard Rodgers Theatre on Broadway, with al... (read more)

Breaking: Ethan Slater, Gavin Lee & More Will Reunite to Film SPONGEBOB for Nickelodeon
Following a critically lauded run on Broadway, members of the original award-winning Broadway company of The SpongeBob Musical: Live On Stage! will re... (read more)

Quiz: Which Broadway Show About Gods Are You?
Bring on the monsters because The Lightning Thief: The Percy Jackson Musical is officially open on Broadway! We're celebrating Camp Halfblood coming t... (read more)

MOULIN ROUGE To Head To The West End in 2021
The blockbuster Broadway hit, Moulin Rouge, will be heading to the West End in 2021!... (read more)

BWW Photo Exclusive: Adam Pascal Stars In THE MUSIC MAN At 5-Star Theatricals
Tony nominee Adam Pascal stars as Professor Harold Hill in the first show of the 5-Star Theattricals 2019-2020 season, THE MUSIC MAN.... (read more)