Barbara Hannigan Makes Her New York Conducting Debut With The Juilliard Orchestra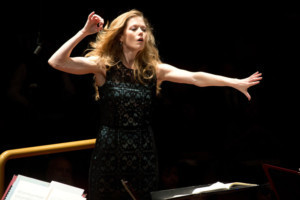 Singer/conductor Barbara Hannigan makes her New York conducting debut with the Juilliard Orchestra in works by Strauss, Haydn, Debussy, Sibelius, and Bartók on Friday, February 8, 2019, at 7:30pm in Alice Tully Hall. The program features Strauss' "Salome's Dance" from Salome, Op. 54; Haydn's Symphony No. 96 in D Major, Hob. I:96, ("The Miracle"); Debussy's Syrinx (flute soloist to be announced); Sibelius' Luonnatar, Op. 70, with Juilliard soprano Meghan Kasanders; and Bartók's Suite from The Miraculous Mandarin. Hannigan made her debut as a conductor in 2011 at the Châtelet in Paris with Stravinsky's Renard; the soprano has been dividing her time between singing and conducting ever since.

Tickets are $30 ($15 for full-time students with a valid ID) and available at juilliard.edu/calendar.
About the Program
Writer Thomas May spoke with Hannigan about her programming for this concert for an article in the February Juilliard Journal: "For her New York concert, Hannigan has programmed a Haydn symphony (No. 96) alongside four distinctly varied compositions from the early 20th century: "Salome's Dance" from Strauss' scandal-causing one-act opera; Debussy's late-period solo flute composition Syrinx; Sibelius' Luonnotar (a cosmological tone poem for orchestra and soprano); and Bartók's breakthrough Miraculous Mandarin Suite. Hannigan points to 'an extreme aspect' to this lineup, with the concert's second half being 'full of otherworldliness: the mythology of Syrinx morphing into the Finnish mythology of how the world was created (through a combination of loneliness and generosity I might add!) in the Sibelius, and then a magical whirlwind of awkward seduction and eventual delirious abandon in the Mandarin Suite.' Counterbalancing this, the first half 'starts with driving obsession in "Salome's Dance" and finds love in the Haydn. And let's face it, Haydn has a very modern feel about him. His combination of wit and tenderness never dulls,' she says."

About Barbara Hannigan
Embodying music with an unparalleled dramatic sensibility, soprano and conductor Barbara Hannigan has collaborated with directors and conductors such as Christoph Marthaler, Simon Rattle, Sasha Waltz, Kent Nagano, Vladimir Jurowski, John Zorn, Andreas Kriegenburg, Andris Nelsons, Reinbert de Leeuw, David Zinman, Antonio Pappano, Katie Mitchell, Kirill Petrenko, and Krszysztof Warlikowski. Hannigan opened the 2018-19 season by singing the title role in the world premiere of Michael Jarrell's Bérénice at Paris Opera, conducted by Philippe Jordan and directed by Claus Guth. Hannigan continues her season singing one of her most beloved pieces: let me tell you by Hans Abrahamsen, the work she premiered with the Berliner Philharmoniker in 2013 and which she has now performed with 11 orchestras worldwide-and this coming season with four more European orchestras. She will be conducting the Orchestre Phiharmonique de Radio France, Cleveland Orchestra, Gothenburg Symphony, LUDWIG, Danish Symphony Orchestra, Toronto Symphony Orchestra, Münchner Philharmoniker, and London Symphony Orchestra in programs including Haydn, Sibelius, Strauss, Berg, Bartók, and Gershwin.

This season also sees the launch of her groundbreaking mentorship initiative, Equilibrium Young Artists. With more than 20 performances with four partner orchestras, Equilibrium's first season will also see Hannigan conduct her first opera, The Rake's Progress. She will be music director of the Ojai Festival in California this summer, and in 2019-20 she begins her tenure as principal guest conductor of the Gothenburg Symphony in Sweden.

Hannigan's first album as singer and conductor, Crazy Girl Crazy (Alpha Classics, 2017)-featuring works by Berio, Berg, and Gershwin and including Mathieu Amalric's film Music is Music-won the 2018 Grammy for best classical solo vocal album, the 2018 Opus Klassik award for best solo vocal performance, the 2018 Klara award for best international classical album and the 2018 Juno Award for classical album of the year. She continues her relationship with Alpha Classics and long-time collaborator and mentor, Dutch pianist Reinbert de Leeuw, on the album Vienna: Fin de Siècle. The Canadian musician holds honorary doctorates from the University of Toronto and Mount Allison University and was appointed to the Order of Canada in 2016.

Meghan Kasanders
Meghan Kasanders is a second-year artist diploma in opera studies candidate at Juilliard, studying with Edith Wiens. Last spring, she sang Oenone in Juilliard's production of Hippolyte et Aricie and will premiere the role of Donna Anna in this spring's production of Don Giovanni. This past year, she made her Carnegie Hall debut singing in Bernstein's Songfest under the direction of Marin Alsop and sang the role of Magda Sorel in Opera Saratoga's critically acclaimed production of The Consul. As a winner of the Metropolitan Opera National Council Auditions and Mildred Miller International Voice Competition, she has worked with Opera Theatre of Saint Louis, Des Moines Metro Opera, Opera Saratoga, Union Avenue Opera, and the Institute for Young Dramatic Voices. She holds a master's degree from Rice University. She holds Risë Stevens and Barbara Rogers Agosin scholarships, and is supported by the Hardesty and Beverley Peck Johnson Fund.

About the Juilliard Orchestra
Juilliard's largest and most visible student performing ensemble, the Juilliard Orchestra, is known for delivering polished and passionate performances of works spanning the repertoire. Comprising more than 350 students in the bachelor's and master's degree programs, the orchestra appears throughout the season in concerts on the stages of Juilliard's Peter Jay Sharp Theater, Alice Tully Hall, David Geffen Hall, and Carnegie Hall.

The orchestra is a strong partner to Juilliard's other divisions, appearing in opera and dance productions as well as presenting an annual concert of world premieres by Juilliard student composers. The Juilliard Orchestra welcomes an impressive roster of world-renowned guest conductors this season including John Adams, Joseph Colaneri, Mark Elder, Steve Osgood, Peter Oundjian, and Gil Rose as well as faculty members Jeffrey Milarsky, Itzhak Perlman, Matthias Pintscher, and David Robertson.

The Juilliard Orchestra has toured across the U.S. and throughout Europe, South America, and Asia, where it was the first Western conservatory ensemble allowed to visit and perform following the opening of the People's Republic of China in 1987, returning two decades later, in 2008.

Other ensembles under the Juilliard Orchestra umbrella include the conductorless Juilliard Chamber Orchestra, the Juilliard Wind Orchestra, and the new-music groups AXIOM and New Juilliard Ensemble.