Click Here for More Articles on THE KING AND I
BWW Review: Trafalgar Releasing's Film Capture of THE KING AND I is Sumptuously Beautiful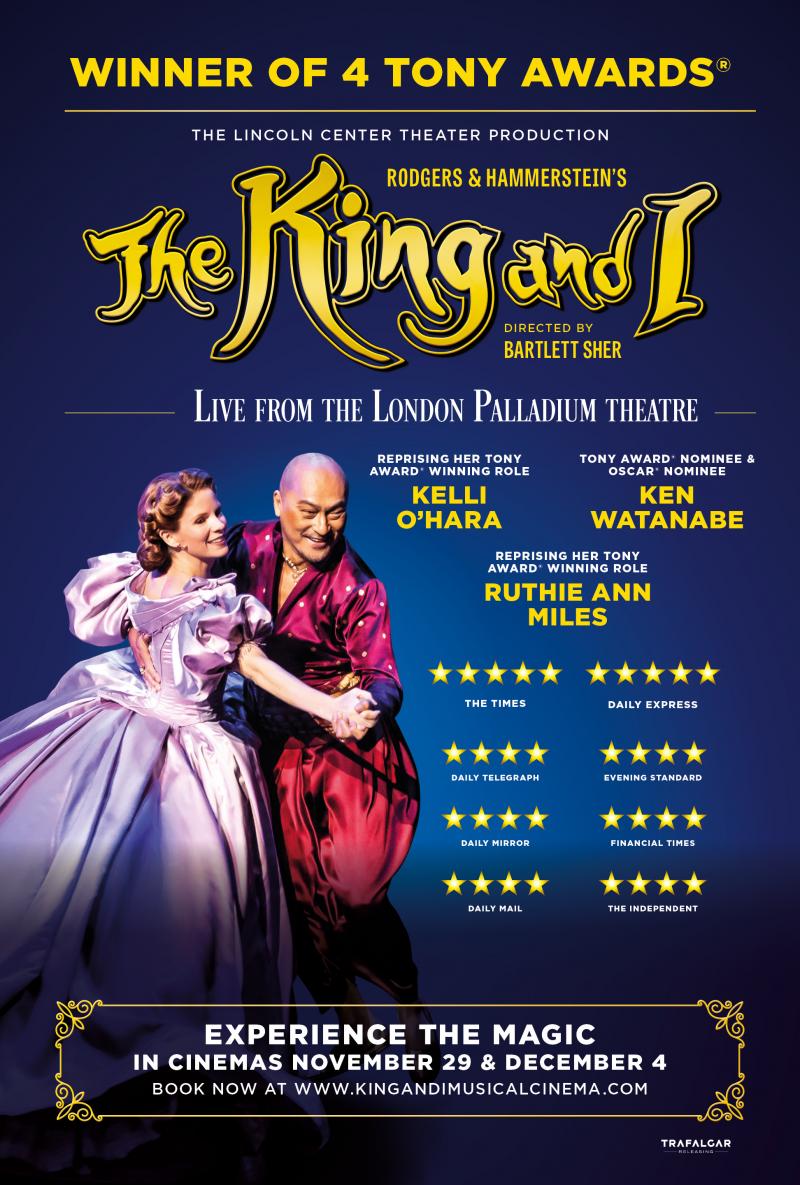 Lincoln Center Theater's sumptuous Tony-award winning production of Rodger & Hammerstein's THE KING AND I transferred to The London Palladium theatre in the West End this past summer. Its three original leads, Kelli O'Hara, Ken Watanabe, and Ruthie Ann Miles all returned to the show, ensuring that London audiences got to experience all the lavishes enjoyed by audiences in New York. Now, Trafalgar Releasing is screening a gorgeous film capture of the London mounting in movie theaters across the globe on November 29 (today) and December 4 (Tuesday).
Even if you were fortunate enough to see one of the iterations of this revival, this film is a must see for fans of and newcomers to the material. With these screenings, audiences will be dazzled by the splendid attention to details that earned this show the 2015 Tony Award for Best Revival of a Musical. From the wide shots that capture the lush Tony-award winning costumes by Catherine Zuber and the enchanting light and scenic design, to the intimate closeups that allow film going audiences a vantage point that is inaccessible at a live performance, the brilliance of Bartlett Sher's direction and every member of the cast and crew is always on full display.
From the moment she first appears on screen, Kelli O'Hara illustrates why she was beyond deserving for the 2015 Tony for Best Performance by an Actress in a Leading Role in a Musical. Her presence radiates off the screen, and her Anna quickly finds a home in our souls with her truly unforgettable performance. Uncharacteristically strong-willed and opinionated for a woman during the time the show takes place, O'Hara's Anna is the perfect blend of intelligent, tenacious, gracious, and dignified. Moreover, her voice is golden on every song she sings from "I Whistle a Happy Tune" to its reprise, and triumphantly soars on key numbers like "Getting to Know You," "Hello, Young Lovers (reprise)," and "Shall We Dance?".
As the King, Ken Wantanabe is appropriately imposing, poised, and regal. He does a magnificent job creating a character that is, at first, unlikable because of his childlike temper when he feels challenged or undermined. Yet, he deftly creeps into our hearts, earning our respect, admiration, and even love. He plays the King so beautifully, that the story's finale is richly poignant and moving, even if we already know what to expect.
Having won the Tony for Best Performance by an Actress in a Featured Role in a Musical, Ruthie Ann Miles captures lightening in a bottle a second time with her return to Lady Thiang. She handles the role with grace and offers such a magnificent performance that many will remember her as the penultimate Lady Thiang for generations to come. This is especially true of her spectacular performance of "Something Wonderful" towards the end of Act I.
Additionally, as the young lovers Dean John-Wilson and Na-Young Jeon sparkle in their portrayals of Lun Tha and Tuptim. We find ourselves deeply invested in their secret love and cheer for them to find a way for their love to win out. Takao Osawa is a wonderfully intimidating and commanding as the ever gruff and brusque Kralahome.
---
Trafalgar Releasing's screenings of THE KING AND I offer just the kind of delightful evening that rings true of traditions forgotten but that are being revived. Like the resurgence of TV musicals, this special cinema event seems like just the thing to get your family holidays started on the right foot. And, if all goes well, maybe we can expect future cinematic confections for the holidays in the years to come. For tickets, screening locations and additional information visit www.KingAndIMusicalCinema.com.
Related Articles