BWW Review: The Revolutions Of The 60s Meet Laptop Activism in PARTY PEOPLE
The term "generation gap" first came into use during the 1960s, when sociologists and trend-watchers began noting the extreme differences in lifestyle, politics, fashion, music and language between the American parents who fought the Axis in World War II and the Baby Boom teenagers they raised.
Now, fifty years after the formation of the Black Panthers, and just shy of the half-centennial of the Young Lords, an explosive new play with music, Party People, explores the generation gap between the activists who took to the streets demanding civil rights and decent living conditions for their people during the 1960s and the young activist artists of today who attempt to honor the past and adapt their causes for a generation raised on laptop activism.
Developed by director Liesl Tommy and created by Steven Sapp, Mildred Ruiz-Sapp and William Ruiz a.k.a. Ninja of UNIVERSITIES, a Bronx-born political theatre ensemble for artists of color, Party People is a combination protest piece and history lesson presented as a collage of stories, attitudes and arguments.
It begins with Malik, a.k.a. Mk Ultra (Christopher Livingston), a young black video artist and documentarian whose father, a member of the Panthers, has been serving a life sentence since before he was born. His Latino friend Jimmy (William Ruiz, a.k.a. Ninja), is a spoken word artist who performs confrontational pieces as a jester named Primo.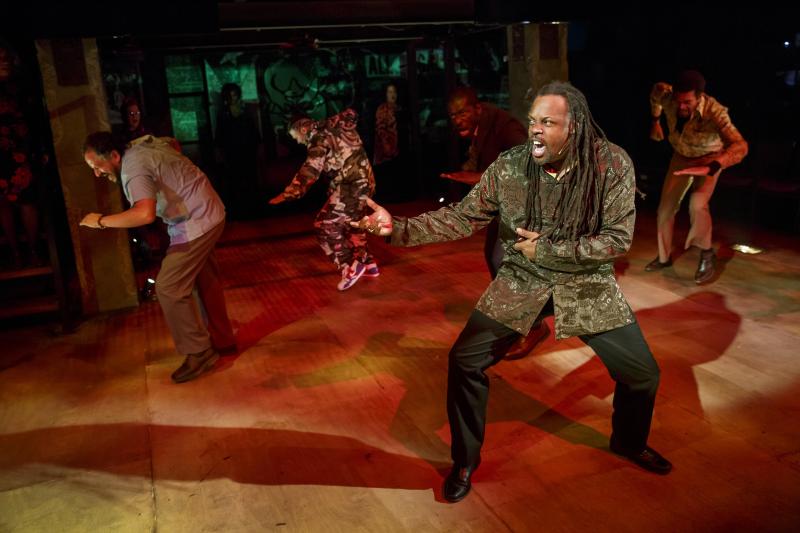 The two have created a video documentary from numerous interviews with members of the Black Panthers, who fought back against police brutality and a system that marginalized black citizens, and the Young Lords, who helped feed children, offer medical care and get garbage collected in underserved Puerto Rican neighborhoods while fighting for their island's self-determination. (PARTY PEOPLE itself is based on such interviews.)
The participants have now been invited to a multimedia art gallery to view the finished work, but for several it's not a cause for celebration. The first arrival is Omar (Steven Sapp), a war veteran who was tortured when accused of treason and self-proclaimed Black Panther for life. He makes it his business to seek out Panther-related projects and events to make sure the truth is told.
As others arrive, and witness what their young admirers have prepared, internal conflicts arise regarding the value of their revolution and if any of it truly remains. The proceedings turn cold with the entrance of Donna (Robyn Rodriguez), the widow of a police officer, who confronts Blue (Oberon K.A. Adjepong), who was incarcerated for his murder but ultimately released.
Millicent Johnnie's choreography imitates the rebellious demands for freedom that these demonstrators took to the streets, backed by a lively musical score of Latin, funk and soul.
But the evening's climax is a verbal one, when Jimmy insists that today's activists can instantly take their message to the world because, "the revolution can be televised, live streamed, Facebooked and tweeted. The Revolution can have its own website, have its own blog, have a YouTube clip with a million hits. Have its own brand."
After an election that has left many feeling that their rights and physical well-beings are in danger (Yes, there is a mention of our president-elect.) Party People is enormously relevant, as Americans keep finding new ways to band together to express their outrage and work for change.