Click Here for More Articles on THE NEW GROUP
BWW Review: Sex, Pizza and Slasher Flicks in Erica Schmidt's ALL THE FINE BOYS
Straight cisgender teenage boys looking to lose their virginity are generally accepted as a staple of coming-of-age comedies that make movie theatre box offices hum. But when it comes to the matter of young girls being eager to have their first sexual encounters, audiences tend to prefer a bit more delicacy.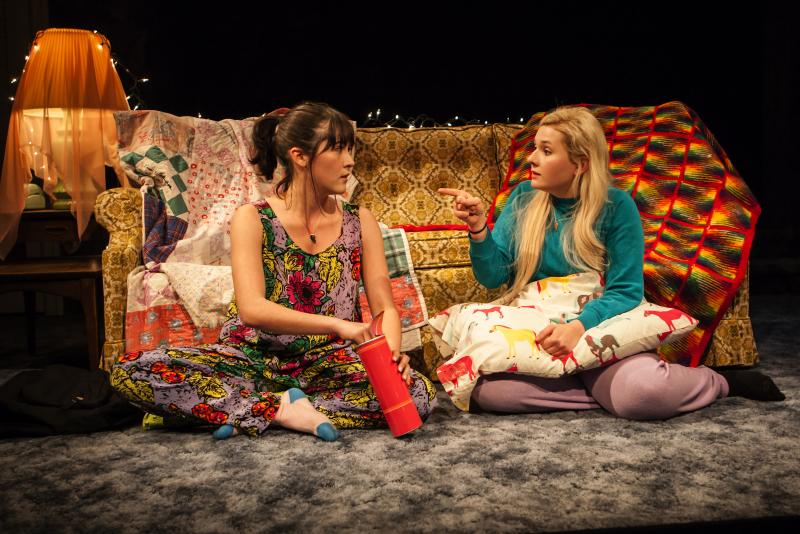 The two 14-year-old suburban South Carolina girls in playwright and director Erica Schmidt's evocative and humorous All the Fine Boys are first seen as emotionally healthy and enthused BFFs, gorging on junk food, chatting about boys and deciding which slasher flick to watch first. It's the 1980s, so their choice of movie is limited to what they have on VHS and their choice of boys is limited to those with whom they have real life encounters.
Though they attend middle school, Emily (Isabelle Fuhrman) was cast in a high school play when they needed someone to play a younger character, and her secret crush is on 17-year-old senior Adam (Alex Wolff), a scruffy intellectual poet who would fit in nicely in any city's hipster enclave. (Though it's not mentioned in the play, sex between the two of them, at their current ages, would be permitted by South Carolina law.) All the boys her own age seem to be interested in is the size of her chest, which to them seems a good enough reason to call her a slut.
Jenny (Abigail Breslin), doesn't get her friend's taste. She's more interested in traditional hunks like 28-year-old Joe (Joe Tippett), who she's familiar with from church.
After an expository first scene, Schmidt alternates encounters between the two potential couples, with Amy Rubin's versatile interior set quickly changing locations.
Sporting classic All-America good looks, Joe's the kind of fellow who may have reached his life's peak in high school, and who feels stuck in a rut before even reaching thirty. Tippett's excellent performance suggests that he's somewhat embarrassed by his actions, but perhaps hoping that being with a young girl like Jenny might bring back the self-esteem of his glory days.
Jenny, on the other hand, sees a guy she thinks she can manipulate into providing unlimited supplies of new clothes, pizza and Pringles and perhaps show off as a trophy. The fact that Breslin doesn't look anywhere near 14 makes it easier for the audience to laugh as she attempts to seduce her prey by thrusting her breasts at him. When they do have sex, it's as fast, uneventful and one-sided as you might expect. Schmidt seems to be going for the humor of Jenny's baffled reaction and Joe's assurance that she'll like it more when she gets better at it. Age-appropriate casting would also lead that moment into a different direction.
By comparison, the Emily and Adam relationship is much healthier and Fuhrman and Wolff are both terrific. Though Emily is a bit of a fangirl and Adam enjoys showing off his artistic side, you can sense them capable of having a good connection as adults.
Tension builds and violence erupts before All the Fine Boys is over. Schmidt's story goes in predictable directions as she draws a parallel between real life and the films her protagonists enjoy.
Nevertheless, her dialogue is brisk, interesting and rings true, especially given the fine work by her talented ensemble.