BWW Review: Renee Taylor's MY LIFE ON A DIET Is a Comedy Feast
Back in the days, really not very long ago, when self-effacing gags about failed diets were one of the few topics of discussion deemed acceptable for women in comedy, the punchline Renee Taylor uses after telling about the time when she ate nothing but meatballs every day because it was the diet that helped Lou Costello shed twenty pounds before filming "Abbott and Costello Meet The Mummy," would have been regarded as gold.
And in these times when society as a whole is at least somewhat more open-minded about funny women, it still gets a good laugh in the pioneering actor/writer's solo outing My Life on a Diet.
"When I told my doctor about my one-woman memoir," she explains at the outset, "he said, 'How are you going to move around the stage for an hour and a half? You have arthritis, bursitis, sciatica and the beginning of osteoporosis and a broken foot.'"
So Taylor's 90-minute delight, a co-creation with her husband of 53 years, the late Joeseph Bologna, is staged with her seated at a desk reading excerpts from her same-titled 1986 book, a show-biz bio with every life event benchmarked by the diet she was on at the time.
Aunt Mitzi's Whitefish and Papaya Diet helped her lose weight in high school. She prepared for her Broadway debut with The Sicilian Nun's Spiritual Air Diet. When her television career began taking off, she tried staying thin with The Vogue Magazine Champagne Diet.
Projections by designer Michael Redman explain the details of the weight-loss techniques, which are punchlines themselves. But no amount of modern technology can replace Taylor's expert delivery, a combination old old-school deadpan and well-timed silences.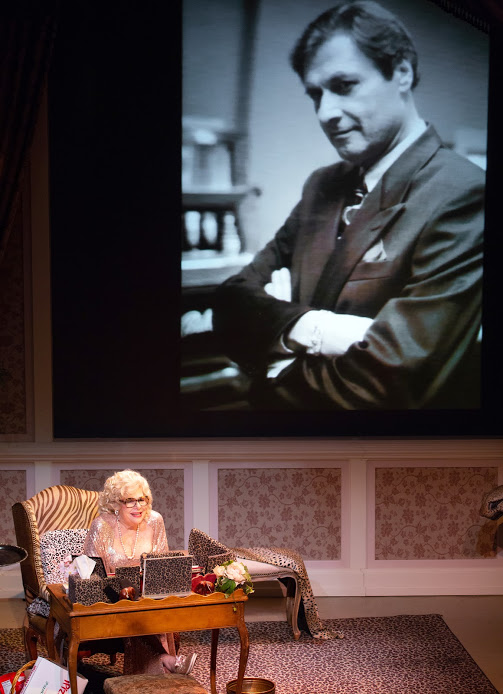 She talks about dating Lenny Bruce ("He was very into natural vitamins and fresh juices."), taking acting classes with Marilyn Monroe ("I marveled at her risk-taking in front of young actors, who, as part of the class, would dare to criticize her work.") and of course, her half-century romance with the man she was set up with, not as a date, but as a potential writing partner.
Their first collaboration, LOVERS AND OTHER STRANGERS, not only made it to Broadway, but they received an Oscar nomination for their film adaptation.
As explained early on, Taylor's mother put her on her first diet when she was eleven years old, after she was sent home from school for overeating. If approached another way, My Life on a Diet could be more about developing a negative body image at an early age which developed into a lifelong obsession with staying thin. But gradually it becomes clear that crazy diets are the jokes, not the solutions, and Renee Taylor's happy, confident attitude and willingness to laugh at herself is the healthiest lifestyle choice anyone can make.

Related Articles
After 20-odd years singing, dancing and acting in dinner theatres, summer stocks and the ever-popular audience participation murder mysteries (try improvising with audiences after they?ve (read more...)