BWW Review: Matthew Perry's THE END OF LONGING or The One About The Sexist Male Fantasies
In the opening scene of MCC's American premiere production of The End of Longing, playwright/star Matthew Perry, playing the drunk, caustic and cocky Rolling Stone photographer Jack, looks deeply into the eyes of Stephanie, his latest attempt at a cocktail lounge conquest.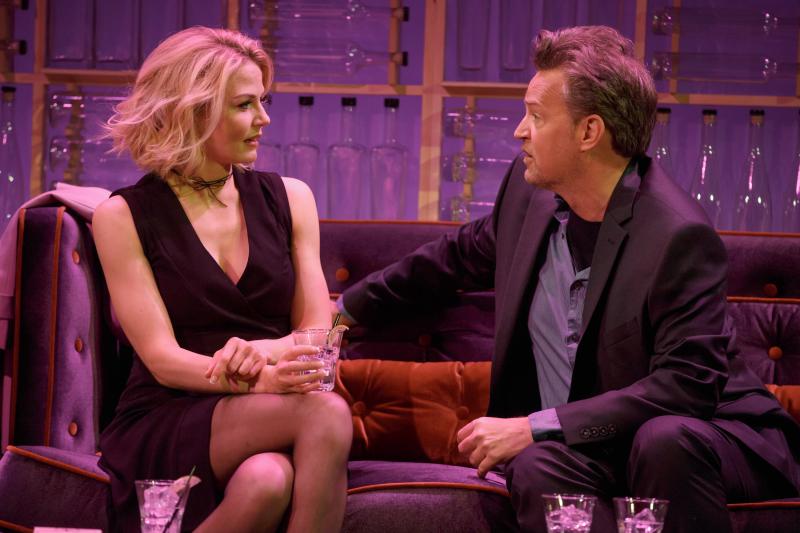 After a few pages of easily swatting away the creep's uninspired pickup lines just for her own amusement, Stephanie finds herself momentarily dropping her guard when Jack convincingly lays on his scripted sincerity ("And I can only imagine how beautiful your smile would be if you ever chose to use it."), catching herself before getting completely swept away.
It's a bit that worked beautifully during the first season of "Cheers," back in 1982, after the writers had already established a volatile attraction between Sam and Diane. In The End of Longing, it comes off as a cheap gag playing off the sexist fantasy that even a grossly unappealing guy can break down the emotional barriers of an uninterested beautiful blonde with a few well-timed words.
And yes, Jack does wake up in Stephanie's bed the next morning. After their hazy memories determine that they spent the night just "spooning" (Do people actually use that word in front of people they just woke up with?), the befuddled Stephanie, who now tells Jack that she's an escort who charges $2,500 for the first hour and $1,500 for each additional, offers Jack a freebie just to get rid of him. (Sexist fantasy #2) Ah, but there's something about the rude, self-centered Jack that this successful, independent businesswoman who's an expert at fulfilling men's sexual fantasies can't shake. (Sexist fantasy jackpot!)
Meanwhile, Stephanie's best friend Stevie (yes, the underwritten women in this play have the same first name) is dating Jack's buddy Jeffrey, a sweet, uncomplicated construction worker. Sue Jean Kim displays pitch perfect comic chops as Stevie, a neurotic pharmaceuticals worker so accustomed to irresponsible bad boys that she's not certain how to deal with it when she tells Jeffrey (terrifically sympathetic Quincy Dunn-Baker) she's pregnant and he responds by offering his full involvement in caring for her and raising the child.
If these two were in the forefront, The End of Longing might have a chance to be a good play, but midway through the proceedings switch from sex comedy to addiction drama, as Jack's drinking problems get worse and threaten to end not only his budding relationship with Stephanie, but his friendship with Jeffrey.
At this point it becomes apparent that Perry has written a role that he seems incapable of convincingly acting, highlighted by an embarrassing monologue addressed to the audience as if they were attendees at his first Alcoholics Anonymous meeting.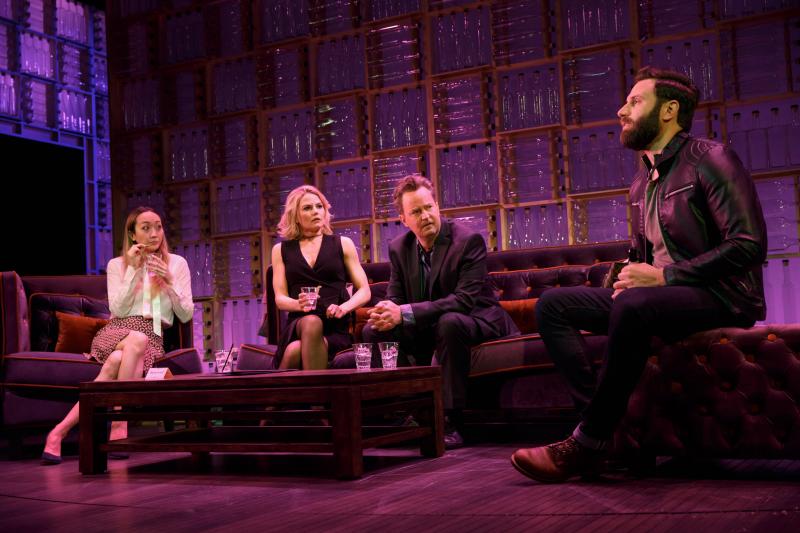 That scene comes after Jack's big confrontation with Stephanie, when Perry puts on an ugly face and a judgmental growl to call her a whore. They agree that she will stop escorting if he seeks help, suggesting that being a sex worker is the equivalent of ignoring one's addictions.
The Stevie and Jeffrey story also takes a dramatic turn when her pregnancy becomes difficult. In the hospital waiting room, the worried Stephanie decides to cancel her evening's appointment with a client. ("Can't really blow strangers with all of this going on.")
Director Lindsay Posner's slick mounting always gives the impression that something hip and edgy is going on (exemplified by Derek McLane's set, made to look like walls of empty alcohol bottles) but Perry, who has been open about struggling through his own addiction problems, begins the play as a parade of gag lines that place his characters into well-known types, so when he calls on matters to get serious, there's no dramatic foundation.
Despite a harsh critical reception when the play premiered in London, the obvious reason for a respected and risk-taking non-profit Off-Broadway company like MCC to include The End of Longing in its season is the opportunity to attract the playwright/star's fans and have a money-making hit that will help support better works in the future. I can't imagine the play being accepted by a company of this stature without a celebrity's name attached to it.